Published April 18, 2008
Updated April 21, 2022
Naipes Minifusor
Difusora S.A is a distributor of smokers' materials. Around 1970-80 they also distributed "Minifusor" playing cards.
Naipes Minifusor by Difusora S.A., Argentina

Difusora S.A is a distributor / producer of smokers' requisites, including lighters, cigarette holders and filters. Around 1970-80s they also distributed Minifusor playing cards which came in two versions as well as special packs for advertising and cartomancy►
There were two Spanish-suited versions: a modern re-drawing of the Catalan pattern (Minifusor Clásico) and an original fantasy quasi-eighteenth century design (Minifusor Tipo Español, regd no. 239,012) with a seated king of coins. Packs have two jokers and in some cases the artist's signature Hernández is visible on the Joker. Hernández also designed a pack of cartoon cards►
The manufacturer's details can often be found on the four of coins or cups, but in some cases are omitted.
---
Minifusor Clásico

---
Minifusor Tipo Español

---
Cartomancy Edition

---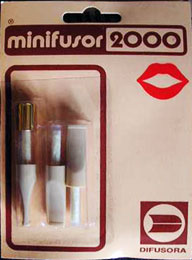 Member since February 01, 1996
View Articles
Curator and editor of the World of Playing Cards since 1996.