Published July 03, 1996
•
Updated March 21, 2022
Naipes Domador by Cía General Fabril Financiera S.A., c.1960
Naipes Domador Spanish-suited playing cards manufactured by Cía General Fabril Financiera S.A., c.1960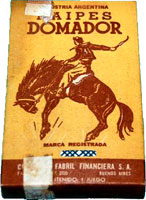 Naipes DOMADOR by Cía General Fabril Financiera
Naipes Domador was one of Cía Fabril Financiera's leading brands of Spanish-suited playing cards, alongside Naipes Angelito, Payador and Victoria. The design didn't change at all over the years, although the values of the tax band and the tax stamp changed according the law in force at the time. The logo on the four of cups shows a cowboy breaking in a bucking horse beneath the legend "Domador".

Member since February 01, 1996
View Articles
Curator and editor of the World of Playing Cards since 1996. He is a former committee member of the IPCS and was graphics editor of The Playing-Card journal for many years. He has lived at various times in Chile, England and Wales and is currently living in Extremadura, Spain. Simon's first limited edition pack of playing cards was a replica of a seventeenth century traditional English pack, which he produced from woodblocks and stencils.