Divine Art Playing Cards - Relaunch
Divine Art Playing Cards is a limited edition produced by Sunish Chabba & Guru Playing Card Company, 2016, inspired by Hindu mythology. Because of the cultural ties to India, the deck aims to keep alive the visions of traditional art forms and will appeal to a wide range of tastes. Showcasing precision and technically exquisite detail, design credits are also due to Anaya Purandare & Anjali D'Souza.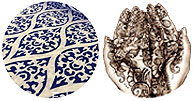 The Project was relaunched in a White Gold edition on kickstarter►
The Court Cards
The basis of the Indian world view is of Cosmic unity underlying the physical diversity of the world, through which man transcends himself. Since almost every Indian folk art form is based on Hindu mythology, the jacks, queens and kings of each suit depict various Gods and Goddesses as well as their mounts (vahanas/vehicles). The coherent colour palette also has an underlying symbolic meaning.
The Four Aces
Four Custom Aces also incorporate symbolism from Indian mythology and follow the same sequence as the courts. Concentric lines define volume and create a rhythmic unity, and the underlying geometrical forms generate a pleasing multi-dimensional effect.

The Numeral Cards
The original designs for the number cards include a hint of a hidden mathematical order, giving a universal appeal at the level of archetypes, which completely transcends the usual mundane arrangement of pips. The contrasting pale and dark pip colours are very clear and enhance the legibility of the design.

And Finally...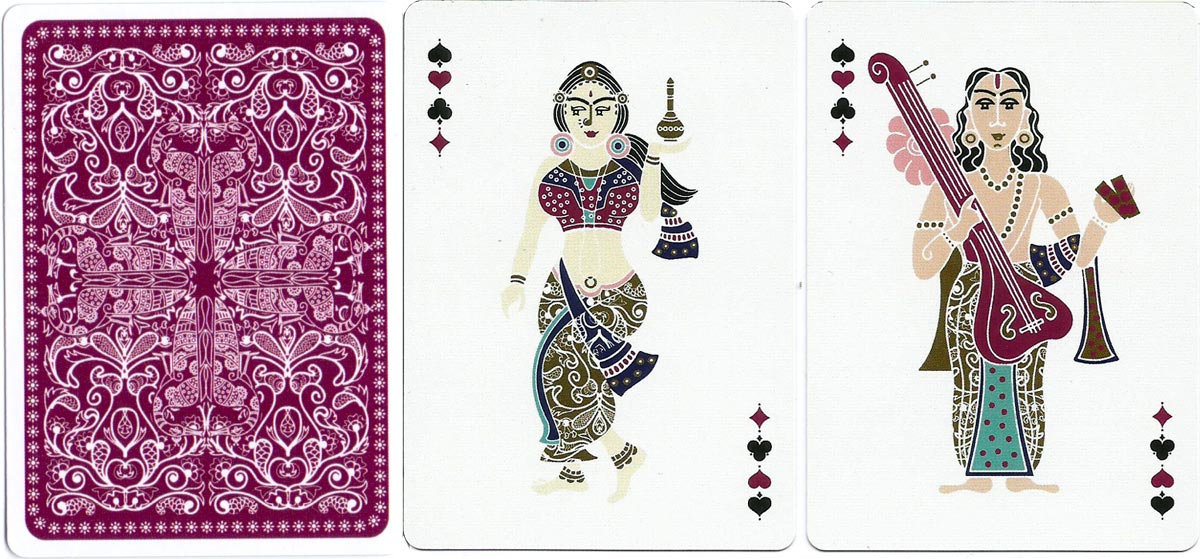 The Project has been relaunched here on kickstarter►