Frozen Court - The Aethiopic Rendering - Limited Edition Playing Cards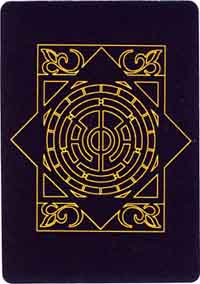 Frozen Court - The Aethiopic Rendering
One Machete Holdings, Ltd.
Designed by Richard Butler, Illustrated by Paul Hill.
The deck was made specifically for Alpha Phi Alpha Fraternity, Inc., the first African-american college fraternity, for their 2000 convention. With the exception of nods to the two largest AA sororities, there exists no non-Alpha-related symbolism. The Ancient Egyptian theme of the deck directly relates to the rich significance of that period's symbolism within the fraternity. The deck has 52 cards + 2 jokers plus an explanatory booklet, and is poker-size. Featuring a custom court, custom jokers, and a special Ace, the heart and diamond pips are gold instead of red. Decks are numbered and registered.