Published June 14, 2022
Updated June 22, 2022
Monarchs Playing Cards by Theory11
Monarchs luxury playing cards by Theory11, featured in the film Now You See Me.
Nonarchs Playing Cards is one of Theory11's most popular decks, a cornerstone of their mission to "create the most breathtaking, luxury, designer playing cards". Their success is reflected by the pack being stocked in highstreet retailers such as Walmart and Target, as well as having multiple reprints over the years. Created in 2012, Monarchs was one of the first luxury decks to be produced, and is now seen as essential for luxury deck collectors. Considered by cardist and blogger Tim Silva an "instant classic" and a must-have.
Artist Curtis Jinkins (Neighborhood Studio>) says the guidelines for designing the deck were for it to have a "regal" theme and that the deck be "fit for a king". An open design brief. Jinkins notes that "the graphics had to be restructured to accommodate the theme" which was suppliemented by luxury printing techniques. Because it is a "casino quality" deck it was decided to keep the courts standard, so "magicians and dealers get instant recognition". The box received a lot attention during the design process as Jinkins points out "there were probably ten different iterations of the box front before the final design."
Theory11 have trademarked the backs "two snakes entwined around a vertical sword" design (see detail ) including the wordmark which says "regis de duobus malis, minus est sempereligendum", which in Latin means of two evils, the lesser must always be chosen, and the word regis which in Latin means king or monarch. Theory11 clearly take their brand very seriously. See the registered trademark
Theory11 says that "these are - by far - the best playing cards ever produced."
The deck was also featured throughout the film Now You See Me, where a team of talented illusionists and street magicians heist a huge amount of money from corrupt businessmen and funnel the money to audience members.
Theory11 focuses on the production of luxury decks for pop-culture franchises such as Harry Potter and James Bond
There are 56 cards in the deck: 52 playing cards, 2 jokers, 2 gaff cards. The gaff cards serve as advertisements for Theory11, with their slogan "the ultimate high-end luxury playing cards".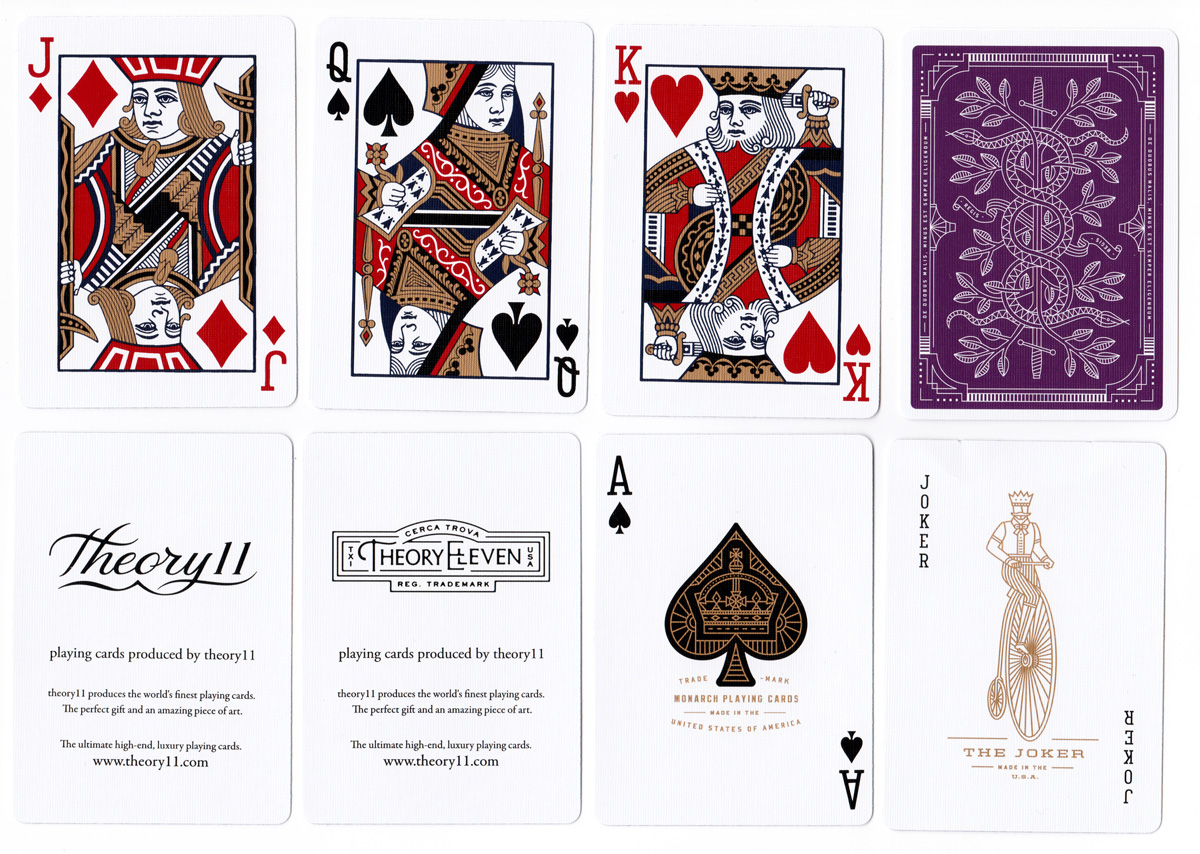 References
Member since March 15, 1997
View Articles
Adam has been involved in developing the site as well as reviewing new decks and conducting research. He is particularly interested in innovation, Kickstarter and East Asian cards. He is a member of the IPCS and webmaster of the EPCS.