Playing cards in the Dominican Republic
Christopher Columbus discovered the island of Hispaniola in 1492, and it later became the major launching base for the Spanish conquest of the Caribbean, as well as the American mainland. The Dominican Republic occupies the eastern part of the island, whilst Haiti occupies the west.
The Spaniards were fond of gambling and brought their dice, cards and recreational games with them. Early 16th century Spanish playing cards would have been available in Santo Domingo, similar to those discovered in Peru, and Spanish playing cards would have been used for the next 250 years or longer, until French-suited cards were introduced.

Above: Spanish playing cards exported to new Spanish colonies from c.1550 onwards. Cards like these would have been in use for the first 200-300 years or so after the first Spanish settlers arrived.
Cards commonly found for sale today include the ubiquitous "Briscas" Spanish-suited playing cards, made in Spain, Hong Kong or China, and which turn up in souvenir shops in most Latin American countries, as well as tourist souvenir packs like those illustrated below.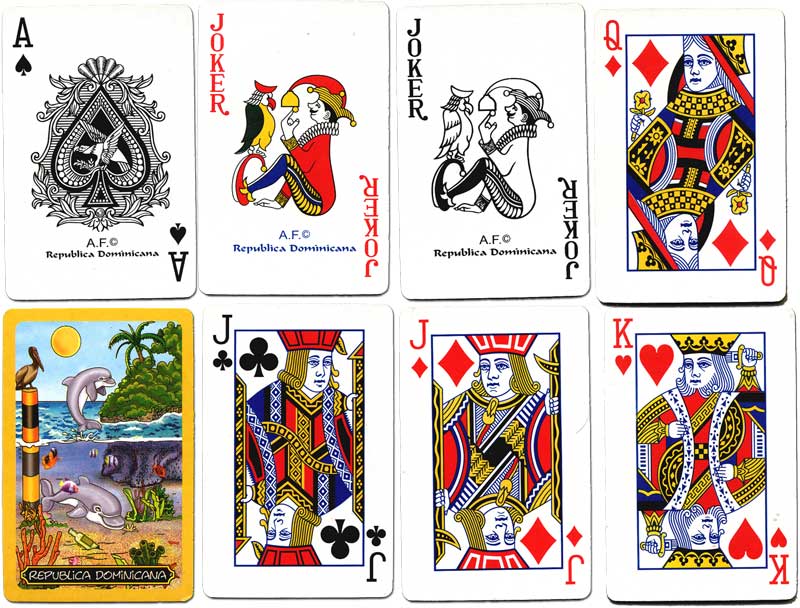 Above: Souvenir playing cards from the Dominican Republic, unknown manufacturer, made in China. The ace of spades and jokers have the initials A.F.© and the plastic box has "Republica Dominicana" printed on the lid.
Member since February 01, 1996
View Articles
Curator and editor of the World of Playing Cards since 1996.