Published January 13, 2011
•
Updated May 18, 2022
Card Games
Children's games are distinct from ordinary playing cards, with their most obvious difference being the lack of any court cards or suit marks.
Card Games... a child's poetic universe

Cards of the past belong to and evoke their period, whether it be a matter of style, fashion or customs. They belong to a cheerful, gregarious, competitive world, and provide the collector, by their associations, with an unusually vivid view of history, nonetheless interesting for being from the sidelines. The study of toys and games reveals interesting coincidences from geographical and historical points of view. In many cases the illustrations provide documentary evidence of social stereotypes, gender relations or racist caricatures from past times, showing how our attitudes have changed.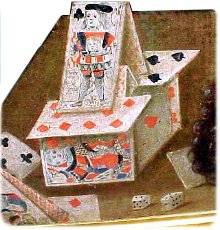 There is a magic in games… from those created in the imagination, such as hide and seek, to those using pieces of paper, sticks or sophisticated manufactured items. Some games recreate the thrill of sporting activities, whilst others give a sense of creativity. Although designed principally for juvenile diversion, toys and card games can assist in a child's emotional, social, mental and physical development. A child's values are learnt from the example of adults, game playing and the media.
Children's games are distinct from ordinary playing cards, with their most obvious difference being the lack of any court cards or suit marks. Instead game cards are either numbered, lettered or grouped in some other way. They also have educational benefits for young children, encouraging congenial play and developing counting, sorting and matching skills, as well as early literacy and flowers or bird identification, whatever the case may be.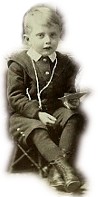 Cards specifically designed for the amusement and education of children did not appear until the second half of the 18th century. Those produced at this time tended to have pictorial themes rather than the numerical format we are familiar with today. Children's card games used to be produced to very high quality, both in the materials used and the design and printing. Economic circumstances change, and children's card games today vary in quality and educational value.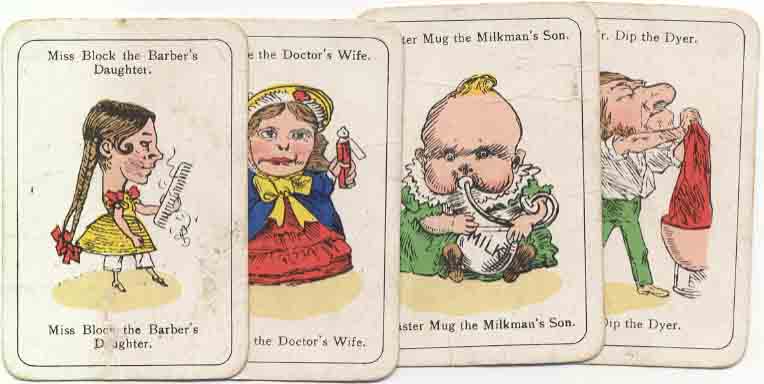 A HUGE VARIETY of games has been devised over the years, the best known of which are Happy Families or Quartet games which involve completing sets of cards and declaring these to win the game. However, cards have also been used to tell fairy tales, ask and answer questions, illustrate nature, animals, places, to teach foreign languages, to foster early learning with numbers, spelling, currency, telling the time, and so on.
Learning the ideals of good behaviour came to be regarded as important as the three Rs: the precepts were often found as proverbs or morals on cards, just as they were reproduced in the handwriting copy-books of the day and preached from the pulpit.
---
Children's Card Games with Advertising
Sales incentives - from the collection of Rex Pitts
---
"Old Maid"
"Old Maid" card games were also re-titled in other countries as Black Peter (Schwarzer Peter) in Germany, Zwarte Piet (Netherlands), Svarte Petter (Sweden) and Pekka-Peli (Finland). The main focus of the game is towards the last card, which might be a black cat, an Old Maid, black-faced chimney sweep or black grotesque character.

Member since February 01, 1996
View Articles
Curator and editor of the World of Playing Cards since 1996. He is a former committee member of the IPCS and was graphics editor of The Playing-Card journal for many years. He has lived at various times in Chile, England and Wales and is currently living in Extremadura, Spain. Simon's first limited edition pack of playing cards was a replica of a seventeenth century traditional English pack, which he produced from woodblocks and stencils.