Published May 15, 2015
Updated December 14, 2021
Cribbage Board Collection
A collection of antique and vintage Cribbage Boards by Tony Hall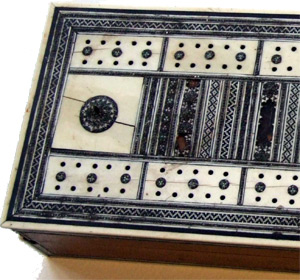 Cribbage was invented in the first half of the 17th Century but its heyday in Britain was probably from around the 1850s until the 1940s when parlour games were the main source of domestic entertainment. The game is still played in the UK in pubs and there are (apparently) local leagues playing both the five and six card version of the game. It is even more thriving in the States, being initially the game of choice in the US Navy, particularly in submarines for obvious reasons, and there is a National Association concerned with both play and board collection. I have a wide variety of cribbage boards in my collection of varying ages and interest. Some have significant age and specifications, a few are quite rare. Most of the boards date from the heyday of crib in Britain, although there are some earlier, some later. Most are commercially made; a few are shed work of varying qualities and interest.
However, the bulk of the collection is Victorian/Edwardian. Many of the single box and double box boards date from the 1880s to the 1920s. For example, the two and three-player single box boards (shown below). Both are commercially made from multiple woods and veneers, with bone or plastic inlays. Each has space for one pack of cards and a separate compartment for four or six bone or ivory pegs.

In later years (in the 30s and 40s), many boards were produced for advertising drink or cigarettes.

It is not unusual to find a single box in the shape of a horseshoe, although most also have a brass fan of four Ace cards in the centre (missing from this example). But my most exotic single box is made by Gulum Hussan, Kashmere, India and was probably used by the Brits during the Raj and found its way later to England (see below).

Most double boxes are commercially made to cater for two players, with two packs of cards and a central compartment for pegs and counters. They vary in quality from the highly polished veneered Victorian examples to more basic versions from the same period.