Published January 20, 2017
Updated May 31, 2022
Jacob's Bible Cards
Jacob's Bible Cards published by Lion Playing Cards Factory Ltd, Tel Aviv, since mid-1950s.
Jacob's Bible Cards designed by Ze'ev Raban (1890-1970) in which the court cards and jokers represent personages from the Bible (old testament or history of the Jewish race). The numeral cards are not decorated. Ashmodai was made into the Joker, with the Hebrew inscription letz ( לֵץ ) which means jester. See the Box►
Note: Jacob's Bible cards and New Jacob's Bible Cards were printed by Piatnik in Vienna, then the sheets were shipped to Israel for cutting and finishing, thus allowing the Lion Playing Cards Factory to claim that the cards were "MADE IN ISRAEL". In later years, Piatnik carried out the whole process from start to finish. According to Dieter Strehl of Piatnik, the Maas family from Tel Aviv (owners of the Lion P.C. Factory) flew to Vienna in 1953 to start a cooperation with Piatnik. Thus, I am almost certain that the first Jacob's Bible Cards date from the mid 1950s - Roddy Somerville.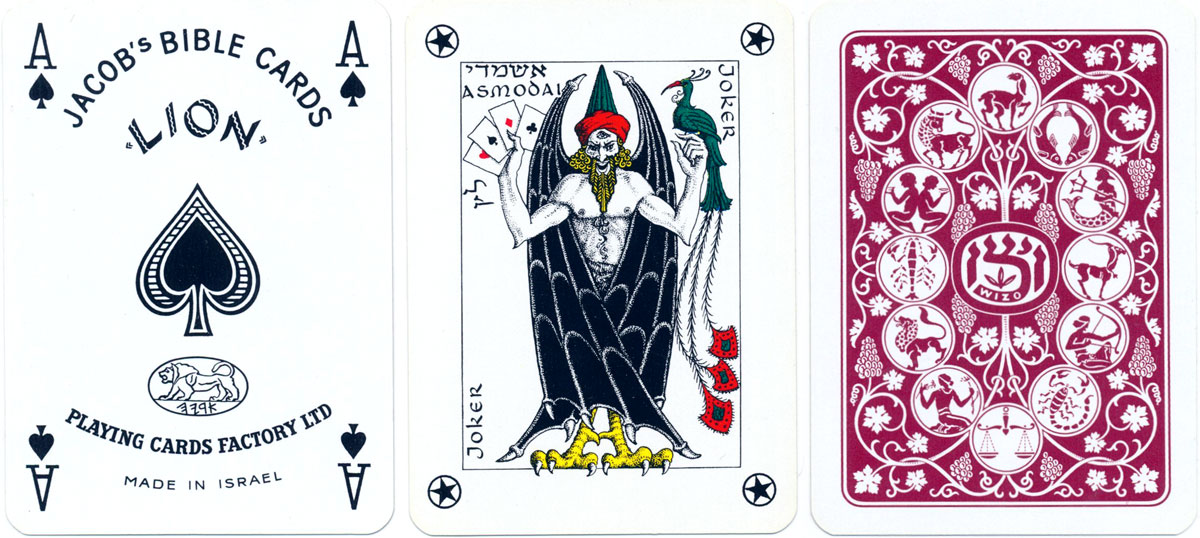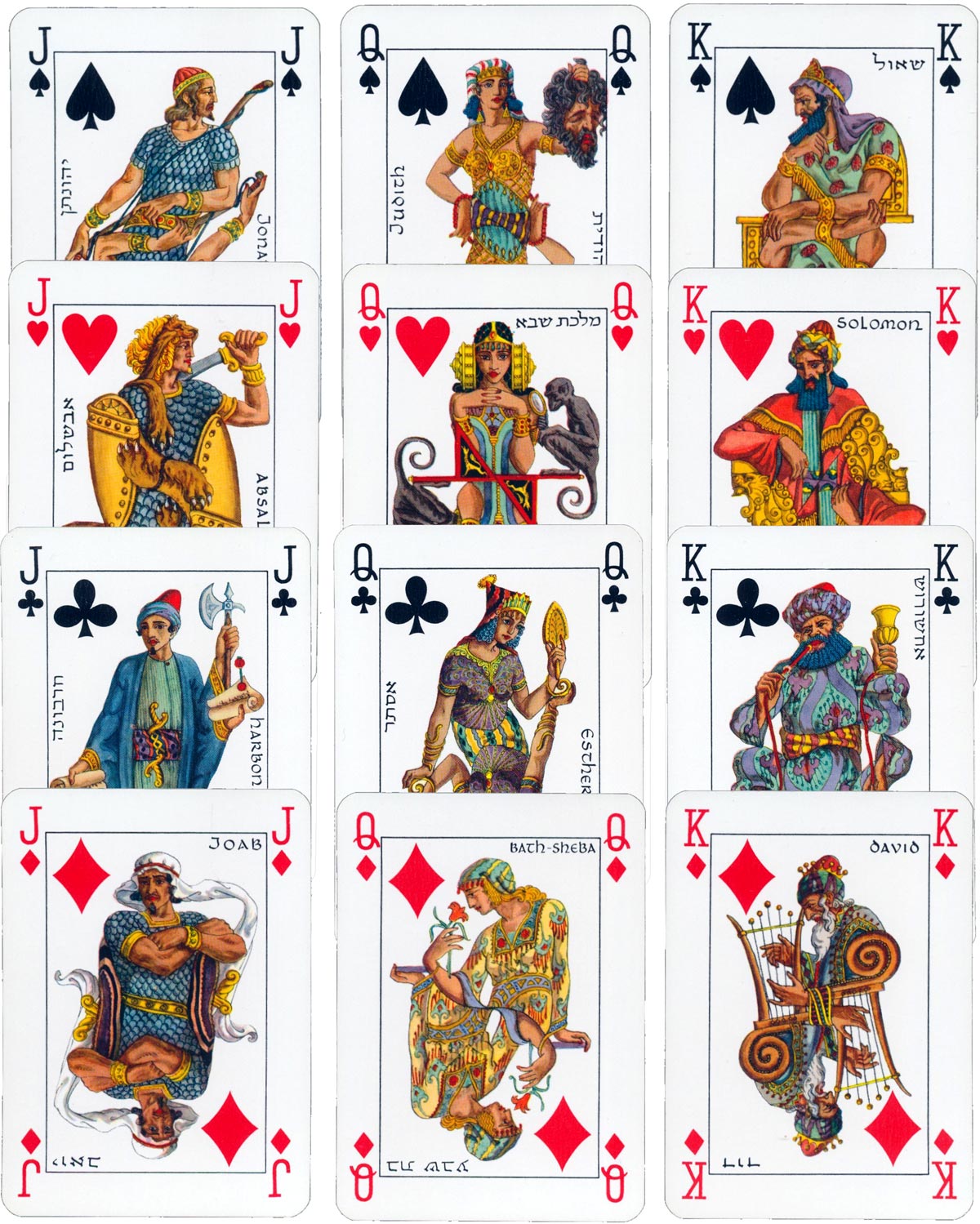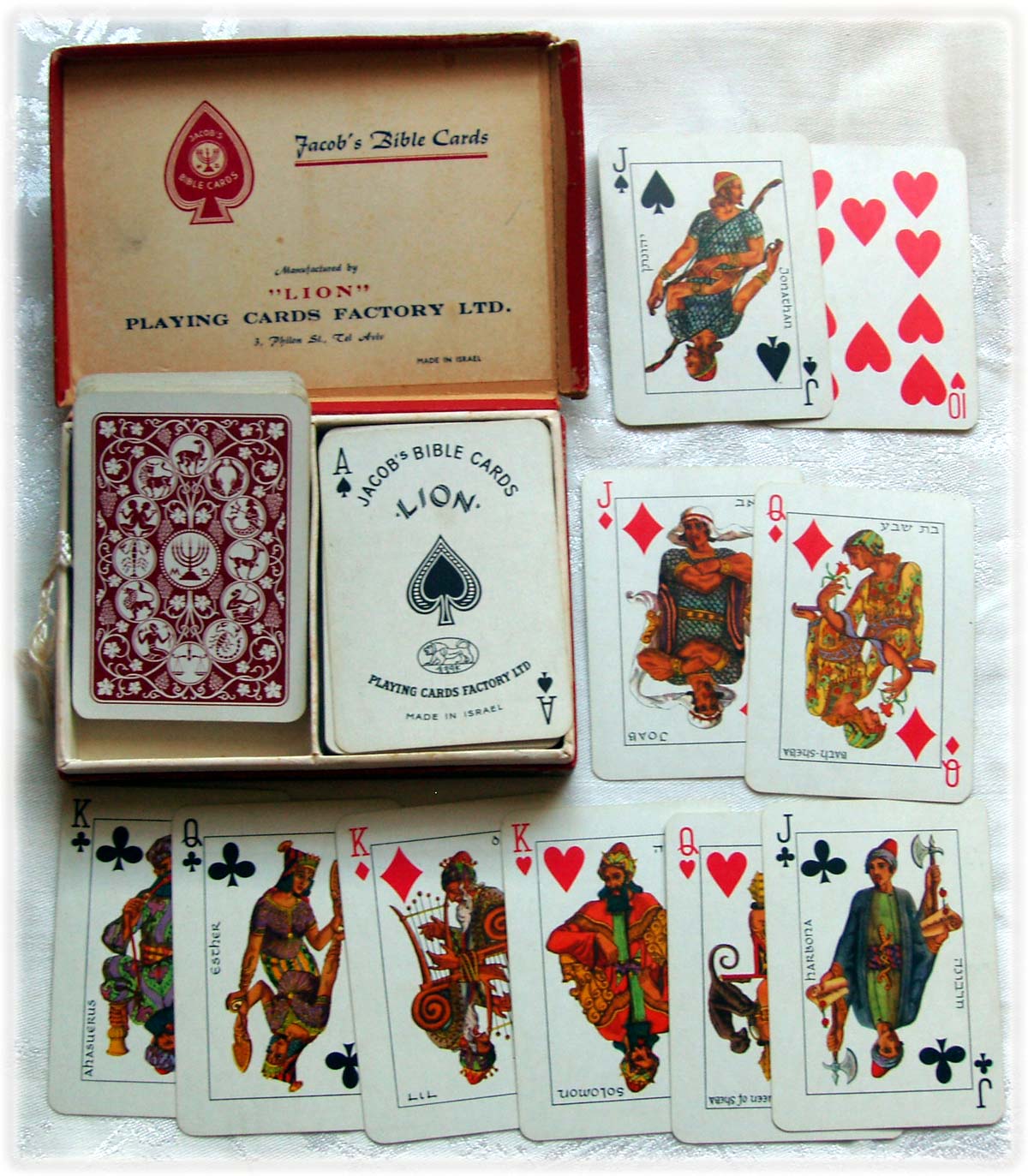 See: later version of Jacob's Bible Cards►
Member since March 02, 2012
View Articles
I have adored playing cards since before I was seven years old, and was brought up on packs of Waddington's No 1. As a child I was fascinated by the pictures of the court cards.
Over the next fifty years I was seduced by the artwork in Piatnik's packs and became a collector of playing cards.
Seeking more information about various unidentified packs I discovered the World of Playing Cards website and became an enthusiastic contributor researching and documenting different packs of cards.
I describe my self as a playing card archaeologist, using detective work to identify and date obscure packs of cards discovered in old houses, flea markets and car boot sales.