Playing Cards from Lithuania
Lietuvos Lošimo Kortos
Lithuania is the largest and most southerly of the three Baltic republics. The history of Lithuania has close ties with that of Poland, its neighbour to the southwest. By the end of the 18th century most of the country came under the Russian empire. During the periods of Soviet rule, Lithuanians relied on Catholic tradition and memories of independence to preserve their national identity, a skill mastered through centuries of foreign domination. Pagan traditions with roots stretching back centuries have been kept alive too.
The independent Lithuanian state was reestablished in 1918. After World War II the printing industry was nationalized by the Soviet administration.

During the short period of independence (c.1920-1940) Lithuanian printers produced some striking playing card designs in a range of artistic styles. Their unique artwork depicts national heroes, folklore and symbolism, evoking Lithuania's political history and struggle for national identity. Chief amongst these manufacturers was the Spindulys Printing Company (Aktiengesellschaft Spindulys, Kaunas, founded in 1928) which at one time also housed the national mint.
Spindulys Printing House, 1928 - present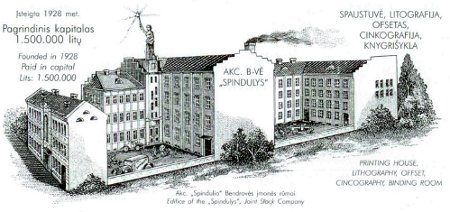 Spindulys was established after combining three printing houses, "Svyturis", "Varpas" and "Raides". The Print Works was located at Miško Gatvė 11, Kaunas district municipality LT-44321, Lithuania. At that time the playing-card designers were Mstislavas Dobužinskis (1875–1957) and Barbora Didžiokienė (1896 - 1976).
During this period, cards were taxed by means of a tax stamp on the Ace of Diamonds which reads: "Lietuvos Valstybes Monopolio Kortos" (Lithuania State Playing-card Monopoly). There was also a factory seal around the wrapped deck (click image below).

Today Spindulys Printing House is located at Vakarinis Aplinkkelis 24 as a book printing house, although playing cards are still a possibility.
The political changes that occurred in Lithuania since regaining independence in 1990 impacted on all spheres, media included. Censorship was lifted and state ownership of media abolished. Liberation of the print media began in the 1990s and Lithuania first entered the EuroVision Song Contest in 1994.

See also: Latvia :: Estonia :: Klubams :: Kunigaiksciai (Dukes) :: Gedimino Stulpai :: Istorines (Historical) :: Vaivorykste :: Pilys (Castles) :: Dviracio Kortos :: Gironda Political Cards