Published September 17, 2010
Updated June 20, 2022
Maciá Pattern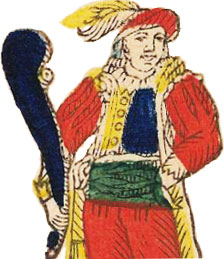 Anonymous manufacturer ~ "Fabrica de Madrid" ~ R.H.
This fine Spanish-suited deck from the nineteenth century shows most of the features of the style known as the Maciá Pattern which was originally produced by a Barcelona cardmaker in the 1830s and subsequently used as a model by other makers. It is not clear whether this example was made in Spain or elsewhere. The standing figures adopt classical poses and the Kings have the whole length of their legs in view, although in this example the Kings of Swords and Cups are not wearing laurel wreathes as in other examples and only two of the Kings are wearing shoulder-capes. The Ace of Coins shows a central medallion bearing a lion and a cannon, with two scrolls bearing the legend "Fabrica de Madrid". During the 1860s the pattern was also produced in Italy and by Spanish manufacturers in Barcelona and Igualada.
See also: José Gombau, 1833►
Member since February 01, 1996
View Articles
Curator and editor of the World of Playing Cards since 1996. He is a former committee member of the IPCS and was graphics editor of The Playing-Card journal for many years. He has lived at various times in Chile, England and Wales and is currently living in Extremadura, Spain. Simon's first limited edition pack of playing cards was a replica of a seventeenth century traditional English pack, which he produced from woodblocks and stencils.