Torras y Lleó, Barcelona, Spain, c.1838-1921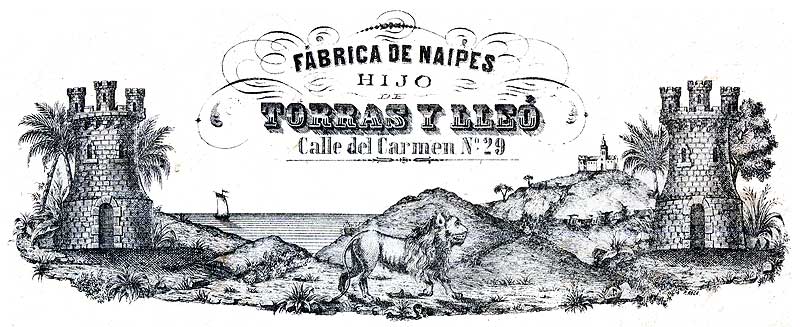 Francisco Torras y Lleó was a playing-card maker in calle Carmen, Barcelona, who flourished during the period 1838-1860. After his death the company continued trading as Sucesores de Francisco Torras y Lleó (1861-1883), at the same address, and later as Hijo de Torras y Lleó (1884-1921). Over its lifetime the company produced a very extensive range of playing cards in a refined style.
The motif of the lion and two towers - a pun on the founder's name - which usually appeared on the four of cups and the wrapper, was often imitated by foreign manufacturers, in particular Francisco Girbau of Buenos Aires (Argentina).
Finally the company became part of the amalgamation known as Fabricantes de Naipes de España S.A. (1917-1934) which in turn was absorbed by Hijos de Heraclio Fournier in 1934.
---