Published July 03, 1996
Updated January 28, 2022
Standard and Non-standard Playing Cards
Standard playing cards are based upon traditional designs and are used for card games.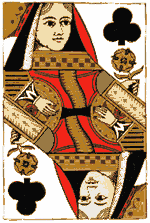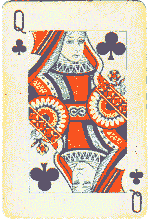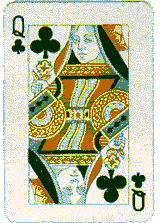 Standard Playing Cards
Standard playing cards are those in which the court card figures are based upon traditional designs whose features do not change much over time. Players recognise the cards immediately and expect to use these for everyday card games. The number cards are arranged clearly and logically. Standard packs are made by most manufacturers, although there may be different standard patterns in different regions within a country. There are also several different national suit-systems, alternative court card hierarchies as well as the number of cards in a pack.
The illustrations (right) show how English playing card designs have evolved from full length figures, with square corners and no indices, to double-ended ones, with the addition of indices, although the same basic designs are always discernible.
During the 19th century the court cards were often flipped horizontally so that the pip sign and index lie at the top left-hand corner, to make fanning the cards more convenient.
By around 1880, rounded corners had become the accepted norm in England. The Printer and Stationer of January 1880 reported that "… it appears that most of our card manufacturers make round cornered cards now - their convenience being undeniable." However, square cornered cards were still produced until around the turn of the century.
---


"Life is a pack of cards.
Childhood's best cards are hearts;
youth is captured with diamonds;
middle age is conquered by a club,
while old age is raked in by the insatiable spade."
---
One standard pattern in particular enjoyed great success and was widely imitated - the Paris pattern. Derivatives of several other French regional patterns also became new patterns in many European countries more►

Non-Standard Playing Cards
Non-standard playing cards are those in which the court cards, pip cards, aces and/or jokers have deviated from the traditional, 'standard' pattern and have been stylised, decorated or re-designed. For example, fantasy historical court cards, humorous cartoons, decorative aces, and so on. Sometimes the court cards are representations of political personalities. A pack of cards may be produced to honour a royal commemoration, a new tourist attraction or the next millennium. Sometimes the shape of the cards is different. These types of card are a distraction to serious card players, but often sought by collectors.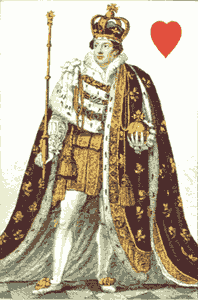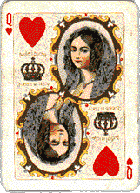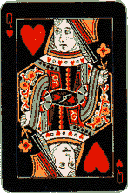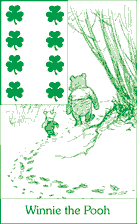 Advertising Playing Cards
Advertising playing cards display advertising messages, either on the reverse of the cards, or else on the pip cards, court cards, aces, jokers or even the box. They may be given away freely, but not always easy to get. Some of the more popular collector's advertising themes include breweries, shipping lines, and household products. The style of advertising on playing cards changes over the decades, due to changing technologies, fashions and taste.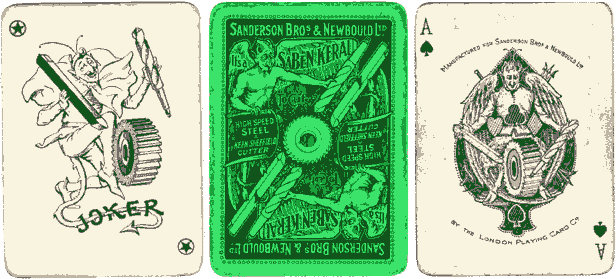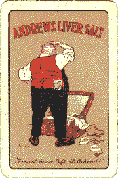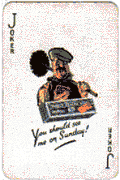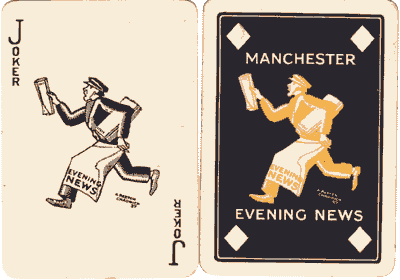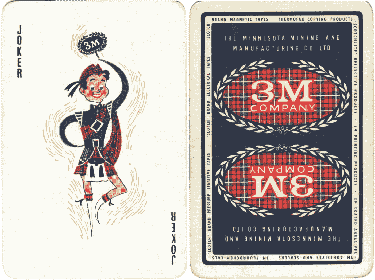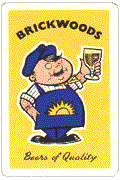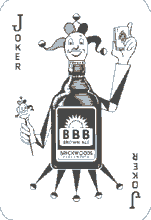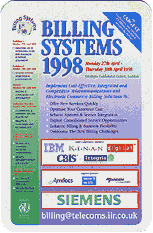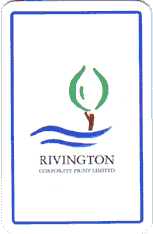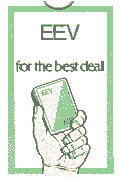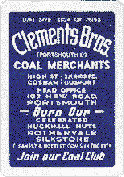 ---
With the covergence of digital technologies towards the end of the 20th century, the cost of producing custom playing cards, i.e.non-standard, fell whilst old-fashioned technologies became obsolete. Small custom print runs became feasible with photoshopped artwork inserted easily into the printing. Thus from this point onwards non-standard cards have become cheaper to produce and are now more prevalent than standard ones.
Card Games
Card games are a part of our cultural and social history. They reflect the story of our life since our childhood. The style and design of card games from the nursery to adult drinking games encompasses a wide range of different material, much of which stimulates debate and differences of opinion. For example, whilst "Snap", "Happy Families" and "Old Maid" are familiar titles, other games such as currency, travel or war-time card games are less common, and they all provide something new to learn.
---
Children's Card Games with Advertising
Sales incentives - from the collection of Rex Pitts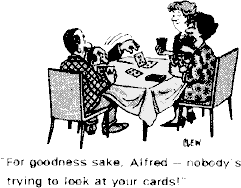 Ephemera
Some collectors enjoy items connected with playing cards, such as score cards, markers, ash trays, glasses, erasers, key rings, post cards, advertisements, brochures, stickers etc. Whatever you may decide to collect, it will lead to new discoveries, hours of 'hunting' and much pleasure.
Member since February 01, 1996
View Articles
Curator and editor of the World of Playing Cards since 1996. He is a former committee member of the IPCS and was graphics editor of The Playing-Card journal for many years. He has lived at various times in Chile, England and Wales and is currently living in Extremadura, Spain. Simon's first limited edition pack of playing cards was a replica of a seventeenth century traditional English pack, which he produced from woodblocks and stencils.