Published October 21, 2012
Updated February 18, 2022
Transformation of Playing Cards
Hand-drawing 'Transformation' playing cards was a popular pastime 200 years ago
Transformation Playing Cards are those in which the ordinary pip cards have been integrated into a new design thereby 'transforming' the playing card into a miniature graphic artwork. The pips must retain their traditional position and shape, so it is challenging to create a good overall composition. Some packs have standard court figures but others do not. Thus every card carries a different design, some of them extremely ingenious.
A New Form of Creative Art...
The exact date of their origin is unknown, but must have been within a few years of 1800. The idea became popular in late 18th or early 19th century as a pastime. Cards, maybe from incomplete packs, were 'transformed' using pen and ink, often with the addition of colour, into amusing miniature scenes. In those days packs did not have corner indices so there was more space available for the artwork. It is rather like transforming random squiggles or spots on a piece of paper into a picture, testing your ingenuity and artistic ability.
In France sets of "jeux à cartes transformées" often depicted satirical themes which earned them the name "jeux de cartes à rire", or less often that of "jeux grotesques".
A considerable fashion for them developed throughout the 19th century and many miniature masterpieces were created. Transformed packs were even made for fortune-telling. At the same time, printed almanacs were published containing drawings designed as playing cards and these also became a fasionable novelty. The first of these appeared in the "Taschenbuch für 1801", published in Brunswick in 1800, representing scenes from Samuel Butler's "Hudibras" (which lampoons the Puritans and was originally published 1663-1678) on eight cards designed by D.W. Soltan. This was not a complete pack, just eight cards, some of them duplicated.

Twelve transformation cards were engraved by Christoph Haller von Hallerstein and dated 1802. This incomplete set was published the following year as "Bout-Rimes Pittoresques." These early transformations were not intended to be used to play card games, but were a new form of creative art.
In c.1802 Jan Rustem (1762-1835) composed "Cartes Barbouillées" ("Kitsch Cards") and "Cartes de Fantaisie" ("Fantasy Cards") from different drawings and sketches (mythological, religious and domestic compositions, still lifes and portraits), deciding where to place the symbols and playing with stories, motifs and cultural allusions. However, it does not appear that the artist wanted to make a complete pack to play with.

The first complete pack was printed in 1804 and published in 1805 by J. C. Cotta, a publisher and bookseller in Tübingen, Germany. The twelve court cards depict characters from Friedrich von Schiller's tragedy Die Jungfrau von Orleans (The Maid of Orleans) but the transformed pip cards are unrelated see more→
Cotta went on to publish a total of six almanacs of transformation packs.

19th century hand-drawn packs are now extremely scarce... some of them contain original ideas, humorous caricatures or comical satires of the theatre, politicians or opera stars, or else epic heroes of classical antiquity and so on. Some of them tell a story or recount a nursery rhyme. Others contain contemporary social scenes including ethnic stereotypes which might be incorrect today, showing how social attitudes have changed. Whilst many are ingenious in their design, others do not display so much originality; if the pips do not fit in with the design they are placed therein just the same. We can imagine families in their drawing rooms, by the fireside, reading, smoking, cross-stitching or doodling on old playing cards...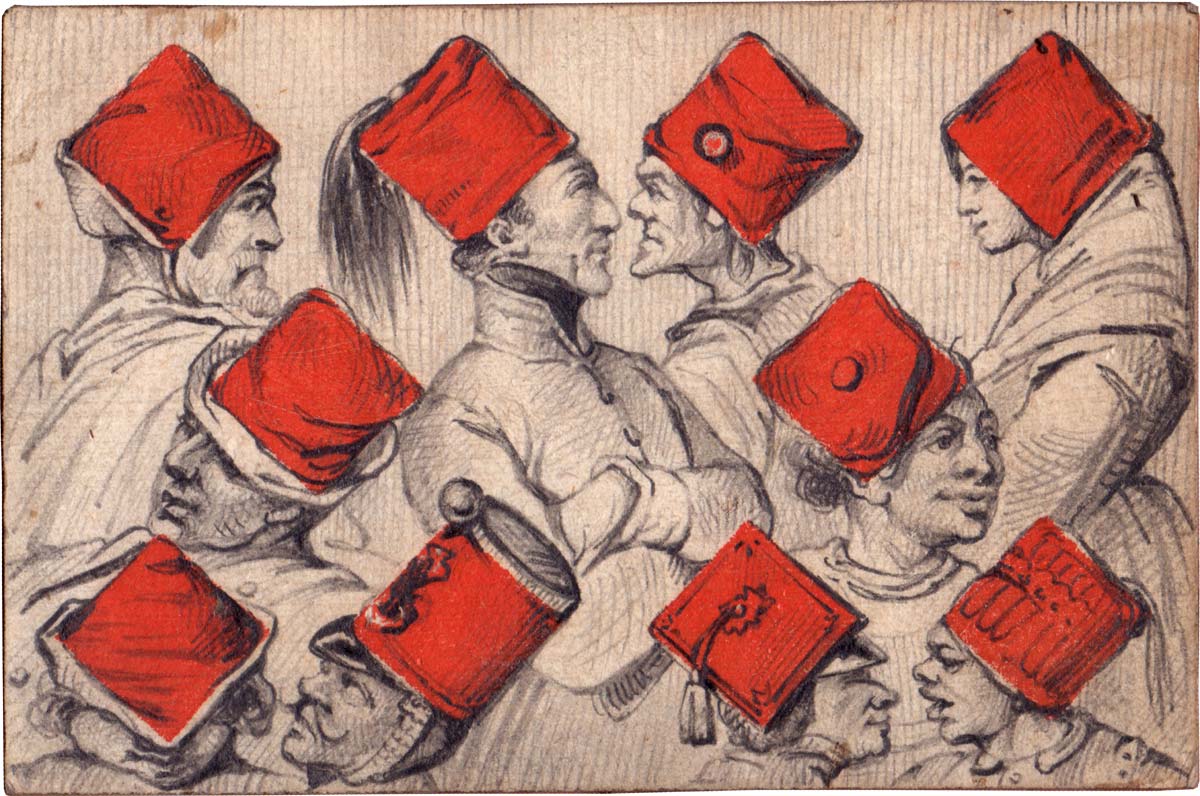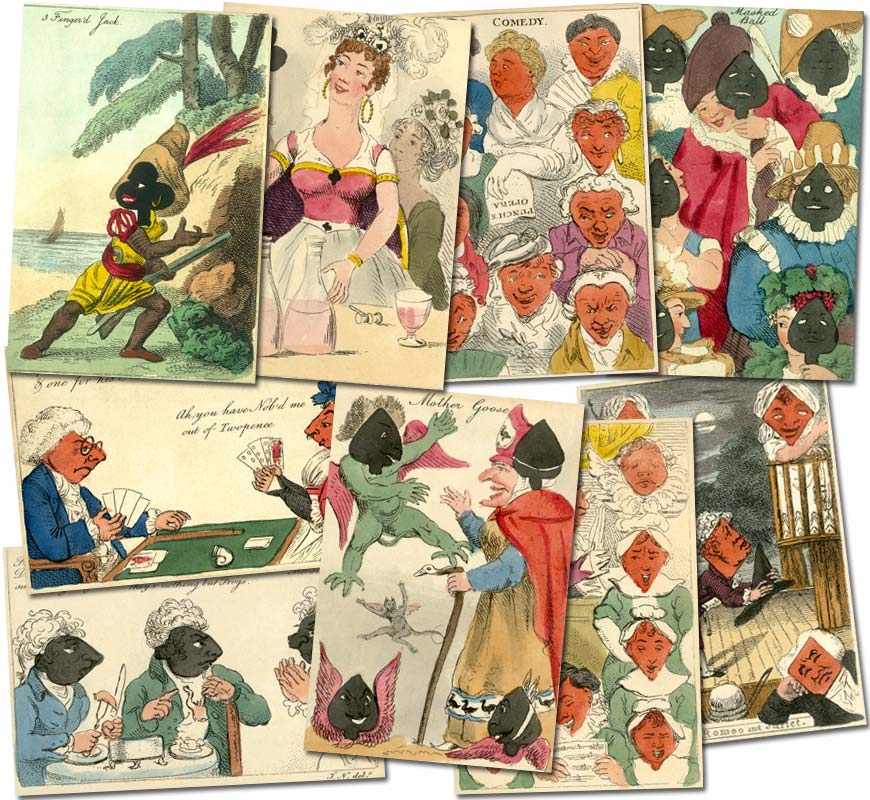 Rudolf Ackermann published a popular monthly periodical titled "Repository of Arts, Literature, Fashion etc" in 1818 and 1819 in which he included plates of original transformation playing cards as this was a popular topic amongst the gentry. Similar packs, differing slightly in design, were published in Austria, France and America.

Generally-speaking, cards can be 'transformed' in several different ways. One method is to design a scene which occupies the entire card and cleverly incorporates the pip symbols into the design. Another method is to transform each pip into a flower or insect so that the result shows, say, six beetles moving across the card. In some cases the pips themselves are transformed into faces which become part of a caricature. Cards can be oriented the way which best suits the artist; upright, inverted or landscape. Extra colours can be added as highlights or illumination.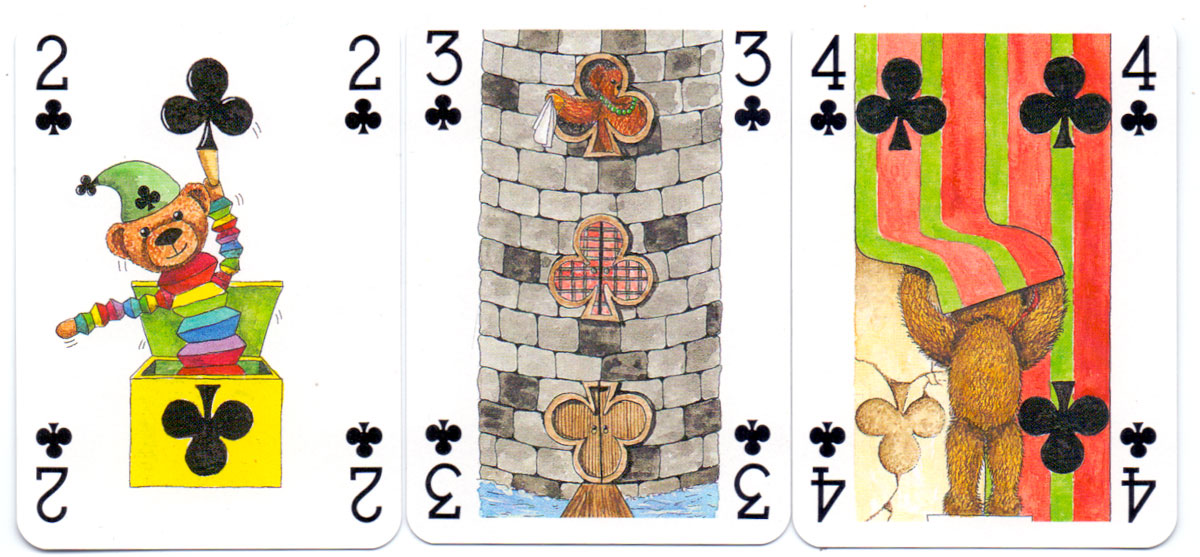 ---
Member since February 01, 1996
View Articles
Curator and editor of the World of Playing Cards since 1996. He is a former committee member of the IPCS and was graphics editor of The Playing-Card journal for many years. He has lived at various times in Chile, England and Wales and is currently living in Extremadura, Spain. Simon's first limited edition pack of playing cards was a replica of a seventeenth century traditional English pack, which he produced from woodblocks and stencils.