Published July 03, 1996
Updated May 15, 2018
James English & Co.
Victorian Playing Cards manufactured by James English & Co., London, c.1875
James English's first advertisement in 1865 lists five varieties of playing cards: Highlanders No.1 & No.2, Harrys, Moguls with Floral & Gold backs. Gradually this range was expanded as new designs were added each season, in particular floral and ornamental back designs, some of which were designed by Mr Aymer Vallance. For a more detailed account of the company history see: Ken Lodge's Blog►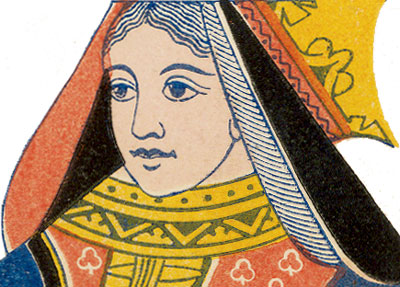 James English & Co was also using the name Peerless Card Company from around 1880.
Member since February 01, 1996
View Articles
Curator and editor of the World of Playing Cards since 1996. He is a former committee member of the IPCS and was graphics editor of The Playing-Card journal for many years. He has lived at various times in Chile, England and Wales and is currently living in Extremadura, Spain. Simon's first limited edition pack of playing cards was a replica of a seventeenth century traditional English pack, which he produced from woodblocks and stencils.