Published November 02, 2011
Updated March 21, 2022
Kimberley
Kimberley's Royal National Patriotic playing cards, c.1892-1905.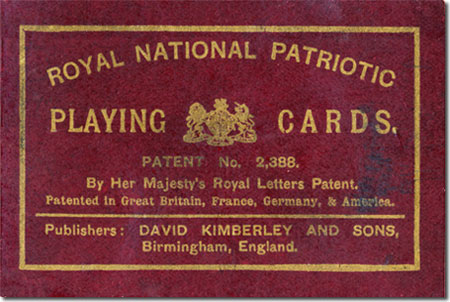 Kimberley's Royal National Patriotic playing cards, c.1892-1905.
"They differ from ordinary cards in having combined with each suit a special distinct nationality of style and appearance. Instead of the ordinary Ace card, I make an Ace which exhibits an illustration of the representative flag of that suit's nationality. Instead of the normal King, Queen and Knave I propose to place a good portrait of the rulers or representatives of the countries indicated..."
Kimberley's "National Patriotic" playing cards represent four nations: Diamonds represent England, Hearts represent America, Spades represent France and Clubs represent Germany. The Ace card of each suit represents the 'Royal Standard' or flag of each Nation. For England (Diamonds) the Union Jack; for America (Hearts) the Stars and Stripes; for France (Spades) the National Colours and for Germany (Clubs) their Royal Standard. Courts represent contemporary and past royalty. The backs usually show an array of clocks in various colours.
The First Edition c.1892-93

The numerals follow a scheme proposed by Kimberley in his patent application of 1892: a large suit-sign occupies the centre of the card, with the numeric value voided in it twice. The pack has non-standard aces, non-standard courts, non-standard colours for pips (spades are blue, hearts maroon) and the pips on the numeral cards occupy almost the entire card.

The cards bear no advertising, nor is there any indication that the cards were intended for commemorative purposes. The fact that they ran into at least five distinct editions suggests they were popular during their ten or twelve years of production, i.e. c.1892-c.1905.
The Second Edition c.1893-97
The court cards and Aces are the same in the first and second editions. Only the numeral cards differ.

The Fourth Edition c.1899-1901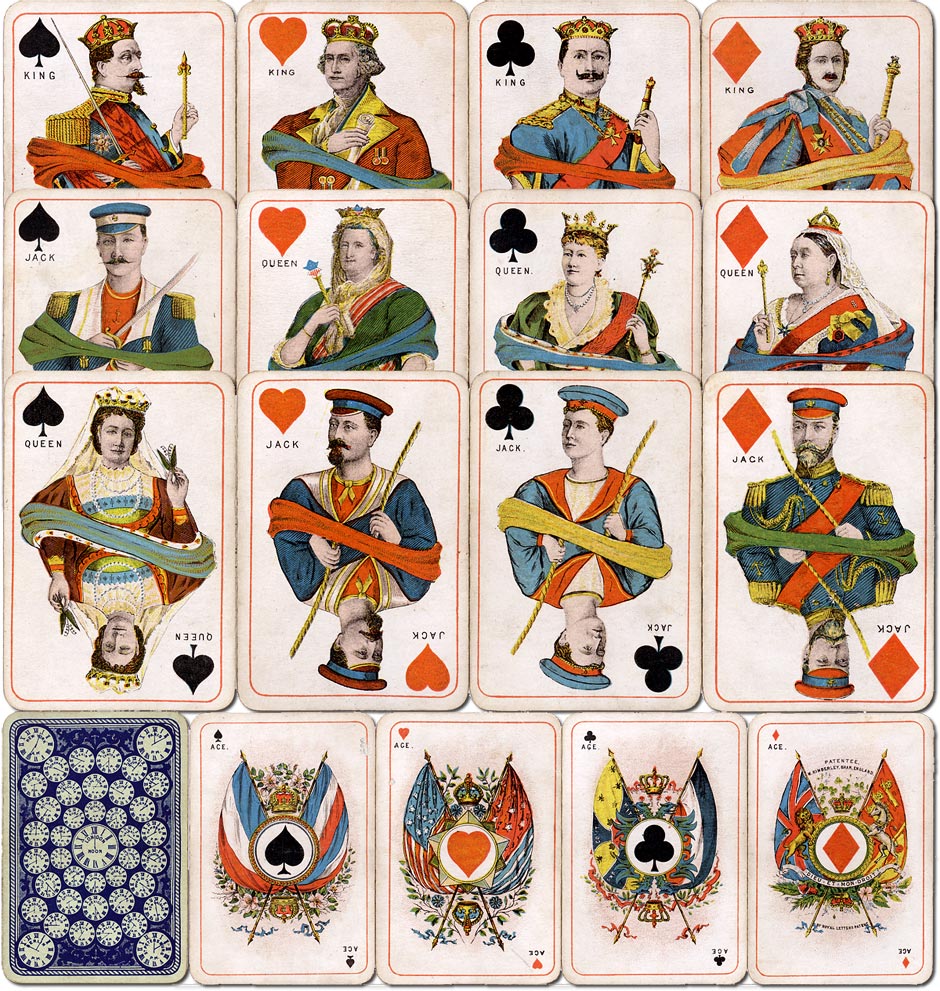 The Fifth Edition c.1902-05

---