Naipes 'La Criolla' by Anabella Corsi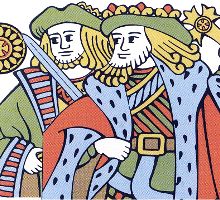 Naipes 'La Criolla' designed by Uruguayan graphic designer Anabella Corsi, 2008.
Naipes 'La Criolla' are inspired by an archaic Spanish pattern formerly used in Spain during the 16th and 17th centuries (example here). The first retail edition was printed in Uruguay in 2009 by Gráfica Mosca. An earlier verson with advertising on the reverse, and with several small differences of detail, was published in 2008.
"La palabra 'criolla' o 'criollo' significa 'hijo de europeo nacido en hispanomérica'. Cuando a partir de 1492, los europeos comenzaron a llegar a la América Hispana (de España), mayormente españoles e italianos por estas zonas, sus hijos fueron los 'criollos' de América. Tanto si eran hijos de padres europeos, como si fueran hijos de padre europeo y madre india, todos eran criollos. Mis naipes son así, criollos, porque nacieron aquí, ya que yo los diseñé, pero son 'hijos' de los naipes españoles" - Anabella Corsi.