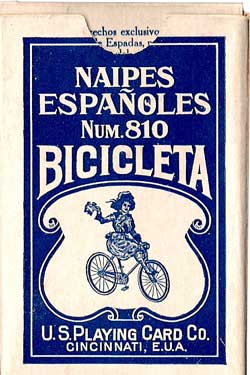 Several U.S. manufacturers produced Spanish-suited decks during the nineteenth century. Earlier editions were probably for sale in California, Texas and Mexico and are vivid reminders of those adventurous gold rush days of the middle of the century. Also the South American and Spanish markets were not overlooked, where local production was often of rudimentary quality, not forgetting the Spanish speaking inhabitants or immigrants of U.S. Some later examples appear to have been exhibited at Trade Expositions where a number of gold medals were awarded and then proudly displayed on the decks.
The famous 'Bicycle' brand had been introduced by Russell & Morgan Printing Co. in 1885, the days when high-wheeled bicycles became a new, fast means of transport, and subsequently they became the best known brand in the world. On this basis the United States Playing Card Co. issued Spanish versions of their flagship brand from the 1890s, including this example in c.1904.
Spanish models of the day were closely imitated, including traditional features or trade marks, such as the border breaks or 'pintas', the the inscription AHI-VÁ on the Cavalier of Cups. In this instance the Spanish 'Cadiz' pattern is used, which was most familiar to Spanish-speakers in the 19th and early 20th centuries.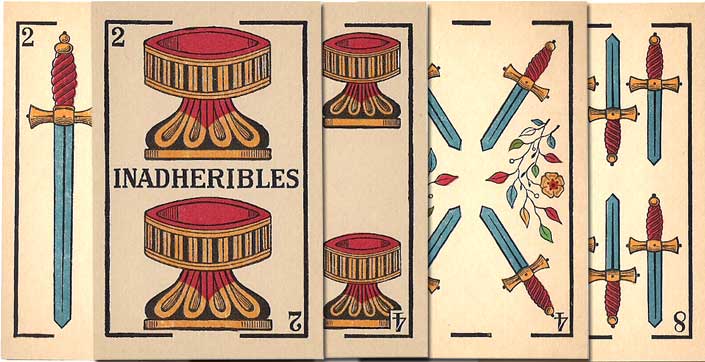 ---
References:
• See also:
Los Leones by USPCC
Naipes Finos by A. Dougherty
Bicycle 808.
---
Naipes Especiales #95

---
Los Leones #71