Published March 11, 2013
Updated June 03, 2022
Cabinet No.707
Russell & Morgan's "Cabinet No.707" brand was first introduced in 1888.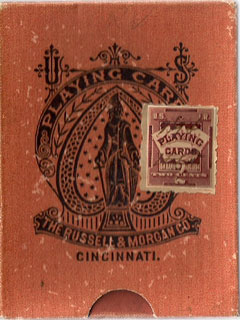 Cabinet No.707, 1888
Russell & Morgan's "Cabinet No.707" brand was first introduced in 1888 as a 32-card Euchre deck. Brand names such as "Congress", "Cabinet" and "Treasury" were perhaps designed to give an air of gravity for the serious card player. It may even have been intended to suggest a possible imprimatur by the government for, as we can see, early decks were presented in linen finish generic slip cases with the Statue of Freedom, which was adopted as a trade mark, inside a Spade suit symbol and the words "U.S. Playing Cards" and "The Russell & Morgan Co., Cincinnati" printed or embossed on the front. The Ace of Spades is very similar, and reads "The Russell & Morgan Ptg Co., Cincinnati". The cards were highly enamelled, gold edges were optional and six colours of backs were available.

Up til the early 1900s the more expensive brands came in attractive colourful wrappers sealing the decks inside their boxes which were printed with the name and number of the brand with extra decorative artwork. As the popularity of Euchre declined, the "Cabinet No.707" brand was changed to a regular 52-card deck with a new Joker.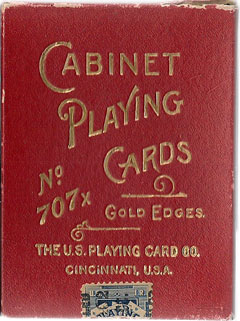 Cabinet No.707x, c.1900
This edition of "Cabinet No.707" playing cards is a 52-card, gold edged version presented in a very attractive wrapper inside a slip case. It has a plainer U.S.P.C.C. Ace of Spades and a scenic photograph back. The Statue of Freedom which appears on the Ace of Spades and Joker is a bronze statue designed by Thomas Crawford (1814-1857) that, since 1863, has crowned the dome of the U.S. Capitol in Washington, D.C.
The "Cabinet" range was finally discontinued in 1930.
---