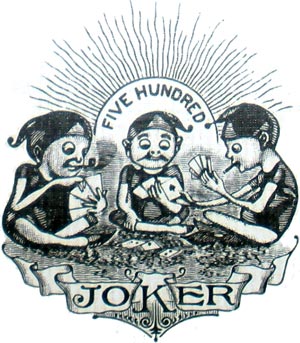 No. 500 Playing Cards
The brand was originally patented in 1896 by U.S.P.C.C. but published by the National Card Co as "Full House Poker Cards #555" as a 60-card deck plus a Joker, including the regular 52 cards plus 11 & 12 pip cards. The Joker features Brownies as were popularized at the time by Palmer Cox, a writer of children's stories. The brand was carried through into the U.S.P.C.C. range and re-named "500" and the deck was increased to 62 cards with the addition of two 13 pip cards.
Over the years there were variations in the design and lettering on the box, Ace of Spades and Joker. This set includes an extra card called "Avondale Schedule for 500" which is dated 1906.
---