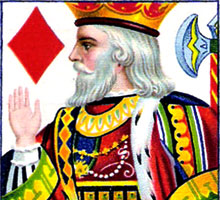 Reckoned by some to be the most beautiful deck ever manufactured by the United States Playing Card Co., this is certainly one of the most elusive American decks. However, due to the 12-colour printing process involved, the deck may have proved too expensive for manufacture in quantity. The only record of its existence is in 1909/1910 USPCC files suggesting that the entire issue was never placed on sale and possibly destroyed, for unknown reasons. It does not appear to have ever been listed in a catalogue or advertised for sale. Only a few copies are known to remain, which may have been salesman's samples: current estimates are about nine surviving copies. It may have been intended as a presentation deck following the U.S. Playing Card Co's move to new premises in Norwood, Ohio in 1901, where the company is still located today.
The deck features a colourful Ace of Spades and Joker, decorated Aces, unique courts and two beautiful back designs featuring fine art paintings. The photographic faces and 3D effects on the court cards make it look like it was produced in Photoshop only yesterday! Some of the surviving copies have gold edges, others do not. A clue to the earliest possible date of production is one of the gold medals on the Joker which relates to the 1904 St Louis Exposition.
Rod Starling [2005] argues that evidence in favour of the (surprising) proposition that the Norwood #85 deck was never offered for sale is the fact that it has never been found in its own box. When found in a box, that box has either been a Bijou No.1 box, or a generic, unbranded box. Other questions remain unanswered: when was it first made, was there a copyright problem, or was it technically too expensive to go ahead? Perhaps it was intended to celebrate a special occasion which was cancelled at the last minute? We don't have the answers. So far, nobody has been able to determine why the number "85" was designated for the deck.
---