Stage Playing Cards, 1908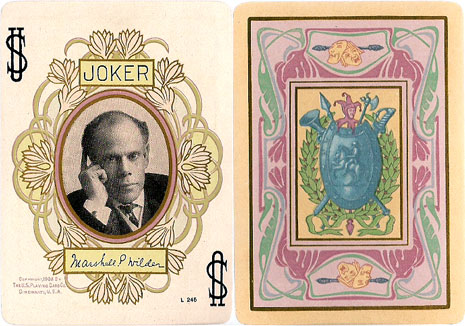 This beautiful deck features an oval half-tone photo of a theatre star on each card, many of them legendary names, along with their autograph beneath. This, of course, provides two types of memorabilia at once and also gives the opportunity for graphologists to analyse their personalities! The border artwork consists of a different coloured floral pattern for each suit, with standard indices in the corners. The back has a decorative panel with theatre masks etc.
William Gillette, the King of Diamonds, played Sherlock Holmes on the stage for 30 years. The Ace of Hearts features Dame Ellen Terry, the English stage actress who became the leading Shakespearean actress in Britain. Marshall P. Wilder (1859-1915), on the Joker, also appeared in the earlier Stage No.65 deck, of 1896.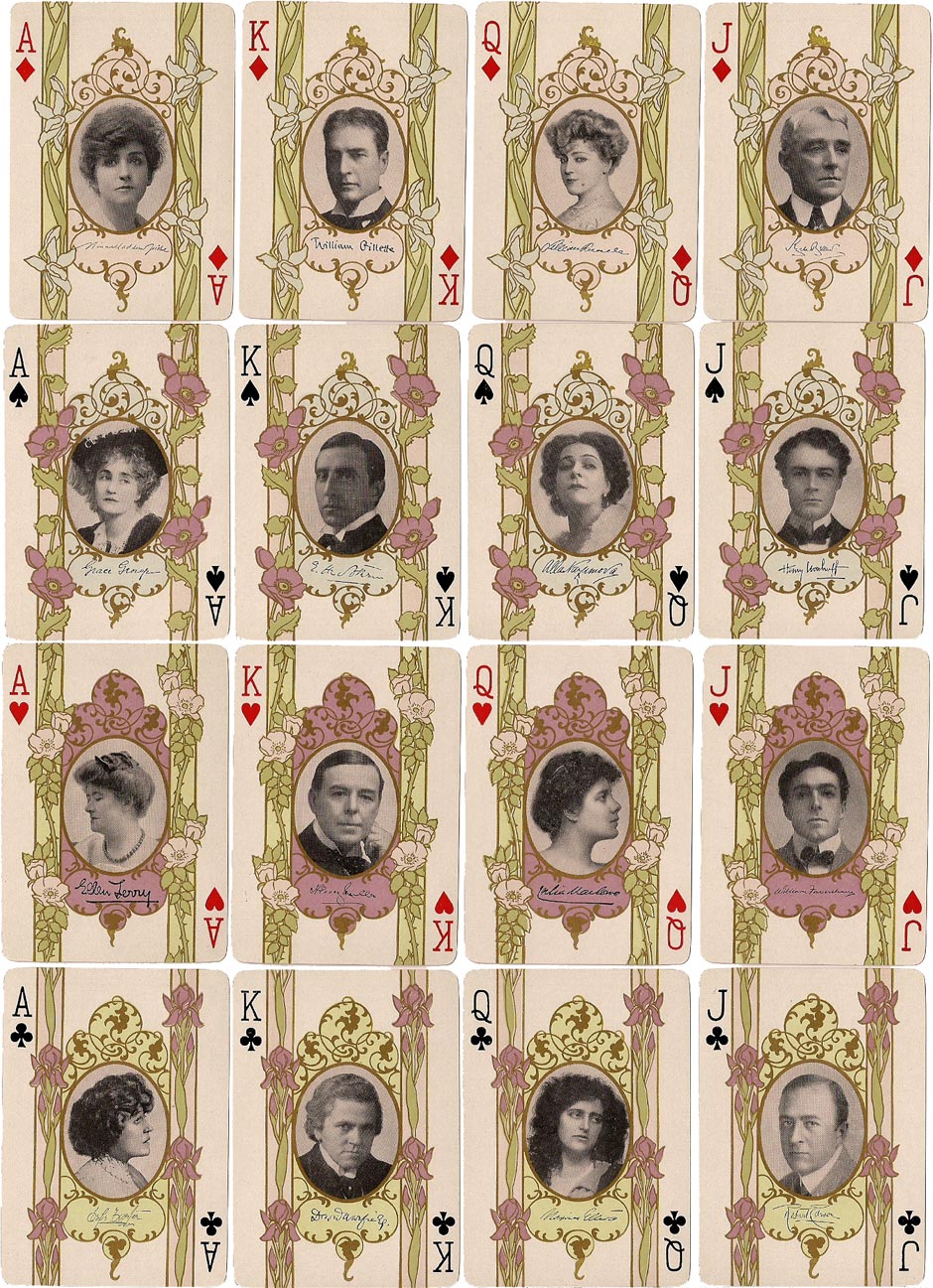 The Joker in the 1908 Stage deck pictures Marshall P. Wilder. On July 28, 1910, The New York Times published a report that the actor was dying from acute indigestion and was not expected to live out the night. In fact, he went on to live until 1915. I would say that he had the joke on the Times. Is that why he is the Joker in this deck?
The King of Diamonds from this stage deck pictures William Gillette, of particular interest to Sherlock Holmes fans. William Gillette, with the consent of Arthur Conan Doyle, wrote a play entitled simply Sherlock Holmes, in which he played the title role. The very first presentation of the play was at the Star Theatre in Buffalo, New York on October 23, 1889. The first presentation in England was in April 1901, at the Lyceum Theatre in London. One of the characters in the play was Billy, a page boy, played by a twelve year old lad named Charlie Chaplin who later migrated to America and achieved great fame in his own right. Mr. Gillette appeared in his Sherlock Holmes play for more than 1,300 performances over a period of 33 years. He was considered the very personification of the famous detective and Frederick Dorr Steel, a famous illustrator, used Gillette's likeness in illustrating the Sherlock Holmes stories that were published in Collier's Magazine during 1903-1905. Gillette died in 1937 at age 84. His career was very profitable and he built a castle in Connecticut that today is a tourist attraction. It includes a creation of Sherlock Holmes' famous living room at 221b Baker Street in London, just as Conan Doyle had described it in his Sherlock Holmes stories.
---