Published July 20, 2011
Updated March 31, 2022
The Big Deal
In 'Patia Te Pere - The Big Deal', Joan Gragg presents a first edition series of 1000 decks in which the characters, themes and patterns from traditional playing cards are replaced by Cook Islands cultural, environmental and societal icons.
Patia Te Pere - The Big Deal
Depicting daily life within a contemporary pacific society...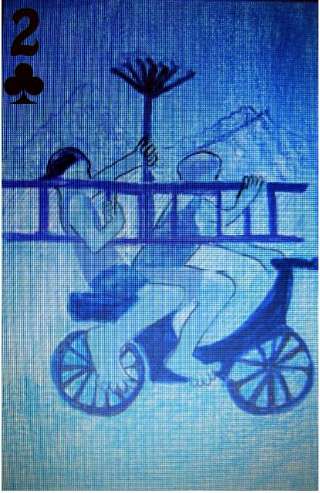 For 32 years, Cook Island artist Joan Gragg has painted daily life in the Cook Islands.
In 'Patia Te Pere - The Big Deal', Joan re-presents her narrative within a first edition series of 1000 decks of playing cards in which the characters, themes and patterns from traditional playing cards are replaced by Cook Islands cultural, environmental and societal images.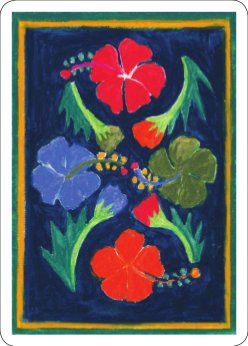 The cards depict the unique social attributes on daily display within a contemporary3pacific society.
While it is obvious to reference the popular local card game of Uka, a flamboyant, effusive performance more often supplemented by raucous laughter, drinks, ei katu and cigarettes, Joan's choice of artistic delivery (the cards) offers a poignant comment on the transposable and economic nature of culture itself.
With the Cook Islands Tourism increasingly recognising the commodity value of culture within its international marketing, Joan has created an affordable tourist souvenir for re-export and constant destination advertising wherever the cards may travel.
A discourse on the Sino-Pacific relationship and how it can fuel pacific tourism awareness and preserve local identity ensues. Also brought into question is the debate on culturally specific products, their manufacture, supplication and inherent market perception. (Notes by Ben Bergman. BCA gallery Rarotonga.)
Packs are available directly from Joan Gragg at $NZ 45.00/deck plus postage.
"The inspiration for the cards came from a deck of cards given to me ten years ago called "The Deck of Cards" by Andrew Jones Art. Cards drawn by 56 British artists. Our family enjoyed them because they were challenging and really made you think as to what each card was but also made them difficult to use as playing cards."
"Card playing in the Islands is very popular. In 2010 I decided to paint a deck of cards about the Cook Islands. I used elements from my previous work which focuses on recording impressions and every day humorous events that are taken for granted in the Islands."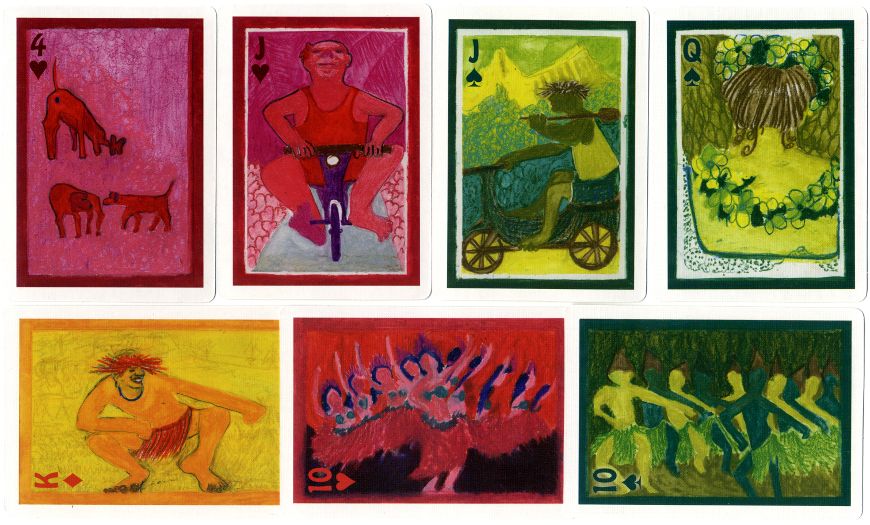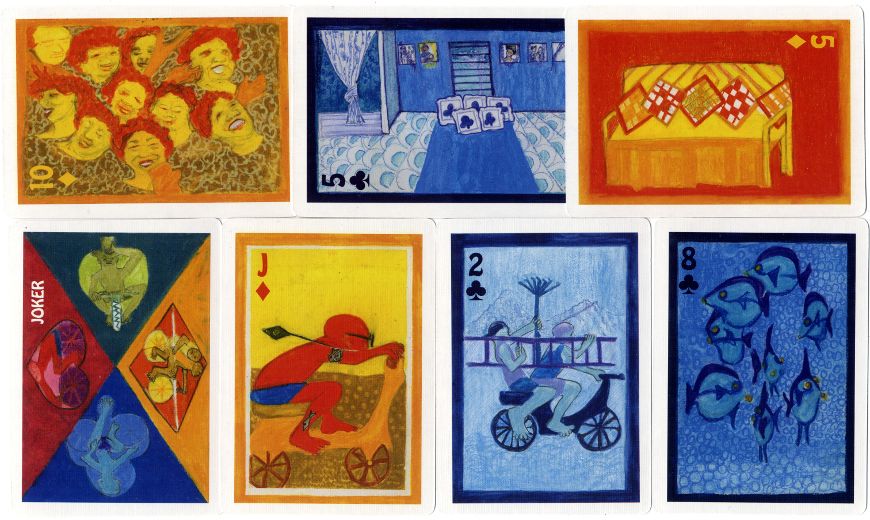 "My deck of fifty four original paintings addresses some of the issues that made "The Deck of Cards" difficult to use when playing card games and especially Cook Islands euchre which is fast and rowdy. I have tried to incorporate into my deck elements like surprise, the twist on a subject, amusement, originality, intrigue, and fun. The four suits gave me a chance to paint four pictures of the same subject while the thirteen cards in each suit gave me the opportunity to also paint thirteen different subjects. Plus the joker."
"The medium of water soluble crayons that I had bought in Auckland and loved because of their bright colour fitted my purposes perfectly. I worked in small format; 6 x 8.5 inches and restricted the colour for each suit using red for hearts, yellow orange for diamonds, blue for clubs and green for spades, further challenging my imagination and making it easy to identify the suits. I did at one time think it would be fun to not put any notation on the cards but card players insist on large lettering. I must admit we need the notation for euchre." The cards are printed in China.
Member since February 01, 1996
View Articles
Curator and editor of the World of Playing Cards since 1996.