Published January 28, 2022
•
Updated October 16, 2023
Cartomancy, Oracle and Divination Cards
Playing cards are used for fortune-telling, predicting the future or even as a psychological adjunct to folk medicine and therapy. Turning another card illumines the moment and new clarity emerges.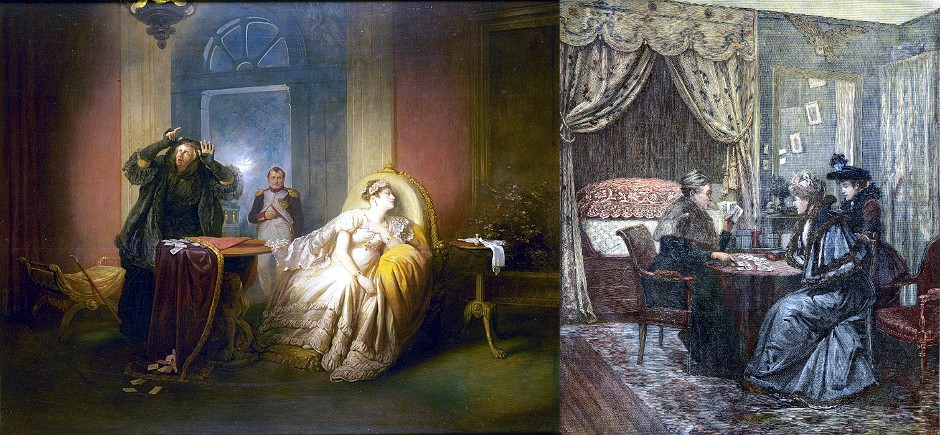 Divination was practised by the ancient Greeks, and by the druids, the Celtic priests of the iron age, who consulted various types of omens, runes, bird droppings or holy books in an attempt to seek guidance from the gods or other supernatural entities. Needless to say, divination was considered a pagan practice and forbidden in the early Christian church. Early scientific notebooks contained alchemical and medical recipes, texts on geomancy and divination (often translated from Arabic texts or transmitted from 'ancient physicians in Babylon'), natural philosophy and miscellaneous notes on astrology, dream interpretation, etc.
Knowledge of cartomancy came from an oral folk transmission totally independent of literacy which was ultimately a Gypsy folk tradition. Gypsies were a unique nomadic nation that migrated from India, through Romania, Hungary and Slovakia to the Czech Republic and Europe. They brought the ways of Indian mysticism and divination with them. For a time all divinatory and esoteric knowledge was erroneously attributed to "ancient Egypt". Fortune telling with playing cards, or cartomancy, was popularized by the Gypsies in medieval Europe after the invention of playing cards [Keizer, 1999].
From the 16th to the 18th centuries Spanish sources offer a lot of information about cartomantic and magical uses of playing cards, where they had been incorporated into the healer's repertoire of methods. An early example is a reference by Pedro Ciruelo (1538) to fortune-telling using dice, playing cards or handwritten cards ("Estas suertes se echan en muchas maneras; o con dados o con cartas de naipes o con cédulas escritas"). Playing cards are used in much of Spanish-speaking America for fortune-telling, predicting the future or even as a psychological adjunct to folk medicine and therapy. The tradition goes back many centuries.
---
Etteilla's book on cartomancy, published in 1770, introduces cartomancy as a form of entertainment which alleviates boredom and stimulates reflection as one seeks answers to issues such as marriage or romance. He also points out that it is a relatively safe activity with less financial risks than gambling , and also cautions readers to be sceptical in that the outcomes are subject to chance.
• See excerpt►
---
Queen of Hearts
Playing cards were used in England for fortune telling in the middle of the 17th century, if not earlier. Cartomancy seems to have been practiced elsewhere much earlier, particularly France, where there had been a revival of interest in fortune-telling, the occult, prophecy, clairvoyance, etc., perhaps inspired by the prophecies of Nostradamus (1503-1566) in the 16th century. By the end of the 17th century Britain's Renaissance had reached its zenith. The world was fraught with wonders, and the learned men of the day were constructing elaborate new schemes to encompass the whole of knowledge. There was a society of fortune tellers in London who called themselves the Mercurii of London.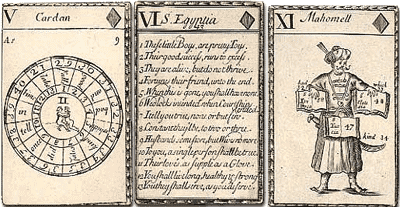 The cards shown right were published in the second half of the seventeenth century and are an example of English Divination or Oracle cards from this period. They involve looking up the prophecy by following a series of rules, reminiscent of numerology and dice throws, so that the answer is read on a specific card read more →
---
Dr. Flamstead's and Mr. Patridge's New Fortune-Book containing their new-invented method of knowing one's fortune by a pack of cards (1729) appears to be the oldest book with instructions on fortune-telling-with-cards in the English language more →
The cards shown below appear to follow Flamstead and Patridge's system.


The cards shown below are from an English Fortune Telling pack of c.1800 by an unknown artist / engraver with a distictive repertoire of imagery resembling the sets of proverbial cards which were aids to wisdom more →
Generally, that is to say in a large majority of packs, the 'fortune' is printed at the bottom of the card, beneath an allegorical illustration depicting the predestined outcome. Some packs are more engaging than others. The fortunes in the deck shown above appear to derive from the text of "Every Lady's Own Fortune-Teller" 1793► (See p.54 onwards).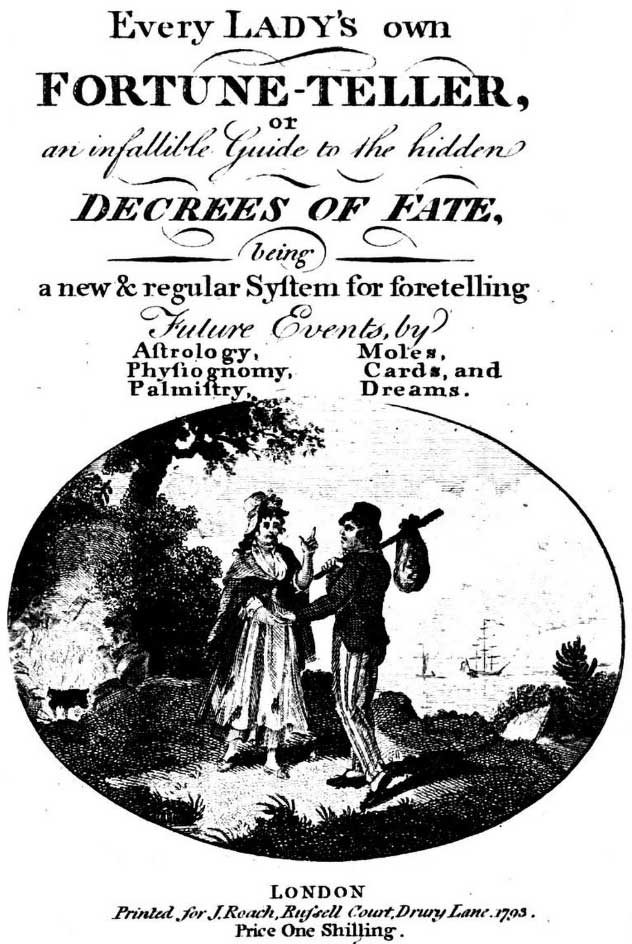 John Wallis published "The Gypsy's Last Legecy" or "New Pack of Fortune Telling Cards" in c.1806. This was republished c.1820/30 by his son Edward Wallis with the title "Cards of Destiny" or "Gipsey Predictions". There are two sets of cards, one for ladies and one for gentlemen and an instruction card. The participants use the cards to ask questions of the opposite sex about the future.
Cartomancy was very popular in Spain.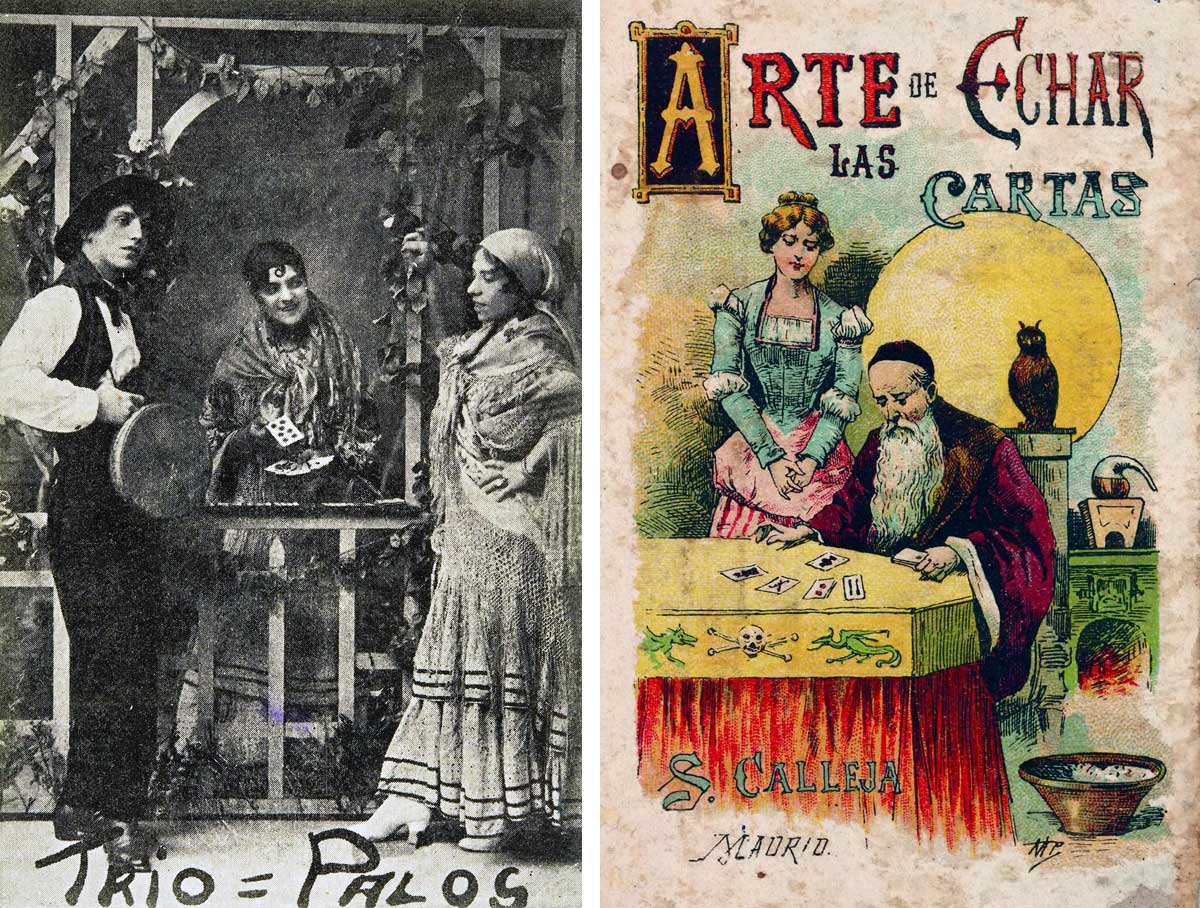 ---
Patent Applications
A number of speculative "useful improvements in playing cards" were invented and patented over the years, presumably granting exclusive rights but not necessarily ever getting published, incorporating aspects of palmistry or cartomancy with interesting symbols and design layouts.
In 1873 Hammatt Billings, of Boston, Massachusetts, submitted a patent application for a set of Cabalistic Playing Cards►

---
In 1903 Sarah A. Moulton and Luther V. Moulton, of Grand Rapids, Michigan, submitted a patent application for a set of Cartomancy Cards►
---
In 1903 A. J. Seymour, of Buffalo, New York, submitted a patent application for a set of Palmistry Cards►

---
| | | |
| --- | --- | --- |
| rtists and seers are drawn to design even more compelling fortune telling and tarot packs, drawing upon esoteric philosophies, religion, mysticism, egyptology or inspired speculation. In some cases the theories are sublime: some purport higher authority or even a secret manuscript as their basis, whilst others rely upon correspondences with cabbalism, astrology, numerology, witchcraft, and so on. | | est known amongst the French cartomantic fortune tellers of the revolution era was Madame Lenormand, who had designed her own variant version of the tarot, and was said to have been consulted by Napoleon and predicted military disaster. There are several popular fortune telling narratives similar to the Madame Lenormand account found in booklets. It usually runs like this: |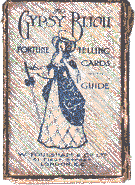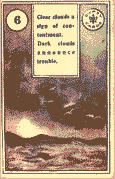 "At the end of the 18th century there lived a famous gypsy who had a great reputation as a fortune teller… she predicted the downfall of Napoleon and many other historical events… after her death her cards were found and are now reproduced here…"
---
Carreras Fortune Telling Cards, 1926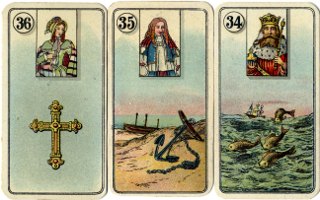 The Carreras Fortune Telling Cards (36 cards) were published in 1926 for W.D. & H.O. Wills, Bristol, and issued by Carreras Ltd in various sizes and formats, and are of the same type as the above example. The cards were printed by chromo-lithography by B. Dondorf in Germany. A single card was enclosed inside every packet of "Black Cat" cigarettes. See also: Cartes Lenormand by H.P. Gibson.
---
Jack of Diamonds: For reasons apparently no longer known, in the 18th century the English referred to this card as "Jack Shepherd". In fortune-telling circles the card usually indicates events involving someone who is very rich.
Roddy Somerville comments: "As a result of a visit to the Executions exhibition at the Museum of London Docklands last Saturday (visit website), I may be able to solve this mystery. Jack Sheppard (note the spelling) was a notorious, daring and much talked about criminal executed in 1724. He was also known as "Honest Jack". There is an extensive entry about him in Wikipedia: Jack Sheppard. It seems quite likely that the Jack of Diamonds got its nickname from him". - RS
---
Picture Show Fortune Telling Cards, 1930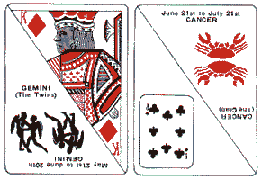 The Picture Show fortune telling pack was presented with the magazine 'Picture Show' in October 1930, and shows popular personalities of the day as the court cards, whilst the pip cards are combined with zodiac signs or the seasons of the year.
The pack comes as a series of uncut sheets of 16 cards each, printed in red and black only. The full divinatory interpretation for each card - upright and reversed - is printed on the back of the cards. See more →
---
Rameses Fortune Telling Cards, 1910
The Rameses Fortune Telling Cards were manufactured by Chas. Goodall & Son Ltd, London, c.1910, around the same time as Rameses The Egyptian Wonderworker, the successful magician illusionist, flourished. They are presented in a mock snakeskin box.
The pack comprises an ordinary pack of 52 cards, plus one Joker or 'Subject' card, with interpretations printed at the top and foot of each playing card. An Instructions leaflet contains a treatise on how to give readings.
---
Romany Fortune Telling Cards, 1935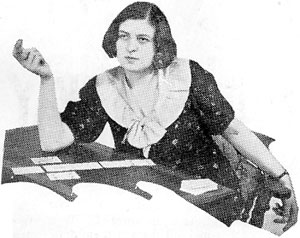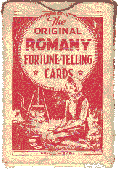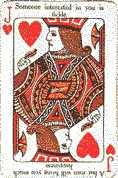 The Romany Fortune Telling Cards were published in 1935 by Thomson-Leng Publications for readers of women's magazines of the day (Red Letter, Red Star Weekly, Weekly Welcome, My Weekly, Secrets, Woman's Way, etc.), and printed by The Universal Playing Card Company, Leeds. Original price: 2/6d.
The pack comprises an ordinary pack of 52 cards, plus one Joker, with normal and reversed interpretations printed at the top and foot of each playing card. The extra card accompanying the pack describes the "Original Romany Way of Fortune Telling".
---

If you would like to produce a home-made deck of Fortune-telling cards, download: Livre du Destin or Book of Fate a nineteenth century French Cartomancy deck, with titles in French and English, published in Paris, c.1890. 32 cards. Download the entire deck (21 MB) as large size images, suitable for desk-top publishing into hand-made pack. Images courtesy Gilles Daigle.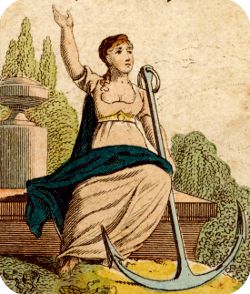 Member since February 01, 1996
Founder and editor of the World of Playing Cards since 1996. He is a former committee member of the IPCS and was graphics editor of The Playing-Card journal for many years. He has lived at various times in Chile, England and Wales and is currently living in Extremadura, Spain. Simon's first limited edition pack of playing cards was a replica of a seventeenth century traditional English pack, which he produced from woodblocks and stencils.