Published May 27, 2022
•
Updated July 15, 2023
Luxury Collectable Playing Cards
Luxury packs of cards have been produced since the 15th century, a trend that is very popular among collectors today.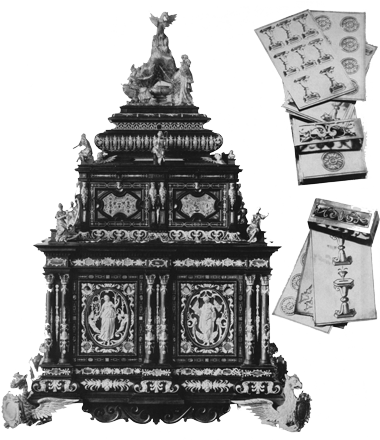 P
laying cards manufactured primarily as collectibles (gift or luxury items), rather than simply for playing card games is not a new trend. As far back as the 15th century there's evidence that artisans were producing luxury packs intended for display in cabinets, often gilded and with elaborate designs.
The invention of xylography (and typography) meant ordinary cards were cheap enough so that even the poor could buy them. Very often it was the humble, local manufacturer (not the specialised artisans) who would make cards intended for everyday use, sometimes with a trademark or quality grade such as "Fine" or "Superfine". These packs were intended for everyday card players, and were usually inexpensive and had cheap packaging (paper wrapper).
But cardmarkers and artisans also wanted to sell something to collectors, special packs that some regarded as works of art that were generally considered unsuitable by card players.
Detlef Hoffmann (The Playing Card: An Illustrated History, 1972, p.10) points out "
right from the start, playing cards were collected as curiosities and particularly unusual packs were produced solely for the collector
" or an elite client and he points out that princes or dukes "
are known to have ordered especially fine packs of cards
" which were considered "
beautiful fine works of art
". There were many wealthy people who delighted in having what others couldn't afford.
H. T. Morley (Old and Curious Playing Cards, 1931) mentions that packs from 1490 made for governors and other high dignitaries are "beautifully finished hand-drawn and painted packs" often "very beautifully finished by hand in gold, silver and colour".
These luxury packs were frequently hand-painted, featuring fully custom card designs, or had richly decorated boxes made of fine wood or engraved metal. They often incorporated gold or other precious materials into the artwork and package decoration. All these features were intended to enhance the desirability to the collectors, and not intended for play.
We find all these trends today in modern luxury decks often funded through Kickstarter campaigns or produced by studios who focus only on luxury collectible decks, usually mimicking the gothic style.
Are luxury decks an innovation?

Are luxury decks an innovation?
Usually when we think of innovation and playing cards, pioneers such as Andrew Dougherty and Thomas De La Rue (considered by some to be the grandfather of the pack of cards due to his innovations) come to mind. Both helped bring about what we consider to be a standard pack of cards today. Features such as the pips, corner indices, rounded corners and the introduction of the joker.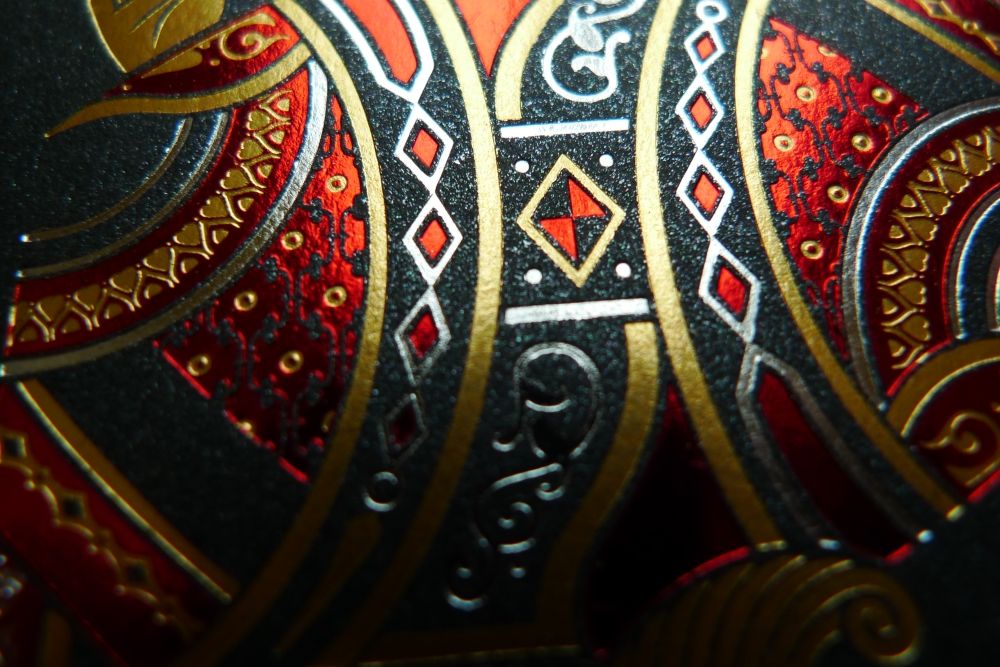 Other innovations were
double-ending
, reversible artwork so the cards could be used either side up and turning the courts so that the big suit signs were always at the top left-hand side. All of these innovations were targeted at the card players. There were various iterations on the concept of playing cards until the mid-20th century when more or less the form of the standard deck was finalised, leaving only technical innovations by manufacturers.
During this period decks were produced solely for the player, and producing decks for collectors was very uncommon. What we call a "brick" today was the way the cards were wrapped up and priced for retail to stationers and card sellers, but unheard of that a collector would want to have a brick.
However, design, printing, and manufacturing innovations have continued to advance for card collectors (for example: elaborately decorated bricks, uncut sheets, new printing techniques focused around metallic inks). There are studios today that are focused on innovating what a deck of cards can be for a collector. With lots of new playing card companies starting up and entering this new market.
Two of the pioneering niche playing card manufacturers are Legends Playing Card Co. and Expert Playing Card Co. (both founded in 2013). Both specialise in luxury deck production; they claim to produce the most luxurious and best made playing cards in the world, technically perfect, which has now evolved into luxury.
exquisite detail superior design bring you a new standard to playing card quality and innovation
Legends Playing Card Co.
Legends say this sets them apart and that they are "improving the playing card".
Printing methods used by many of these manufacturers include the use of metallic inks throughout the artwork and ornate foil-stamped backs; the decks often feature die cut elements with deep embossing and foil accents.
Boxes for luxury decks often include transparent and cut-out sections that create windows revealing more layers of artwork. Often with gold foiling inside and outside of the box and perforated stamp-seals which mimic the old security seals.
The artwork often includes hidden messages, symbols and other enrichments which are intended to add to the deck's overall collecting experience.
All these innovations don't enhance the deck for card players or the original intention of playing cards, only superficial changes for a luxury deck collector.
Kickstarter and the Rise of Luxury Decks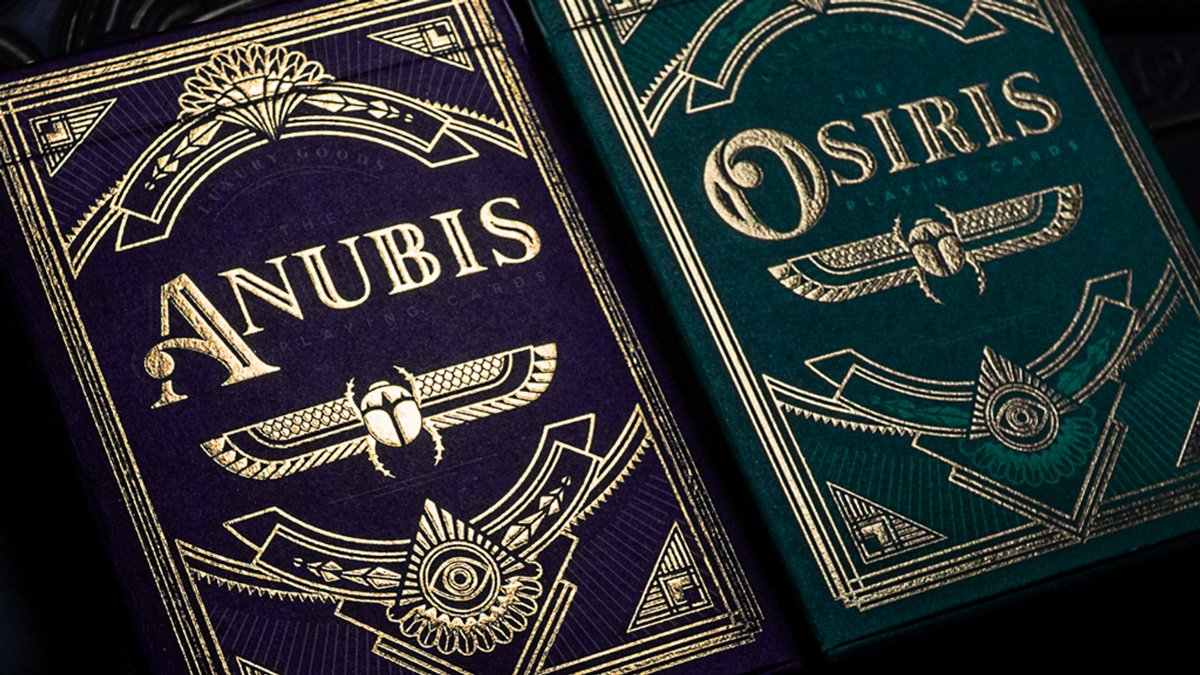 Before Kickstarter, if an artist wanted to produce their own custom pack of cards their options were limited. Usually artists would have to take a risk and use their own personal money as capital to finance the project; with the hope that they would be able to sell the entirety of the print run to buyers and collectors.
Additionally, manufacturers often had a high minimum quantity, such as 10,000 decks. This resulted in many artists having huge amounts of unsold inventory.
With the invention of Kickstarter the risks are radically changed. Artists now have a different way to fund their projects. The collector will "pledge" money to support the project. The artist sets a funding goal, and if people pledge enough money to reach the goal, the project is funded and the exact amount of decks needed are manufactured, and this is usually referred to as a "limited edition" because there are no extras printed.
This "limited edition" creates artificial scarcity which is used as a tool to enhance the collectability and can be perceived to increase the chances of the deck's value in the future. Paul Carpenter (the artist behind Encarded) says via email "when a deck of playing cards is made in small numbers and hard to come by, or has the individual numbering, the owner knows that not just anyone can have that item in their collection".
"You can't simply go to the store and buy one, instead you have to be diligent, maybe stay up late to get your order placed within minutes of release, and the thrill of that process is a big part of the overall experience."
Although Kickstarter was launched in 2009, it wasn't until 2011 that playing cards really started to thrive on the platform. There were several notable Kickstarter projects in 2011, which paved the way for what luxry decks have become on Kickstarter today.
List of notable early Kickstarter campaigns.

| Project Name | Comment | Project Launch Date | Amount Raised | Artist |
| --- | --- | --- | --- | --- |
| Brimstone - Metallic Gold Accented Card Deck | One of the first luxury decks to reach $20,000 | May 11, 2011 | $20,983 | Russell Kercheval |
| A Deck of Playing Cards | First luxury deck to reach over $100,000 | October 2, 2012 | $146,596 | Tyler Deeb (Pedale Design) |
| Federal 52 | First Kings Wild Kickstarter project | March 14, 2013 | $149,156 | Jackson Robinson (Kings Wild Project) |
Brimstone - Metallic Gold Accented Card Deck: one of the first projects on Kickstarter which emphasised the use of metallic inks throughout the deck, which has become one of the standard features of the modern luxury deck. Brimstone was also one of the first playing card projects to reach over $20,000 on Kickstarter.
A Deck of Playing Cards
: a year and a half later Tyler Deeb launched a campaign simply titled A Deck of Playing Cards which also had many traits of a luxury deck — embossing, gold foiling, "premium grade" cardstock. The campaign was a milestone, being the first to raise over $100,000. As a result of this remarkable achievement, Tyler Deeb, the deck's creator, was able to get funding and launch his own luxury brand business, Misc Goods Co., which has since gone on to make multiple iterations of the card deck as well as other high-end goods.
Federal 52: just six months later, Jackson Robinson successfully funded his Federal 52 deck, raising almost $150,000. More than 50 bricks were sold, a major development of the luxury deck collecting market. Robinson, now one of the artists at the forefront of the luxury deck market, and owner of Kings Wild Project says that they make "the most luxurious playing cards in the universe" the decks "look awesome and tell stories, but also happen to be playing cards. We take an ordinary pack of playing cards and make it into something so much more."
There were a handful of other playing card Kickstarter projects around 2011-2012, launched by artists, specifically with collectors in mind. A deck of custom-made playing cards was a new concept on Kickstarter at the time, and many backers were impressed by the idea.
Crowd-funded campaigns on Kickstarter unlock creativity and new ideas, but are they artificially creating desire through tiered rewards and a sense of urgency with funding targets and a time limit?
Luxury Playing Card Artists, Studios & Producers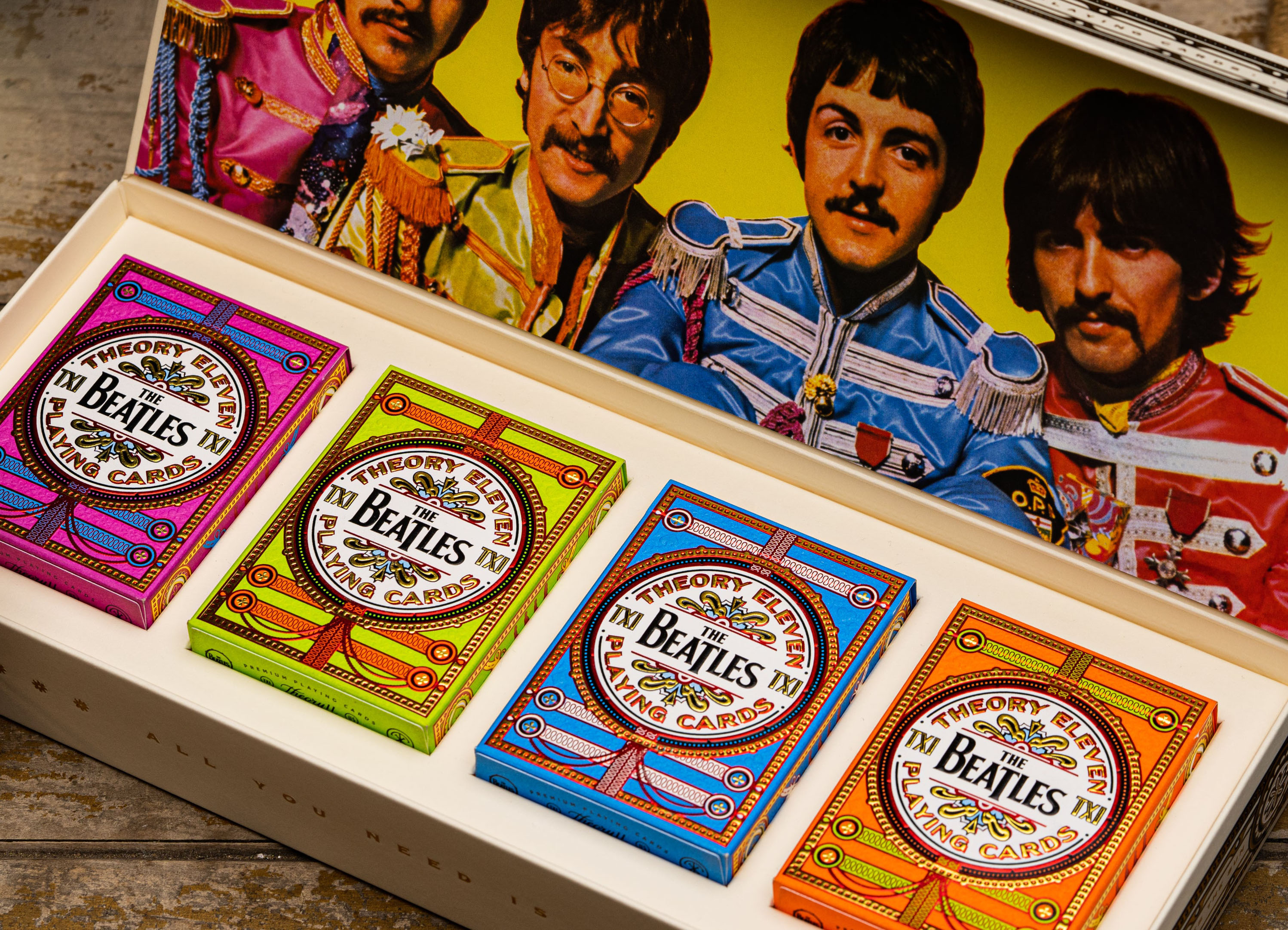 Today, luxury playing cards have become a new niche collecting market, with artists and small businesses dedicated to producing high-end decks, and ever more extravagant productions. The number of backers and funds raised are reaching impressive levels.
Artists such as Lorenzo Gaggiotti (Stockholm17), Giovanni Meroni (Thirdway Industries), Alex Chin (Seasons Playing Cards), Jackson Robinson (Kings Wild Project), Paul Carpenter (Encarded), Jody Eklund, Steve Minty and others have loyal fans who will back their new designs almost immediately. Decks signed by these artists sell for a higher price in the secondary market (such as eBay).
Paul Carpenter (Clear the Decks, Jan 2020, p.4) also notes "I think that moving forward we will start to see fewer "basic" projects and more deck designs that include the latest luxury features, special designs, limited editions and handmade accessories".
Many of these studios promote their decks as superior in every way when compared to an ordinary pack of cards; and that they are pushing the limits of innovation in playing card design and production.
Sirocco Modern Edition, designed by Nathan Oser and produced by Riffle Shuffle Playing Card Co. on Kickstarter says that the Sirocco deck "with its meticulous composition is not just a work of art, but a token of a lifestyle and experience. With gold and silver paired foiling, intricate embossing, and double-sided printing it's an indulgence. Limited to 2500 decks".
Are luxury decks an investment for a collector?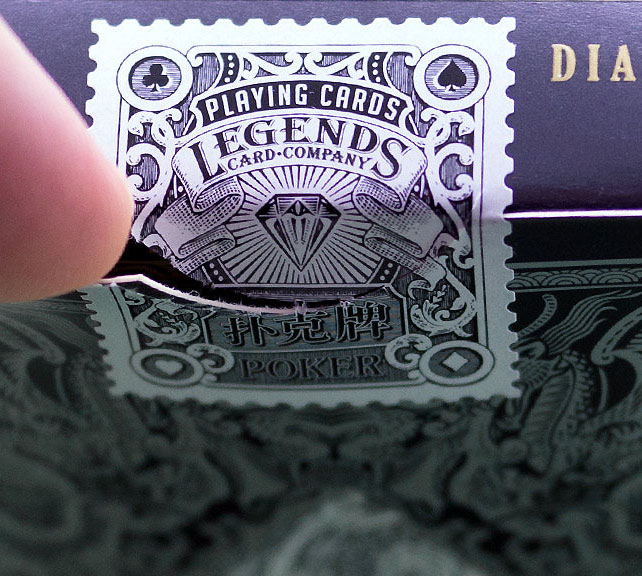 Lorenzo Gaggiotti (the artist behind Stockholm17) says: "often a deck stays sealed in its cellophane, or the seal - if any - remains intact. It is a little odd, because the main product does not even see the light of day and often the main protagonist is the packaging. However, they know there is a "treasure" inside, especially if the deck is 100% custom made with custom illustrations and attractive art".
For some people, collecting is a speculative art, where people look for rare or interesting items and want to keep them perfect in the hopes that someday that rarity will pay off with a financial gain.
Paul Carpenter, Encarded
While some collectors enjoy displaying their cards in albums which can be enjoyed visually, Judy Dawson (Clear the Decks, Dec 2013) wrote "
I can only marvel at the absurdity of spending so much money on something which could easily go up in flames but of course this card must be tucked away in a safe somewhere, never to see the light of day
".
Paul Carpenter explains: "many collectors like to keep their decks pristine and sealed. I think it stems from the core motivation that you have to collect. For some people, collecting is a speculative art, where people look for rare or interesting items and want to keep them perfect in the hopes that someday that rarity will pay off with a financial gain. To that kind of collector, keeping the item unopened is the surest way to guarantee that their copy will be valuable. Other collectors, however, want to experience the deck in its entirety. They are not interested in reselling someday, they want to feel and see all the details".
Rod Starling points out that even "rare and very interesting" early 1900s decks are sold for "a mere $355" […] "that does not bode well from an investment standpoint". However, Paul Bostock (Clear the Decks, Mar 2020) is more upbeat and says, with reference to early Kickstarter campaigns, that "some of the early pace-setters are now priced in hundreds of dollars [...] There is roughly a new set launched every day!". With so many new Kickstarters they may not all turn out to be a good investment. Lee Asher on the topic of NFTs says "like any investment or collectible, it could lose value unexpectedly".
It's up to the collector what they collect and how much they pay, so who knows what they will be worth in the future?
What do Collectors Really Want?
As we have seen in the 15th century, talented artists have been creating premium products for collectors for centuries. With the rise of social media and crowdfunding sites like Kickstarter, it's now easier than ever for artists and studios to make decks for collectors with a taste for luxury.
Tony Hall is "particularly attracted by quality. The workmanship on some of my items is extraordinary" and that as a collector the "ingenuity of design is also a big draw".
The collector is the focus in the luxury card market.
Paul Bostock considers that collectors fall into two "tribes" (Clear the Decks, Dec 2019, p.11): "
our members seem to collect older cards or new cards but rarely both
". The "tribes" have very different collecting tastes and reasons for collecting.
Seasons Playing Cards, a studio which specialises in luxury decks says: "
we strive to create timeless designs that continue to inspire, because when done properly these decks become a shared experience between artist and collector [...] each deck has an experience waiting to happen
".
Ian Taylor, via email, has a different perspective saying: "I only became aware of the Kickstarter trend after looking online for a way of cataloguing my collection. I came across Portfolio52 and it had so many "new" intricate designs. I have made a number of purchases […] but realised I was being carried along on a wave of crazy buying. The best thing about "proper" cards is that they have been played with, as nature intended!".
Gaggiotti agrees "once a new collector joins the community they are quite confused and realises that they're in a rabbit hole".
Different collectors want different things and for a variety of reasons. As Tony Hall has said, there are so many reasons for collecting: quality, ingenuity of design, originality and rarity.
With luxury decks, exclusivity is also a reason pointed out by Paul Carpenter: "when a deck of playing cards is made in small numbers and hard to come by, or has the individual numbering or other touches that speak to its rarity, the owner knows that not just anyone can have that item in their collection".
The collector is the focus in the luxury card market rather than the card player. It seems like these collectors can't get enough, which drives demand for bigger and more evocative collections of decks and accessories. Some people will pay high prices for these "exquisitely ornate" luxury collector's decks.
"It's still kind of in the realm of an impulse buy for a lot of people, and we usually find that our first-time customers will buy one deck of cards," Jackson Robinson explains "They receive it, and then they're like, 'Wow, this is awesome, I didn't know that playing cards could be this. I didn't know that this world existed.' And then, about two weeks later, they'll come back—and they'll buy six decks."
These collectors often have custom made display shelves, as shown below. There is a sense of pride of ownership in the exquisite craftsmanship, which is put on display to be admired. The producers are offering evermore ambitious bundles, including sarcophagus boxes, bricks, signed uncut sheets and endless addons.

Modern Luxury Deck Formula
We can see there's a visual trend in the designs of these decks, which tend to mirror a gothic style. Here are just some of the traits of luxury decks:
Emphasis of intricate detail and exquisite designs (sometimes as 3D digital renderings)
Using metallic inks and gold foiling aim to set these decks apart from ordinary cards
Numbered limited editions which are positioned as investment which will gain more value over time
Ornately decorated collector's boxes or bricks, which resemble a medieval coffer or Art Cabinet from the 17th century
Marketing campaign suggesting the potential collector is a connoisseur of fine craftsmanship, positioning these decks as breathtaking and stunning to own
A "shared experience between artist and collector" is enhanced with the photography and innuendo in the copywriting
Add-ons: collectable ephemera such as coins, collector's boxes (often walnut), collector's frames (often also numbered and signed), collector's pins, uncut sheets, framed prints, signed decks by the artist, hoodies, t-shirts, skateboards, mugs, artbooks, carat cases, numbered nameplates, puzzles and dice, exclusive stickers, certificates of authenticity, which are often a deciding factor in the purchase decision.
Why are luxury collectible decks popular today?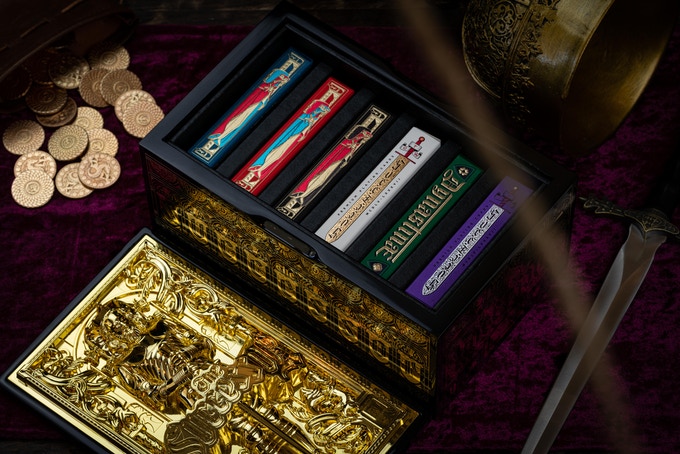 Before Kickstarter, producers looking to create a luxury deck had to invest their capital up-front to pay the manufacturer in full, these ventures often failed. The limited edition or crowd-funding model allows funds to be generated online, accelerating the production of designer decks with luxury quality, which has now become a popular type of card collecting and speculative investment.
To conclude with another quote from Hoffmann's excellent book: "playing cards are not always intended for play. One can certainly play with cards or collect them as curiosities, or they can be used for educational purposes. […] but card makers were often also good businessmen and wanted to offer something to people of cultivated tastes. This could explain the differences in quality between ordinary cards and cards produced solely for the collectors".
Using limited editions or the crowd-funding model and assisted by social media, entrepreneurial playing card artists have found innovative ways to continue selling "exclusive and luxurious" decks, as established by artisans since the 15th century.
---
References
Hoffmann, Detlef, The Playing Card: An Illustrated History, Page 10
Bostock, Paul, Clear the Decks, December 2019, page 10
Bostock, Paul, Clear the Decks, March 2020, page 11
Carpenter, Paul , Clear the Decks, January 2020, page 4
Asher, Lee, Collecting Playing Card NFTs
Hall, Tony, Why do we Collect? My 20 Favourite Items
Starling, Rod, Is Card Collecting an Investment?
Legends Playing Card Co. - Origins
Seasons Playing Cards - Our Legacy
Taylor, Ian, via email, April 2022.
Member since March 15, 1997
Adam has been involved in developing the site as well as reviewing new decks and conducting research. He is particularly interested in innovation, Kickstarter and East Asian cards. He is a member of the IPCS and webmaster of the EPCS.