Published May 28, 2000
•
Updated November 15, 2023
Conjuring and Magic
The art of mystifying people is very old indeed. The first conjurers were priests who obtained power over simple minds by performing magical tricks which appeared to have a supernatural origin.
Conjuring & Magic Cards
The first magicians were those who attained a special knowledge of healing and poisonous herbs; or perhaps the magi were the priestly caste of ancient Persia and the wise men who visited the infant Jesus have been translated using the Graeco-Latin term 'Magi'. The art of mystifying people is very old indeed. The first conjurers were priests who obtained power over simple minds by performing magical tricks which appeared to have a supernatural origin. Elizabeth I enjoyed watching card tricks and in 1602 paid an Italian magician 200 crowns for performing tricks such as "telling of any card that is thought, or changing one card from another though it be held by any man never so hard under his hand".
Conjuring with playing cards gradually became popular as a form of entertainment. A professional magician today will admit that their tricks are based upon illusion and sleight of hand, or to be more correct: "Magicians also use psychology, misdirection, lateral thinking and down-right skulduggery!" (Thanks to Justin Monehen, Magic Consultant, Marvin's Magic).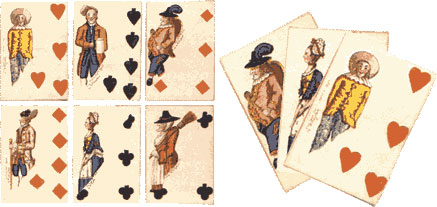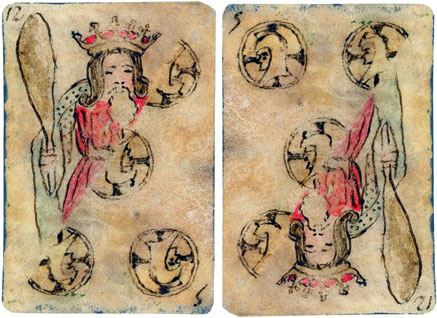 Conjurer's cards were often divided diagonally, so that one half of each card shows a figure, whilst the opposite half appears like a normal pip card. The cards shown above left were designed by W. Tringham in London (1772). The instruction card reads: "Instructions for useing the Cards. The Method of showing them is by keeping ye first card (which is a conjuror) allways at the front & turning the others Upside down, which will discover either figures or pips…" By a mixture of false shuffling and sleight of hand, the cards can be fanned out and made to appear to change from figures to pips. The right-hand card is 18th century Spanish, ink on parchment, courtesy Biblioteca Nacional de España.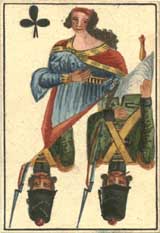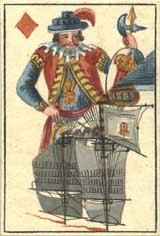 ---

---

According to Keith Bennett (www.kbmagic.com) it "was not made as a trick pack by Alf Cooke, but would have been made into a trick pack by a magic dealer. Alf Cooke did however supply cards in two fractionally different sizes at one point in order to facilitate the manufacture of trick packs; they also made cards with backs on both sides as well as faces on both sides and partly blank cards".
See also: similar pack made by De la Rue, 1950s. The deck has 26 aces of spades and 26 normal cards. Look closely at the bottom of the Ace of Spades and note where it is trimmed.
"Monotone" Playing Cards, c.1952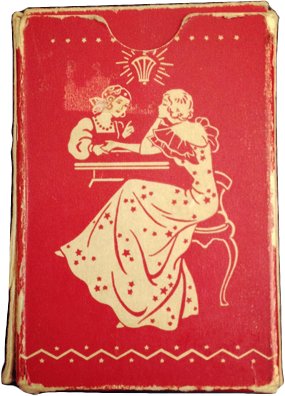 The deck contains 48 ordinary playing cards, 24 of which are the King of Clubs cut slightly shorter than the rest of the deck, specially for performing magic tricks, as in the example above.
The box reads "The United States Playing Card Co. Cincinnati, O. U.S.A." (Click box to zoom).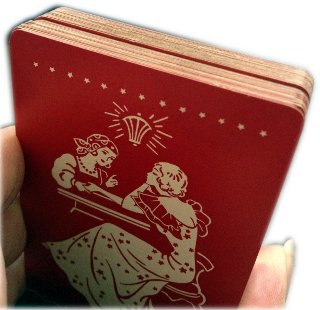 The image on the back of the box and the back of the cards is a scene with a fortune teller and a client in red/cream. The teller appears to be reading the client's palm.
Hanky Panky Magic Cards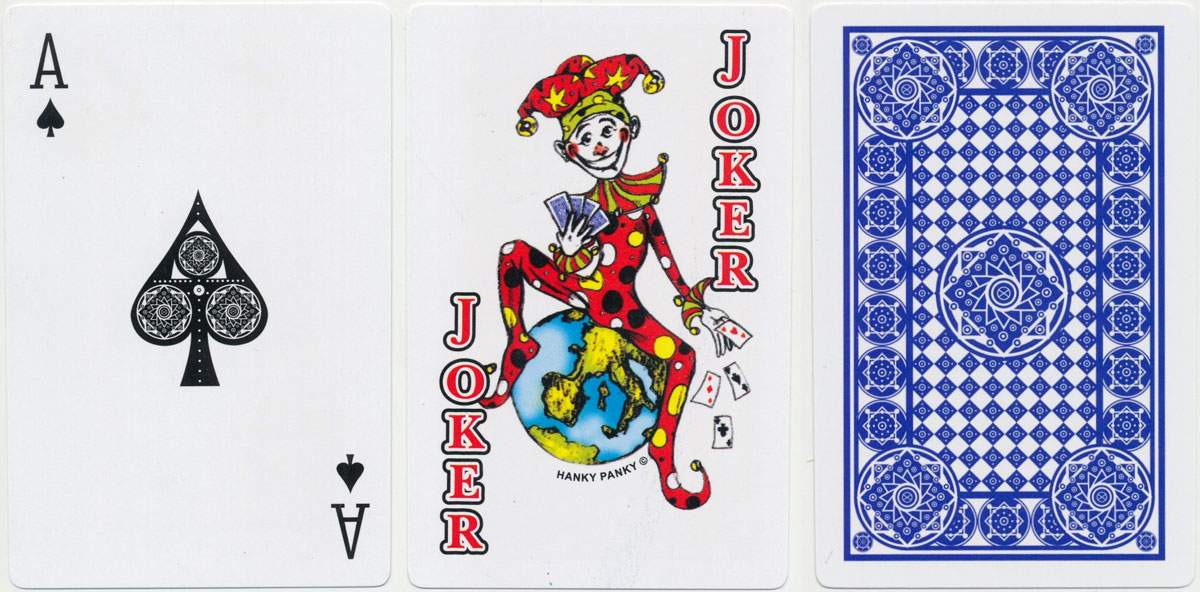 Harry Potter Magic Cards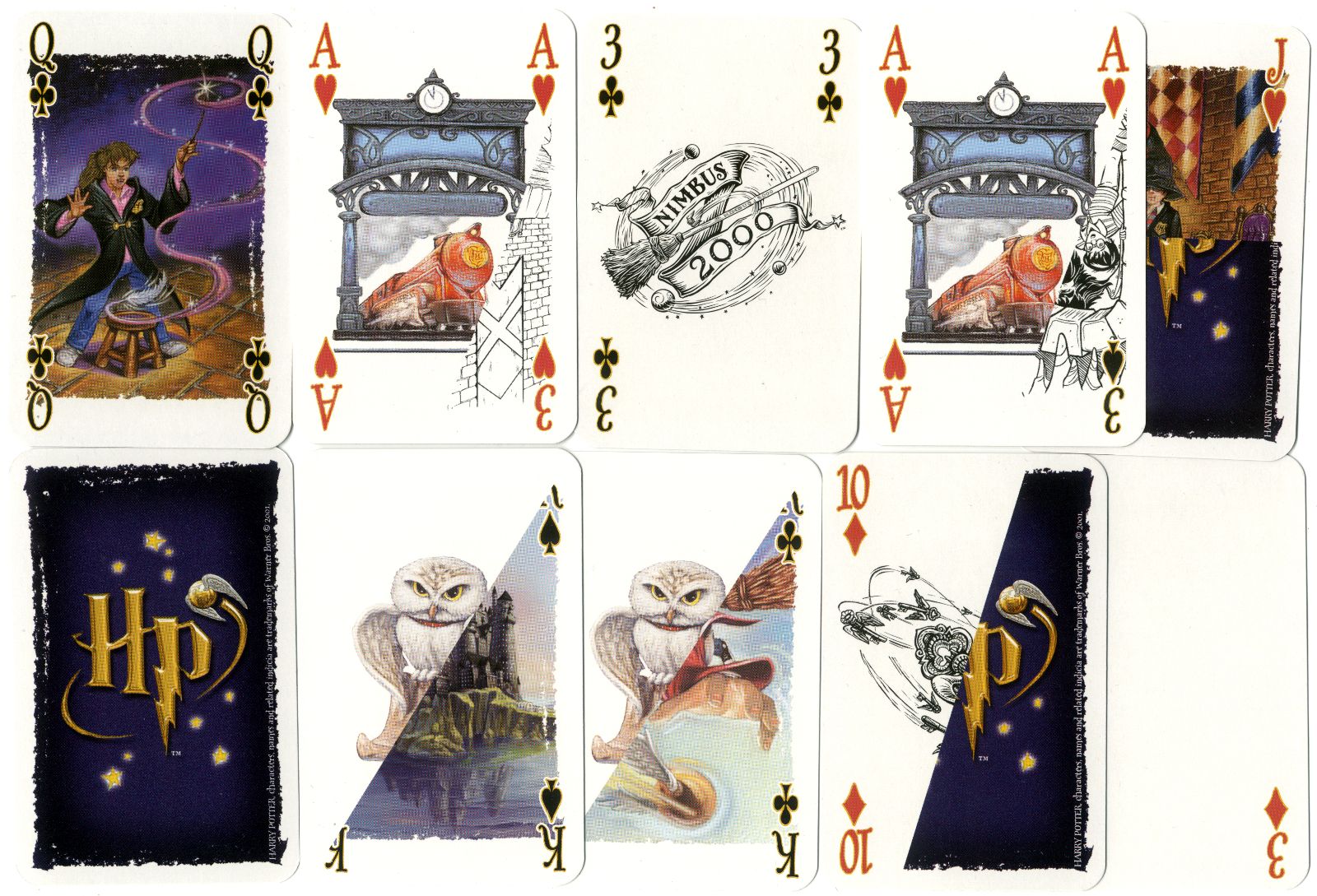 Sharks magic deck for Drummond Money-Coutts
Sharks was a "limited edition" (short production run, available at very few outlets) magician's pack produced for DMC of England. The pack is of high quality linen finish card with two identical jokers, a blank faced card and a double-backed card presumably as extra props for card magic. The king of diamonds is also rather custom!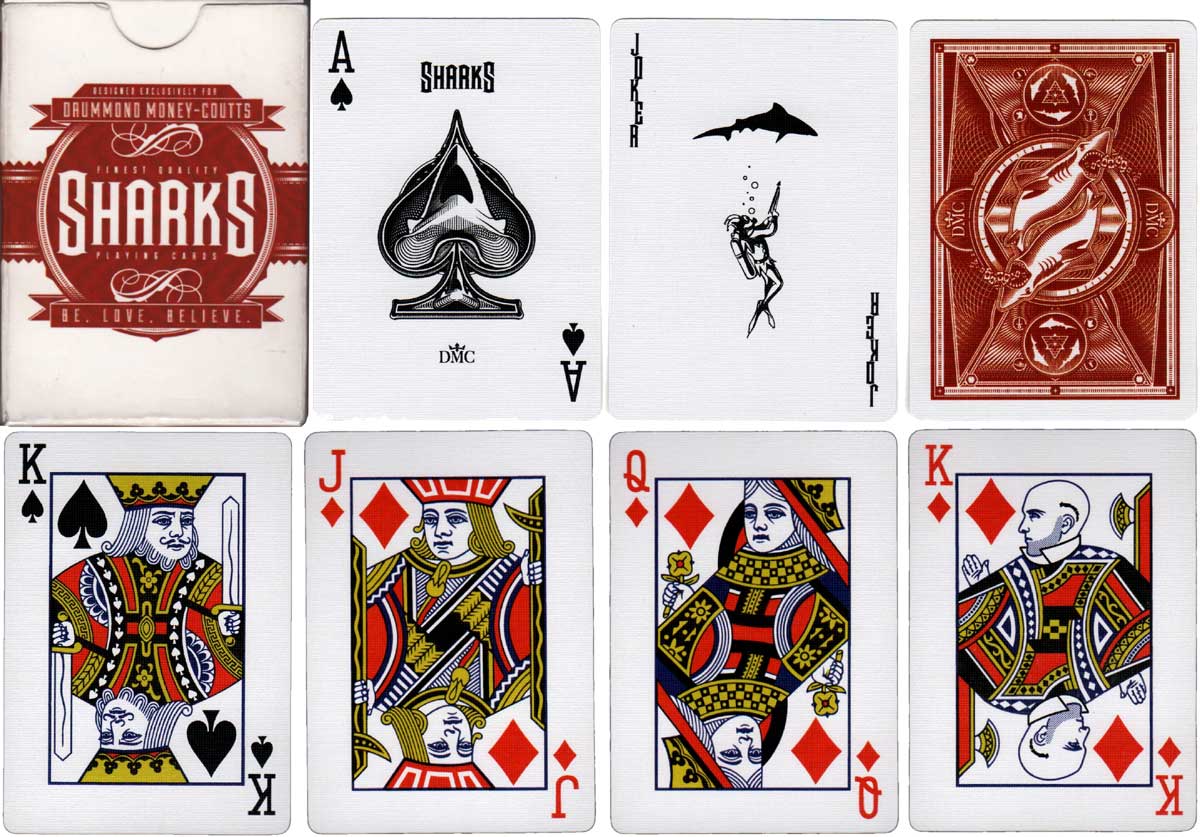 Gamagic Catalogue of Magic Card Tricks, c.1940

Les Cartes Vivantes, 1905
Ace Transposition By Enzo Koté
Enzo Koté is a magician from Venezuela with more than 35 years in the world of magic.
---
NOTES
In the Italian Renaissance an early magic book saw the light. The work of Franciscan friar Luca Pacioli (1445-1517) 'De viribus quantitatis' (On the power of numbers, c.1496-1508), contains the first reference to card games, as well as instructions to carry out juggling, swallowing fire, dipping hands in molten lead or making coins dance.
Member since February 01, 1996
Founder and editor of the World of Playing Cards since 1996. He is a former committee member of the IPCS and was graphics editor of The Playing-Card journal for many years. He has lived at various times in Chile, England and Wales and is currently living in Extremadura, Spain. Simon's first limited edition pack of playing cards was a replica of a seventeenth century traditional English pack, which he produced from woodblocks and stencils.