About the World of Playing Cards
Our aim is to increase awareness and appreciation of the cultural and historical significance of playing cards.

The World of Playing Cards was established in 1996 as a place where you can learn about playing cards, their history, design and manufacture, and see cards from around the world.
They reflect the traditions of many countries. They vary widely in size, style, shape, artistry, usage and many other purposes in education, marketing or even for fortune telling. There is a fascination in playing card design: the neat symmetries and quirky symbols.The composition of the pack - court cards, suits, pips - provides endless scope of play.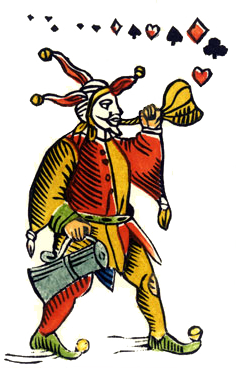 They are recognised everywhere around the world - we rarely question their origins.
Since their invention, cards have lost none of their popularity. Playing cards have a long history and it's in the art that the richness of playing cards is to be discovered.
Simon & Adam
We humbly ask for your help
We're a team of two that depends on donations to ensure the site remains online and thriving.
We intentionally keep the site ad-free. Whilst revenue generated from advertisements could give us the resources to improve the website, on the other hand, advertising may be at odds with our mission and our aims to educate. By their very nature ads are biassed content intended to influence people.
The amount you donate is up to you and we are grateful that so many people find value in the World of Playing Cards and want to sustain its future.