中国纸牌
Introduction 介绍
An 11th century source reports that the game of cards appeared in the middle of the T'ang dynasty (613-906) and "that a certain Yang Tan-ien greatly esteemed the playing of cards", and that these cards had markings taken from dice. This evidence suggests that card playing began in China at an early date. Printing had also been developed in China as early as the eighth century for printing Buddhist texts, and later, banknotes or money printed on paper. At some point playing cards were also printed from woodblocks. Another report dates from 1294, when Yen Sengzhu and Zheng Pig-Dog were apparently caught gambling in Enzhou (in modern Shandong Province). The law case notes that nine paper cards and thirty six taels of zhong tong period (1260-1264) paper currency were seized, along with wood blocks for printing cards. Our next source is from the writings of the Ming dynasty scholar Lu Rong (1436-1494), who notes that he was sneered at for not knowing how to play cards when he was a government student at Kunshan in modern Jiangsu Province.
We note that printed texts, paper currency and playing cards were all produced in China long before they eventually arrived in the West. Indeed, playing cards, religious images and decorated fabrics were to become the earliest applications of printing technology in Europe, following suit from earlier developments in the East.
Shanghai is the centre of modern day playing card production in China. Between 1931 and 2010 more than 35 playing card factories existed in Shanghai, including several that have now closed. Today there are over 70 playing card factories throughout China. China has a large variety of playing cards, including cards featuring landscapes, animals, advertising, cultural or historic themes, and so on.
During the period 1966-1976, known as the "Cultural Revolution in China", card games were generally prohibited and cards were no longer manufactured. When new factories started printing playing cards again in the 1970s the English indices A, K, Q and J were substituted by 1, 13, 12 and 11 respectively. These packs are now rather rare. Chinese people play a lot of cards in the streets. Sometimes when one player has lost his money the whole deck is thrown into the air.
Mah Jong Cards 麻将纸牌
The Chinese took their cards with them wherever they travelled and traded in the East, and we find Chinese cards in use not only in the mainland but also in Hong Kong, Malaysia, Indonesia, Taiwan, Singapore, North Borneo and Vietnam. A paper version of the tile game, Mahjong Cards are also played with in Japan as well as in many different parts of the world both by the local inhabitants and the Chinese settlers.

Money Suited Cards
"Money-suited cards" refers to a family of playing cards which have three suits. Cards in this family include Mahjongg, the dongguan pai, and ceki in all it's forms. These suits are coins, strings (of coins), and myriads. These three suits take their inspiration from old Chinese currency. Old Chinese coins had a hole in their centres. Large quantities of coins were strung up by their central hole for easy handling. In mahjong, the strings have been corrupted into bamboos, owing to their similar shape. The suit of myriads or 萬 is simply the next denomination of coins - units of 10,000.

The best known Chinese playing cards are the money-derived ones. Packs are made of up to one hundred and twenty cards composed of four identical sets of thirty cards each. These cards are narrow, flexible strips of cardboard. Often the cards contain illustrations alluding to traditional literary scenes or folk stories. Money cards are used or produced in China, Hong Kong, Thailand, Malaysia, Singapore, Java and Bali in many different styles, formats and sizes. Four Colour Cards →
---
Domino Cards 十五湖
Domino cards, deriving as they do from the 21 throws of a pair of dice, could be descended from the earliest known playing cards. Often these cards contain drawings of flowers, butterflies, animals, images from popular stories or lucky charms which embellish the otherwise rather dull designs.
The cards where the pips are oriented vertically are called 十五胡. The ones where pips are oriented horizontally and have water-margin characters are called 川牌 Sichuan cards, after the part of China the cards come from.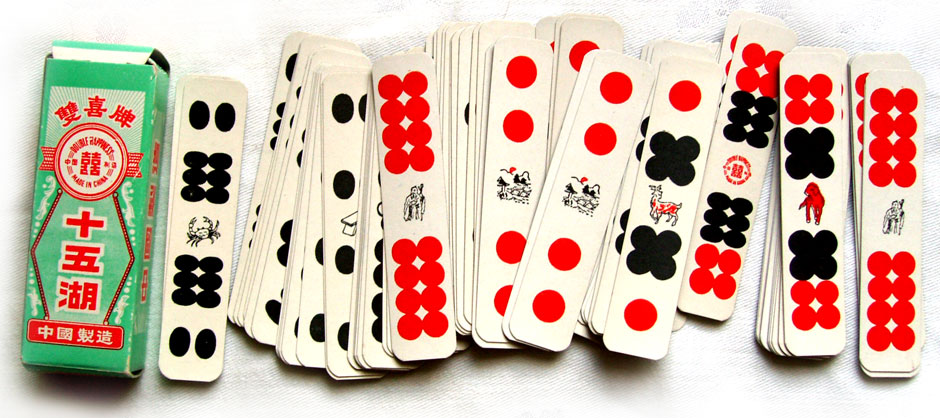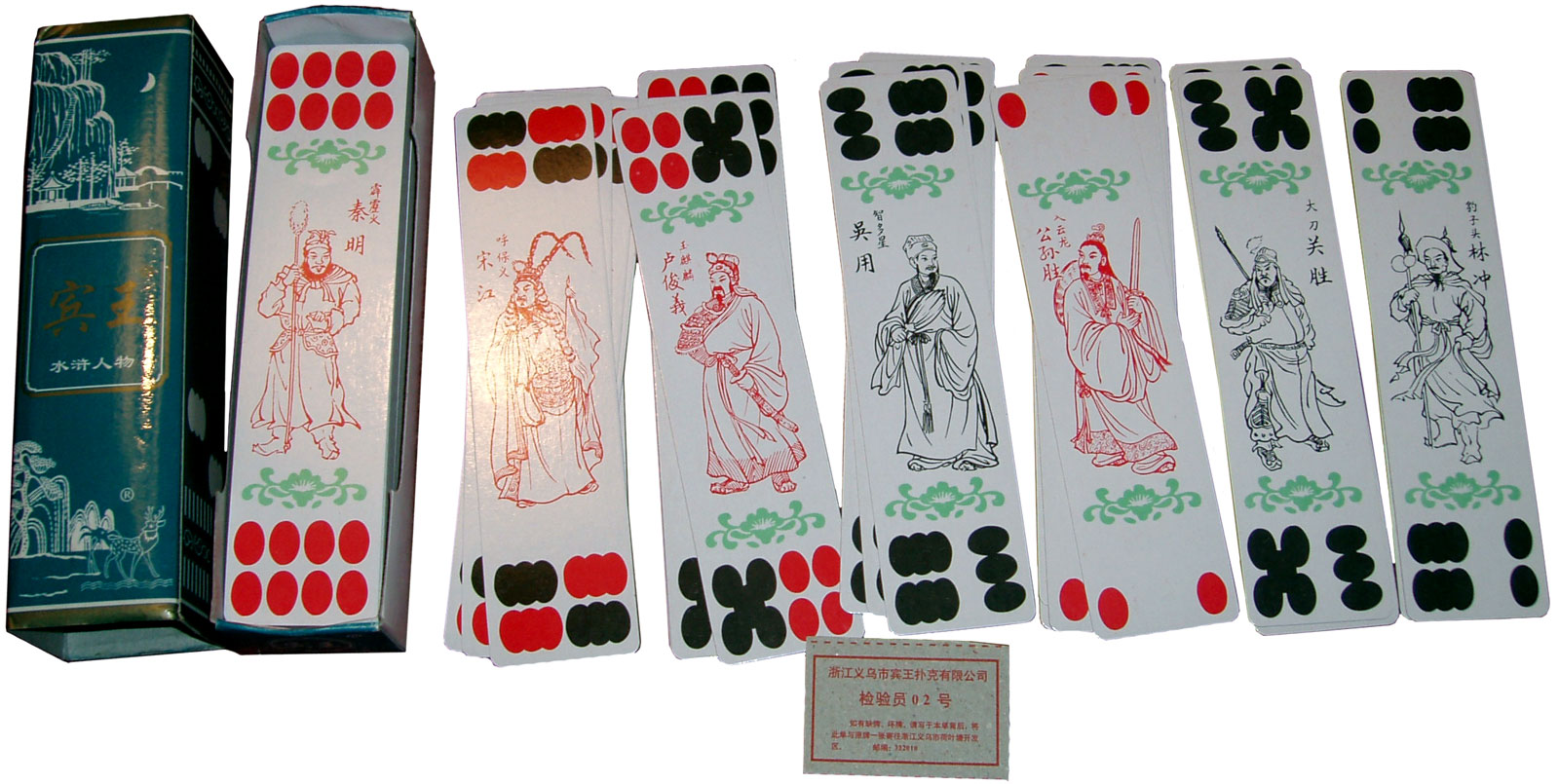 Chinese Character Cards
Cards with Chinese characters on them that children used in pre-modern China to learn to write their first characters. See Chinese Wikipedia→

Other Regional Types

---
---
Characters of "The Water Margin" - 水滸撲克
These images often appear on Chinese money-suited, domino or Mah-Jong decks (as seen above), as well as French-suited cards see more →

---
More packs by HCG Poker Productions

---
Chinese Opera Face Painting Art Playing Cards 脸谱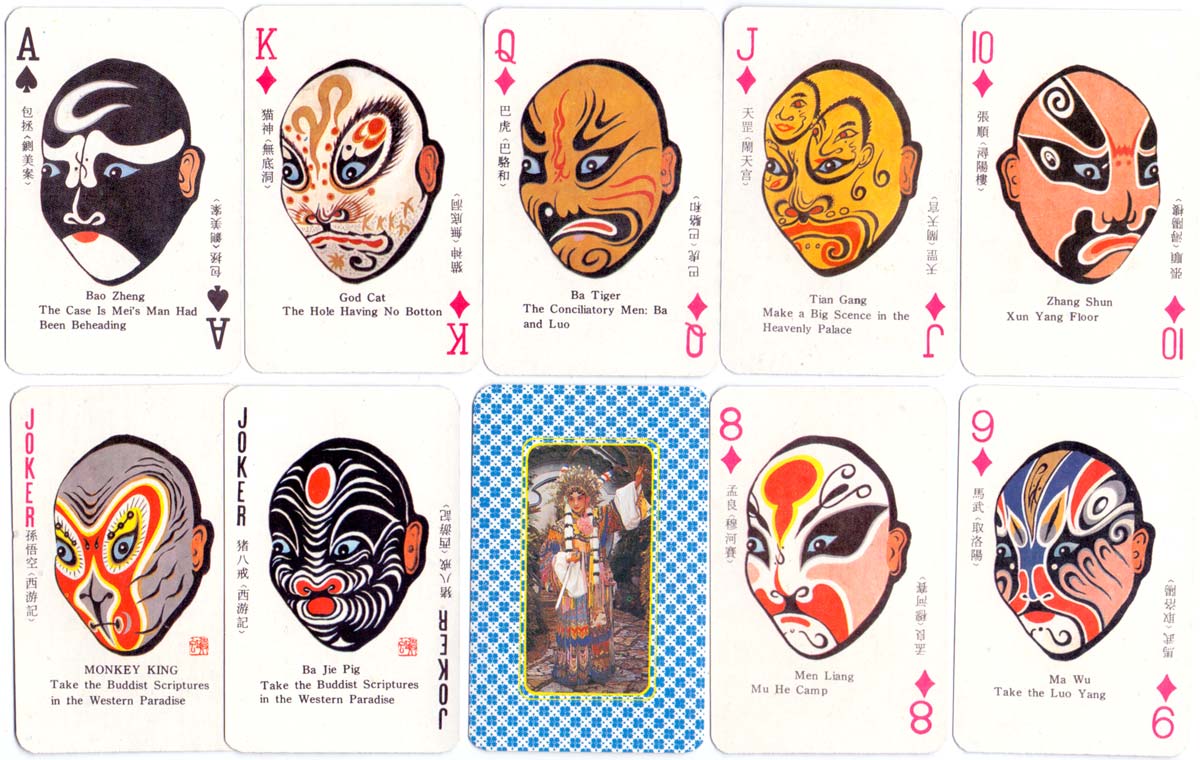 Children's Playing Cards 玩具纸牌