Cartes Lenormand by H.P. Gibson & Sons Ltd, 1920s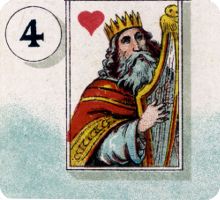 By a Famous Parisian Diviner...
French-suited "Cartes Lenormand" published by H. P. Gibson & Sons Ltd, London, printed chromolithographically in Germany by B. Dondorf. The set was probably published in the early 1920s because H. P. Gibson & Sons Ltd didn't exist until 1919 after Harry Gibson sold the International Playing Card Co (formed in 1903) to De la Rue. The retail price was 3/6d per pack.
Between c.1873 and 1933 Dondorf printed and published fortune telling decks in the style of Madame Lenormand. Dondorf also printed Lenormand fortune-telling cards for Carreras during the 1920s. To see a study of the different editions of Lenormand cards click here.