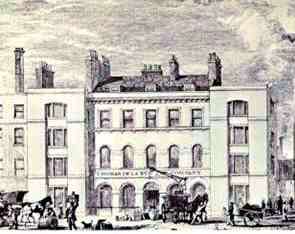 De la Rue Draughts League Medals
Arthur Charles Prince worked for De la Rue from about the late 1880s until 1920. Arthur worked as a playing card cutter and later was promoted to supervisor of a small team of workers of same until his death aged 50. The medals below show that Arthur also enjoyed playing the game of draughts. Arthur Prince had lost his father when very young, and was living with his step-mother in Banner Street which formed a T-junction with Bunhill Row, where the offices were situated. He worked for the company all his life and was a very loyal employee. He was suffering from a bad cold and went back to work too soon and caught pneumonia and died.

The above photographs were kindly sent by Arthur C. Prince's grand-daughter Jenny Symien who also tells the following story:
"Both Arthur's sons were educated, my own father went to grammar school on a scholarship, trained as an accountant and after Army Service worked as Company Secretary for the Jaeger Company. All my generation of grandchildren of Arthur have had good schooling and/or university education and have had interesting professions. I see it as a small success story of a step out of poverty. We have much to thank Thomas de la Rue for!"
"Sadly not one photo of my grandfather. His father Hugh Prince was a horse hair dresser and his mother Martha was a book folder. Both could read and write and both died when he was quite young. His step-mother, Jane, whom his father married after Arthur's mother's death, brought him up. She worked as a silk winder. They came from Bethnal Green. He had a brother who trained as a shoeblack at the Central Shoeblack Society, Saffron Hill, and another who followed his father as a horse hair dresser. Both his brothers died in poverty in workhouse infirmaries, but Arthur Charles Prince made a good life for himself, his wife and four children by working at De la Rue, which offered him the opportunity for promotion. He started as a card cutter and ended as a supervisor of a small team of men. The family moved to Wood Green, north London. I don't know if he continued to work at Bunhill Row and travel. I am not sure if de la Rue had a place in north London."
De la Rue were making pocket draught boards and pieces about the time Arthur C. Prince was working there and probably it sparked his interest.