Published July 03, 2012
Updated April 20, 2022
Uusi Blue Blood
Uusi Blue Blood designer playing cards by Peter Dunham and Linnea Gits, 2012.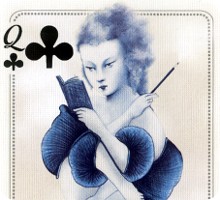 Uusi Blue Blood Playing Cards, 2012
Designed by Peter Dunham and Linnea Gits... very elegant and sophisticated deck with gothic nuances, good choice of colour and unique artwork. Lovely to handle!
Out of the mist and shadows of legend come the last of their line - The Blue Bloods! Blue Blood is an artful take on the classic playing card deck. Entirely original. Purely enjoyable. 52 cards. 2 Jokers. 1 unforgettable deck!
Copies of Blue Blood Playing Cards can be ordered direct from the Uusi Shop.
Member since February 01, 1996
View Articles
Curator and editor of the World of Playing Cards since 1996.