Some people may ask, with justification, "How can I be so certain about my statements, particularly as regards dating?" The answer lies not simply in the length of time I've been collecting and observing cards, but in the background information that's available (sometimes rather limited) and the cards themselves. The task is to relate the cards to the background circumstances to give an overall picture of how a maker's cards developed. I have already dealt with De La Rue's cards on page 5 and page 28, but here is the database of cards I have. The three- and four-digit numbers on a blue ground and in square brackets in the text are my catalogue entry numbers; some images have no numbers, as they are of packs no longer in my possession. For a complete list of all the De La Rue packs in my collection, including those with Goodall courts and Waddington courts, click the links: part 1 / part 2►
On the basis of a number of packs celebrating the wedding of Queen Victoria and Prince Albert it is possible to see that they were popular and were produced over several years in the Old Frizzle period. They were presumably discontinued after Albert's death in 1861. All the following courts are found with this back design: D2, D3, D3.1 and D4.
Another version of the Victoria had double-ended courts and floral backs.
D3.2, c.1855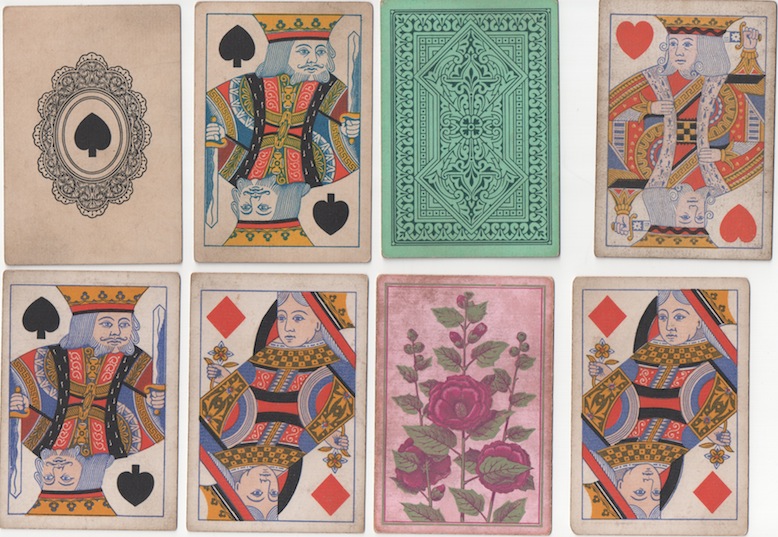 I have a bézique set [1663] with matching backs from 1890, but one pack has the smallest indices and the other has the medium ones. Dated packs/sets which can be relied on for their authenticity are very valuable in getting an overview of chronology. The set indicates some overlap of use of the two types of index around 1890. The 1887 Jubilee pack [1349] has the smallest indices with aces represented by 1.
The medium-sized indices were in 1902 in the Coronation pack for Edward VII; the larger ones were used in the De La Rue special pack for the Worshipful company of 1904. There was no doubt some overlap between the two types of index.
The earliest dated example of D9 I know is the 1919 Peace pack. The latest dated De La Rue cards I know with D9 courts is 1927, so some time around this date the De La Rue design was discontinued and the Goodall design was used in all packs. Such packs are dealt with under the Goodall design (page 12). In the 1940s there were also De La Rue packs with Waddington courts, as illustrated on page 12 (under Goodall).