Published September 09, 2014
•
Updated March 11, 2023
Alice in Wonderland (Thomas De la Rue version)
Alice in Wonderland card game based on original designs by Sir John Tenniel published by Thomas De la Rue & Co. Ltd, c.1900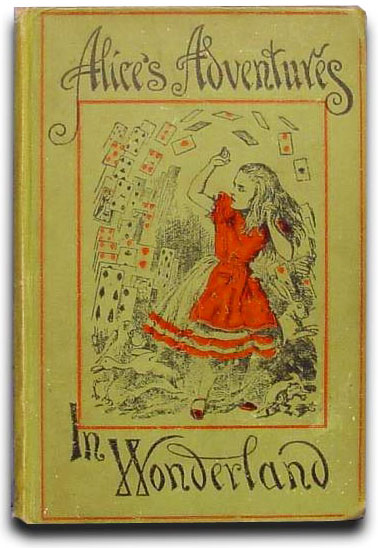 Thomas De la Rue & Co's "Alice in Wonderland" card game based on the original designs by Sir John Tenniel was first published in c.1898. John Tenniel had been commissioned to produce illustrations for a new book titled "Alice's Adventures in Wonderland" by Charles Dodgson (Lewis Carroll), published by Macmillan & Co in 1865. The illustrations from the 1896 edition of the book were used for the De la Rue card game, after being adapted by E. Gertrude Thomson.
Lewis Carroll's "Alice's Adventures in Wonderland" turned Victorian children's literature on its head. Unlike earlier Victorian child protagonists, Alice is critical, defiant and self-assertive. She is the only one to stand up to the arbitrary and domineering Queen. She rejects authority and asserts the rights of the child.
The pack consists of forty-eight cards arranged in sixteen sets of three cards each, all three bearing the same number. One card in each set is a "Leading" card and shows the title of the other two cards. See the complete rules→
John Tenniel also created the designs for Jaques "Snap" which first appeared in 1866.
---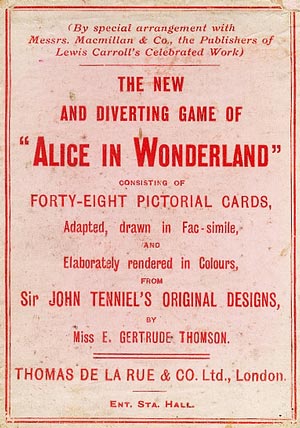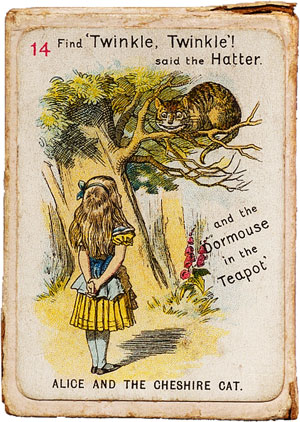 Hand-made Set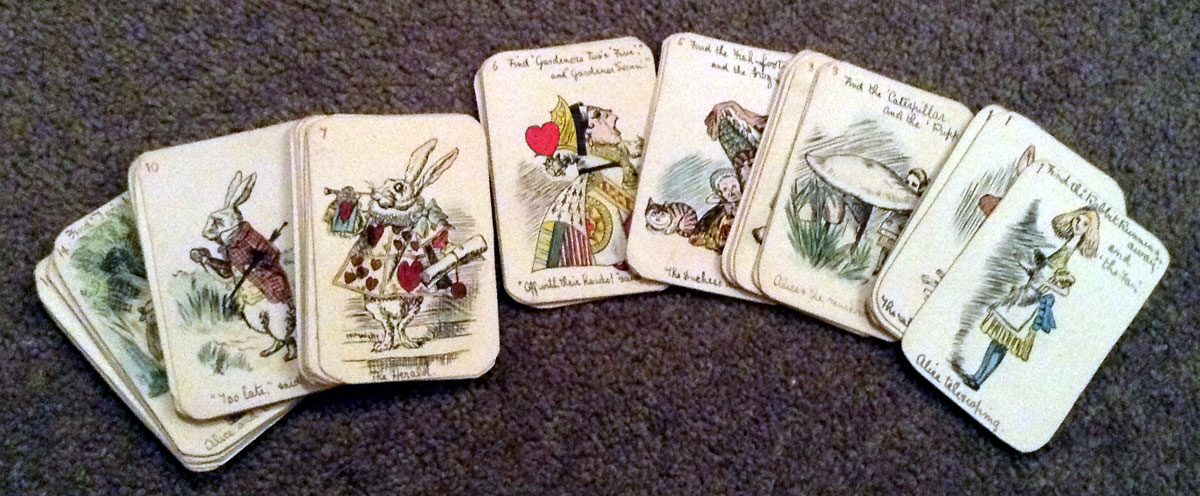 Member since September 01, 2014
I have been fascinated by playing cards ever since I can remember, and still have several of the card games I had as a child. And although I had accumulated quite a number of packs of various sorts over the years, it wasn't until I was in my 50s that I began collecting in earnest. My tastes are quite varied, and my collection of 800 or so decks includes:- children's games, standard and non-standard playing cards, adult games, fortune telling and oracle cards, tarot cards, and even cigarette cards.