Published May 31, 2022
Updated May 31, 2022
El Al Airlines
Pack designed by Jean David (1908-93) for El Al Airlines. The courts are named after Biblical characters.
The first edition of these cards was produced by De La Rue (printed by Waddingtons) for El Al between 1964 and 1968 (see packing slip and DLR seal on unopened pack) [1]. Later printings were by Piatnik: the cards were printed in sheets in Vienna, then shipped to Israel to be cut and finished, hence El Al was able to claim that the cards were "MADE IN ISRAEL" (see Ace of Spades of the Piatnik printing).
The De La Rue edition, c.1964-68.
---
The Piatnik edition, c.1970. See the Box►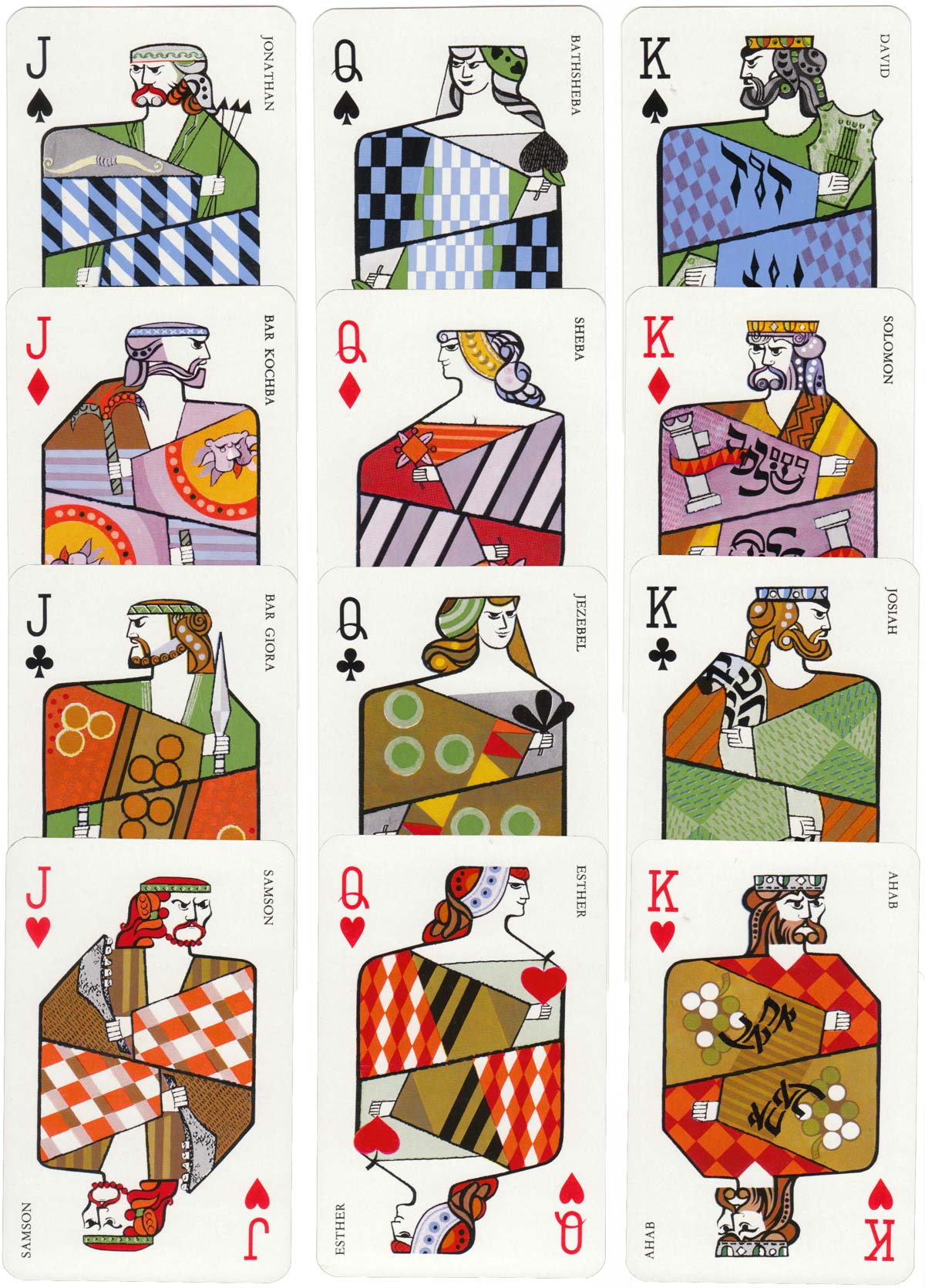 The main differences between the two printings can be summarised as follows:-
Ace of Spades. On the Piatnik printing, the legend "MADE IN ISRAEL" appears, whereas on the DLR printing it does not. On the DLR printing, "EL AL" appears in Hebrew on the blue-backed pack but in English on the brown-backed pack. On the Piatnik printing, both languages appear to have been used with either back colour.
Jack of Spades. On the DLR printing, a strong purple is used for the pattern of the fabric. On the Piatnik printing, this appears as blue.
Joker. The DLR pack contains 2 Jokers, whereas the Piatnik pack contains 3 Jokers.
Back design. No border on the DLR printing; white border on the Piatnik printing.
Sleeve. Stiff cardboard for the DLR printing; flimsier cardboard for the Piatnik printing.
REFERENCES
Member since May 31, 2022
View Articles
Roddy started collecting stamps on his 8th birthday. In 1977 he joined the newly formed playing-card department at Stanley Gibbons in London before setting up his own business in Edinburgh four years later. His collecting interests include playing cards, postcards, stamps (especially playing cards on stamps) and sugar wrappers. He is a Past President of the Scottish Philatelic Society, a former Chairman of the IPCS, a Past Master of the Worshipful Company of Makers of Playing Cards and Curator of the WCMPC's collection of playing cards. He lives near Toulouse in France.