Published March 19, 2001
•
Updated August 19, 2023
De La Rue
De La Rue introduced letter-press printing into playing card production and his patent was granted in 1831. He produced his first playing cards in 1832.

a brief history of De la Rue's playing-cards
Thomas de la Rue (24 March 1793 – 7 June 1866) was born in a small hamlet in Guernsey called Le Bourg in 1793, the seventh child (of nine) of Eleazar and Rachel de la Rue. At the age of ten he was apprenticed to his brother-in-law Joseph Antoine Chevalier, a master printer in St Peter Port who produced the Gazette de l'Île de Guernsey, the first printed newspaper on the island. During this period Thomas gained a thorough knowledge of printing. In 1818 he moved to London with his family and set up shop initially as a straw hat manufacturer, but he soon diversified into bookbinding and the embossing of leather, and then into paper manufacture. By around 1828 his interests had moved to playing cards and he began to put everything he had learnt into practice. De la Rue introduced letter-press printing and certain other 'improvements' into playing card production and was granted a patent in 1831. He produced his first playing cards in 1832 and over the years came to be recognised as the inventor of the modern English playing card.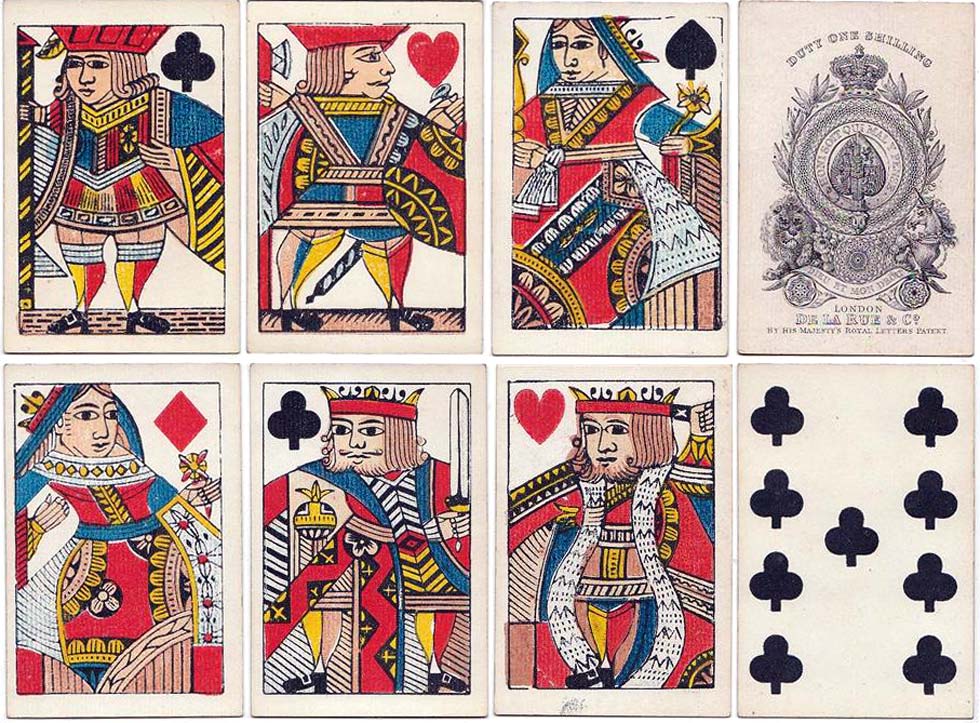 Up til this time playing cards had been printed from woodblocks and hand-coloured using stencils. De la Rue's 'improvements' included quicker drying coloured inks, improved glazing technology and the use of enamelled paper. Learn more →. An article in Bradshaw's in April 1842 reported that "The whole of Messrs De la Rue's establishment is carried out in a manner perfectly unique. Steam power wherever practicable is applied to the various departments of the business." Between 1856 and 1868 the De la Rue output of playing cards rose from 93,060 packs in 1856 to 265,048 packs in 1868.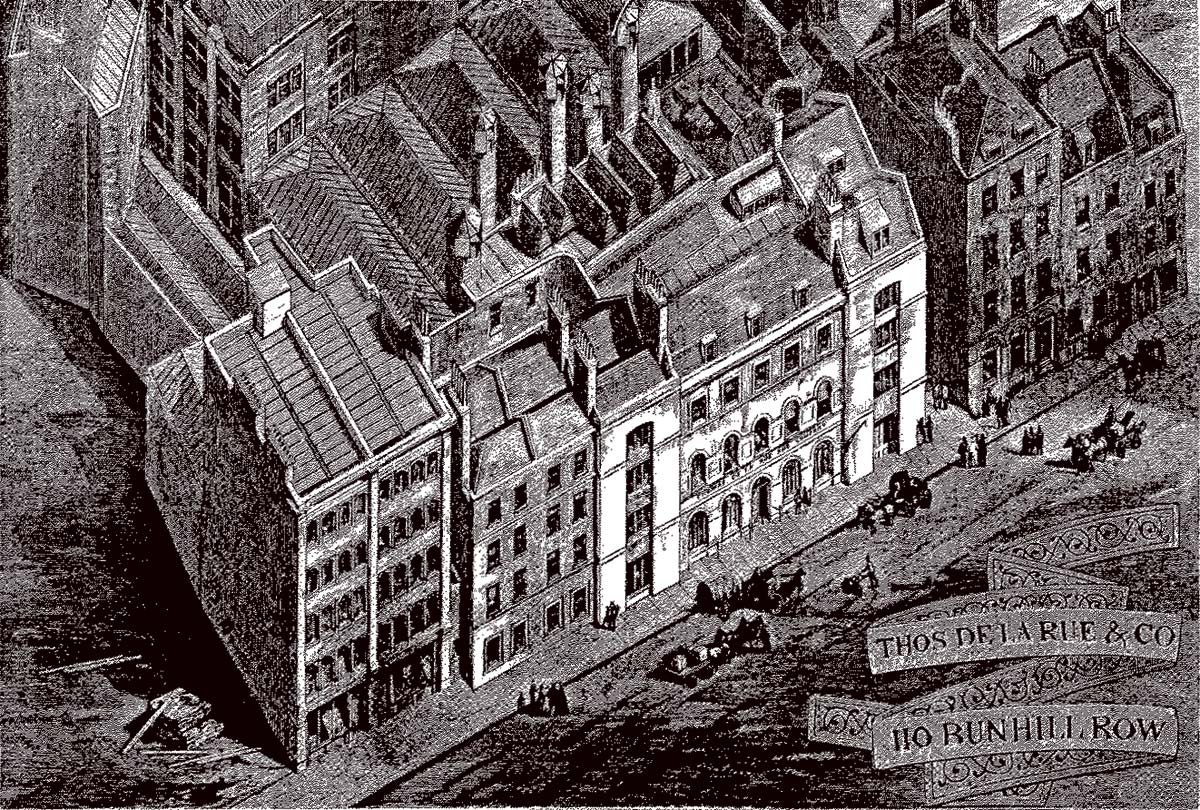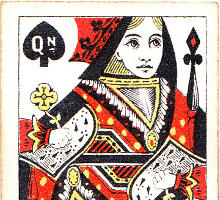 In 1844 Thomas de la Rue employed the graphic designer Owen Jones who in the ensuing 20 years produced 173 outstanding back designs for De la Rue ranging from fruit-and-flower themes to Chinese and Arabesque. Owen Jones also designed playing card backs for Lawrence & Cohen (USA) and his designs were imitated by other manufacturers. From 1840 until 1856 playing cards remained the firm's chief money maker and this provided a financial basis for any new fields of activity that De la Rue wished to enter. In any publicity material playing cards, their most lucrative product, received pride of place, and in 1853 Charles Dickens extolled the firm's excellence in an article called 'A Pack of Cards'¹ which included a history of playing cards and De la Rue's part in it. Thomas de la Rue became known as 'the father of the English playing card'.

Right: during the period c.1870-1890 indices were being introduced on playing cards. Packs are sometimes found with hand-written indices where players have improvised in interesting ways.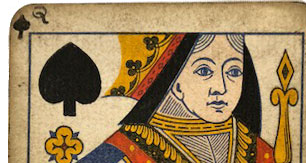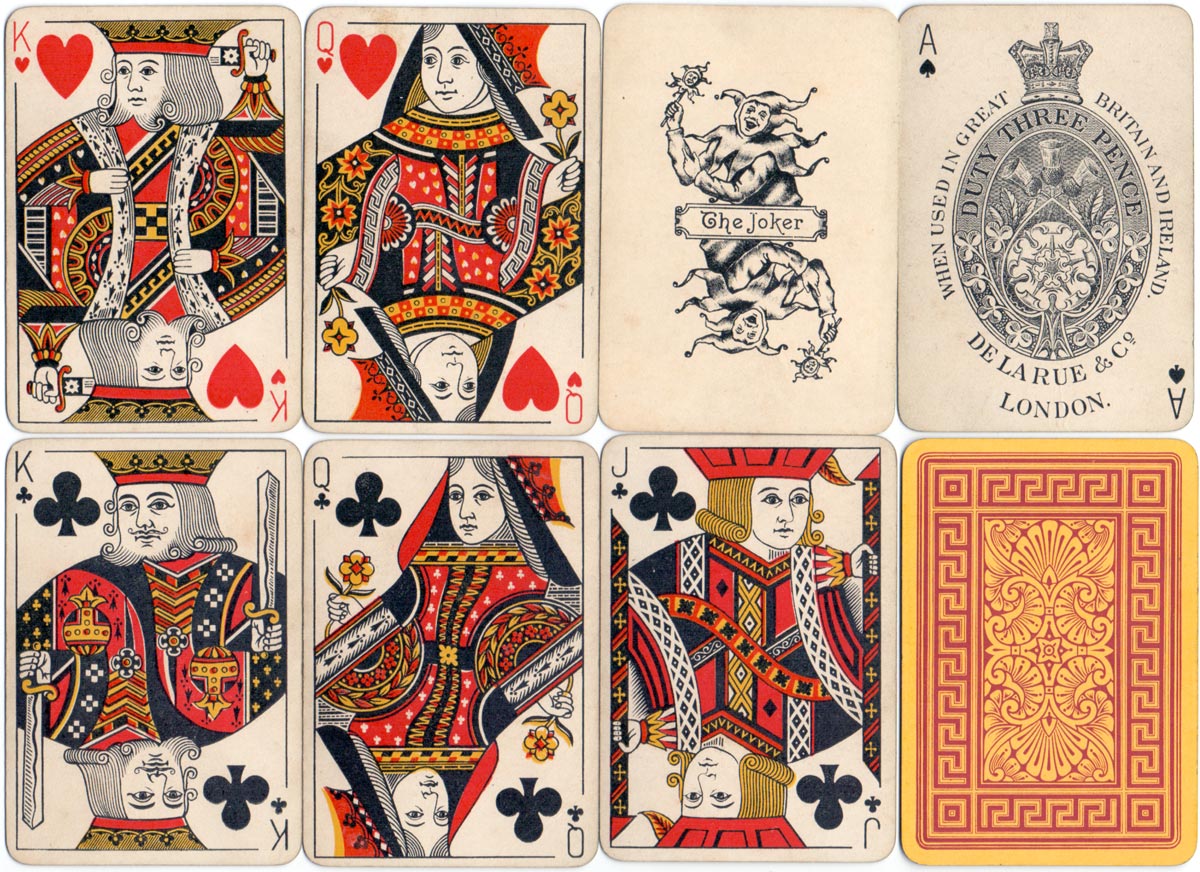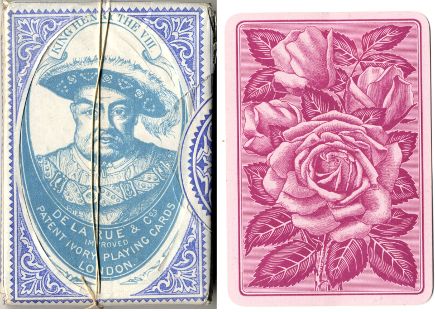 Besides manufacturing playing cards and card games, the firm also printed railway tickets and visiting cards for which he used his enamelled playing-card paper. De la Rue's card games were of the highest quality and tended to be expensive. De La Rue became the principal printer of fiscal, inland revenue and postage stamps and banknotes for the UK and colonies, and over the years the best engravers and miniature designers worked for De La Rue.
In the 19th century, England was the principal exporter of playing cards to Russia and the name of De La Rue figures prominently in this connection. In 1842 Thomas De La Rue's youngest brother Paul was appointed superintendent of the Russian royal playing card monopoly and the Russian establishment became an important customer of De la Rue, and was the firm's first overseas trade... learn more →. American and Belgian court card designs have been influenced by De la Rue, and for example, Lawrence & Cohen also enjoyed the services of Owen Jones, one of De la Rue's graphic designers. De la Rue opened a New York office and a Parisian office and during the period 1867-70 De la Rue published two non-standard packs specially designed for the French market →. See also: "International Playing Cards", 1874. De La Rue also manufactured packs for Denmark and Iran during the 1930s.
In 1921 Charles Goodall & Co. were absorbed by De La Rue. Playing cards had become more popular during World War I and there was now a great demand. The Goodall plant in Camden Town became a subsidiary of De la Rue and their well-known brand names were maintained by De la Rue. However, the duplication of efforts was a drain on profits and this was a disappointment to shareholders. At the same time the General Strike and the depression exacerbated the Company's condition. During the early 1930s De la Rue helped out by making cards for Waddingtons during the Wills gift scheme, where miniature cards were tucked into every packet of ten Goldflake or Capstan cigarettes which could be exchanged for full-sized packs, and the firm's playing card profits began to pick up. See also: Mardon Son & Hall →


In late 1940 the old De La Rue printing works at Bunhill Row in London was destroyed by air raids. So from 1941 onwards the printing of De La Rue's playing cards was undertaken by Waddington's in Leeds. During this period of close cooperation, packs of cards were produced containing components of both companies. For example, a standard De la Rue brand pack with a De la Rue ace of spades and joker might also contain Waddington's courts, and so on. The two companies joined forces and became The Amalgamated Playing Card Co on a 50-50 basis, but in 1971 De La Rue sold out to Waddington's, who then became Britain's leading playing card manufacturer. See When Three Brands Merge►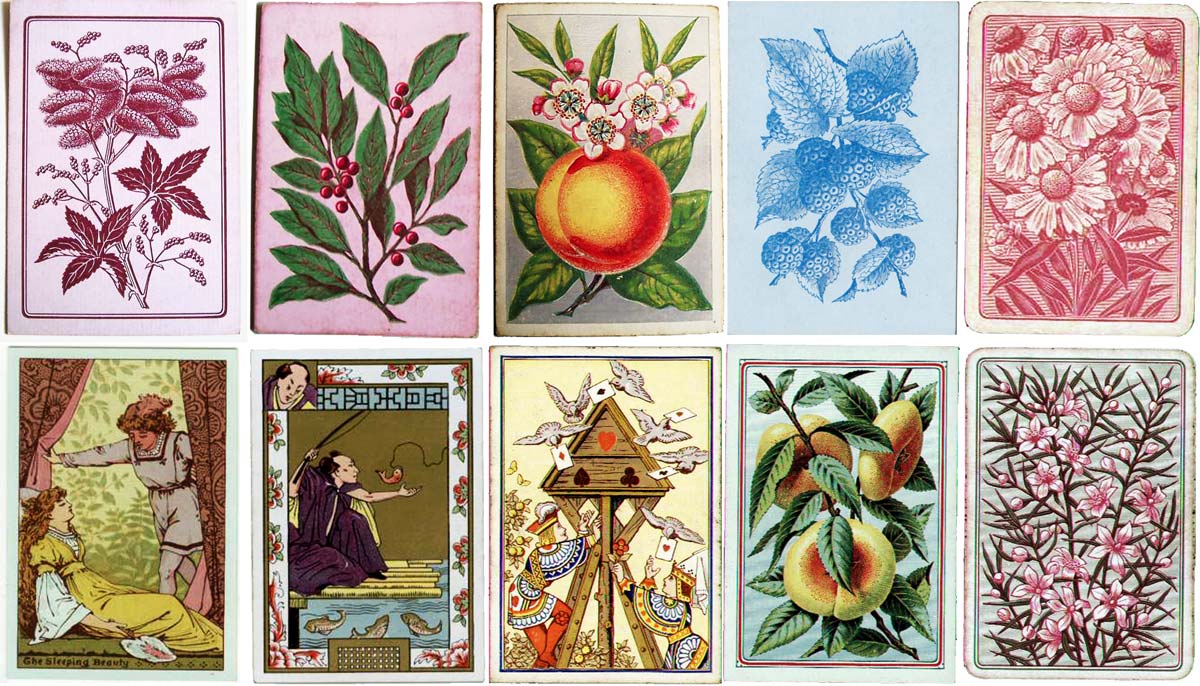 De La Rue's "Cheery Families" designed by Richard Doyle
The aura of domesticity which surrounded Queen Victoria and her Consort spread down the social scale, and card playing was one of the pleasures which could be shared within the large Victorian family circle. In the peaceful days before radio and television, card games were the unrivalled way of passing the time. Learn more →
The company that started life producing straw hats and playing cards almost two centuries ago has become a world leader in high security printing and payment systems technology. Thomas De La Rue International Ltd specialised in the manufacture of banknotes and other security documents, printing, currency counting machinery and money dispensers. It also has interests in the design and sale of banknote printing machinery. Click here to visit De La Rue's Corporate History website.

On Monday, 30th November, 1970, the entire De La Rue collection of playing cards was sold at auction by Sotheby's for £12,000 to the Fournier collection, Spain.
Member since February 01, 1996
Founder and editor of the World of Playing Cards since 1996. He is a former committee member of the IPCS and was graphics editor of The Playing-Card journal for many years. He has lived at various times in Chile, England and Wales and is currently living in Extremadura, Spain. Simon's first limited edition pack of playing cards was a replica of a seventeenth century traditional English pack, which he produced from woodblocks and stencils.