Published January 11, 1998
•
Updated July 10, 2023
Waddington's Playing Cards
John Waddington Limited was a leading producer of playing cards and card games in the UK during the period 1922-1995. The company had been founded in the nineteenth century by Mr John Waddington and Wilson Barratt as Waddingtons Ltd.

a brief history
John Waddington Limited was a leading producer of playing cards and card games in the UK during the period 1922-1995. The company had been founded in the nineteenth century by Mr John Waddington and Wilson Barratt as Waddingtons Ltd. It was renamed John Waddington Ltd in 1905. The original Mr John Waddington resigned in 1913. Between 1905 and 1923 John Waddington Ltd developed from a very small printing establishment with practically all business obtained from the theatre, into a nationally known firm.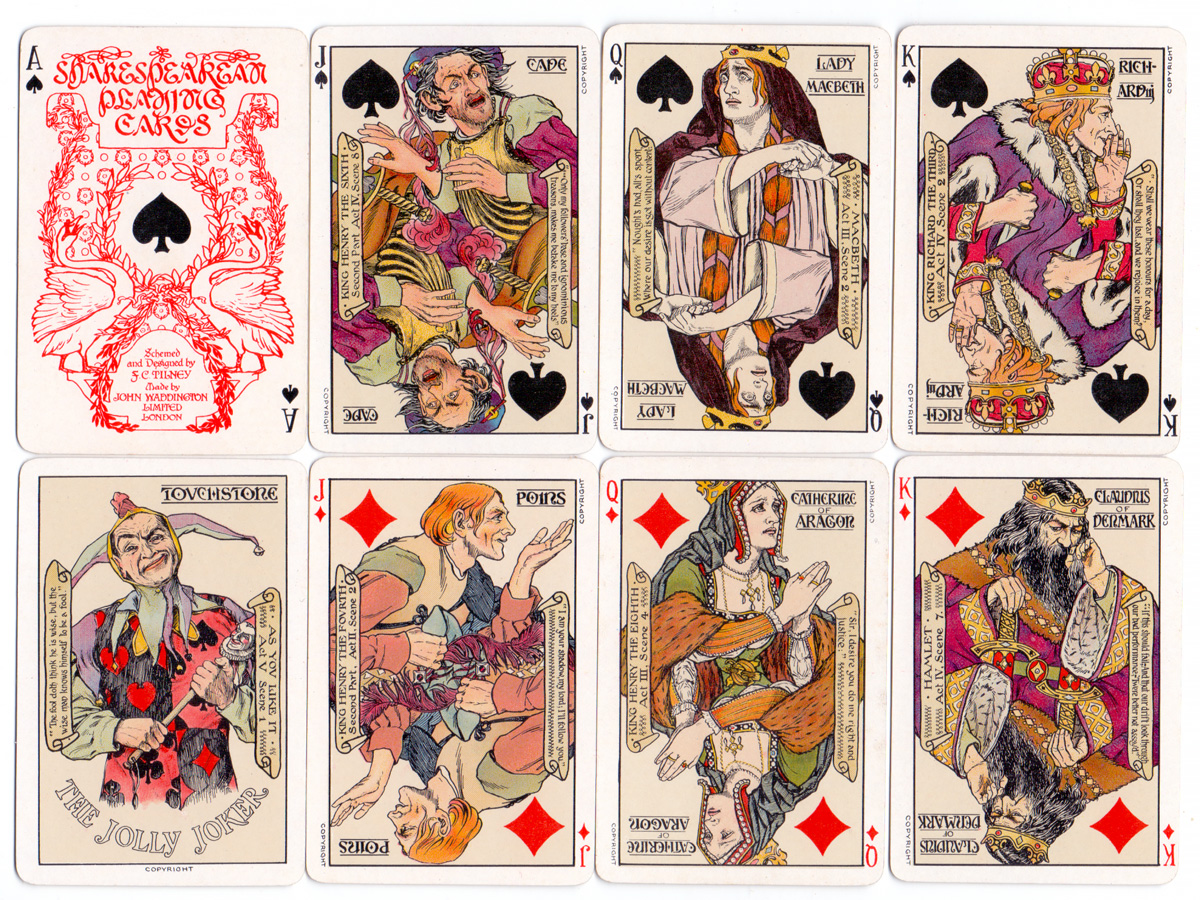 Playing Cards were first introduced in around 1922. The first registered trade name was 'Twillese' in 1922, followed by 'Empire', 'Encore', 'Chevalier', and 'Ambassador' during 1923. more → The first packs were printed by direct lithography with images transferred by hand onto stone. However, at this time, direct lithography was changing over to offset lithography. In 1924 they were accused of plagiarising De la Rue's Ace of Spades, but the court case ended in Waddington's favour with photographic enlargements revealing many differences.

At the time circumstances were favourable in that in 1922 Charles Goodall & Co. Ltd were absorbed by Thomas De la Rue thus leaving only one major competitor. Playing cards had become more popular during World War I and there was now a great demand. The artist William Barribal was contracted to work for Waddington's and Barribal packs were being made in 1928. Other artists included F. C. Tilney, Lucy Dawson, Harry Rountree, Tony Gibbons, Paul Brown, George Dervill Rowlandson (1861-1928), G.D. Armour and Siriol Clarry.

Waddington's began their 'Beautiful Britain' series depicting scenes of seaside, rural and historic resorts in 1924. This was first subsidised by the Great Western Railway company and later by the London and North Eastern Railway company, continuing until 1956. During 1926-27 a new factory was built for the manufacture of standard one colour back playing cards. Reel printing was introduced, with photogravure backs and rotary letterpress pips and court cards. At that time a good quality pack of cards cost only 9d. which included 3d. excise duty wrapper.
In 1926 the General Strike threatened production but the workers took no notice and brought bedding into the works in order to carry on working uninterrupted. Billiards and other recreations were provided and the workers camped in the factory. In 1929 the production of circular cards was started and these were very popular. They were introduced to the USA where sales were beyond expectations more →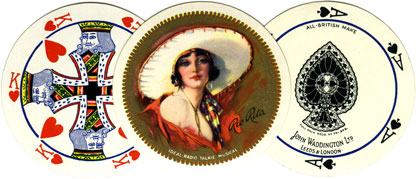 During the early 1930s Waddington's were involved in the Wills gift scheme, where miniature cards were tucked into every packet of ten Goldflake or Capstan cigarettes which could be exchanged for full-sized packs. See also: Mardon Son & Hall.
In 1932 Norman Victor Watson and John Waddington Limited submitted a patent application for a New Method and Apparatus for the Manufacture of Playing Cards►
In the early days Waddington's had a few playing card games such as Shop Missus, Beaver, Radio Banker, Grandfather's Whiskers, Bobs Y'r Uncle, Pooltella and Strip Tease. In 1932 'Lexicon' was launched, in a tuck box, at 1/9d per pack. Initial sales were nil, and so the game was repackaged at 2/6d and sales boomed, up to 1000 packs per week, becoming the firm's most successful card game. Click here to view 1933 Trade Brochure ¦ 1940 Trade Brochure. In 1934 the rights for 'Monopoly' were won, which has produced about half a million pounds' sales each year since then and set the firm on the road to greatness in the toy trade in the UK. Waddington's Buccaneer and Soccer soon followed.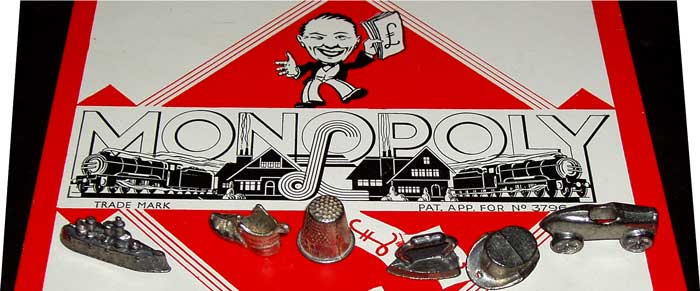 In 1935 Ormond Printing was obtained, which meant that playing card production could be delegated to Eire (also early Monopoly sets were manufactured in Ireland by the Ormond Printing Company Limited). During the 1930s Waddington's produced Scandinavian-style packs for Holmblads (S. Salomon & Co.) of Denmark. The card game Whot was acquired from W. H. Storey & Co during the late 1930s.
Wartime
In April 1940 the supplies of playing card board were cut off when Norway was invaded. Churchill requested that playing card manufacture be maintained at any cost, so as to provide distraction during the endless hours of boredom in the trenches. Packs from this time have cruder quality printing because all the key personnel had been redeployed.
From the moment Norway was invaded the paper shortage, which was already serious, became acute. All paper supplies were strictly licensed for particular purposes and economies were demanded in every possible way. Cartons had the material reduced in caliper and labels for cans were directed to be reduced to a very narrow strip, and as far as games were concerned no paper at all was granted for this purpose.
This prohibition extended to playing cards. In the early days of the war playing cards were regarded as superfluous and the material to make them became more and more difficult to obtain. Finally, however, it was the personal intervention of Mr Winston Churchill which brought the position to a head when he was visiting the troops in Egypt.
In Volume V of Churchill's "The Second World War" there is a printed memo from the Prime Minister to the President of the Board of Trade, which reads as follows:
Prime Minister to the Board of Trade
26th July, 1943
"I am told that in spite of contributions from civilian supplies there is at present a shortage of playing cards for use by the forces and workers in industry. The importance of providing amusement for the forces in their leisure hours and in long periods of waiting and monotony in out of the way places, and for sailors penned up for months in their ships for months together, cannot be overstated. Nothing is more handy, more portable, or more capable of prolonged usage than a pack of cards.
Let me have a report on this subject, and show me how you can remedy this deficiency. It ought to mean only a microscopic drain on our resources to make a few hundred thousand packs."
A further extract from the Prime Minister to the President of the Board of Trade reads as follows:
Prime Minister to the Board of Trade
1st August, 1943
"The important thing is to have cards freely forthcoming when called for, and although the soldiers should have priority civilian workers need them too."
The following comment was made by Norman Watson in November 1952 when he recalled this situation:
"The outcome in 1943 was that the President of the Board of Trade sent for me to discuss the whole position. But by this time the horse had bolted; in other words our stock of playing card board was exhausted and our experienced staff had been absorbed into other industries. However, as many of us knew, the position did improve slightly. A few girls were allowed to return to the playing card industry and certain materials were allocated to us. All who lived through these stirring times will remember that when Mr Churchill gave an order it had to be carried out and although we were completely unequipped for any return to normal manufacturing programmes, something had to be done, and was done."
During this time all the men under 35 years of age were called up for active service and a number of the girls were also either directed to the Women's Auxiliary Services or munition factories. The girls, however, working on the bank-note side and in the department started by ICI Metals Ltd were allowed to stay, which meant there was a nucleus of trained people available for when the war-time activities ceased.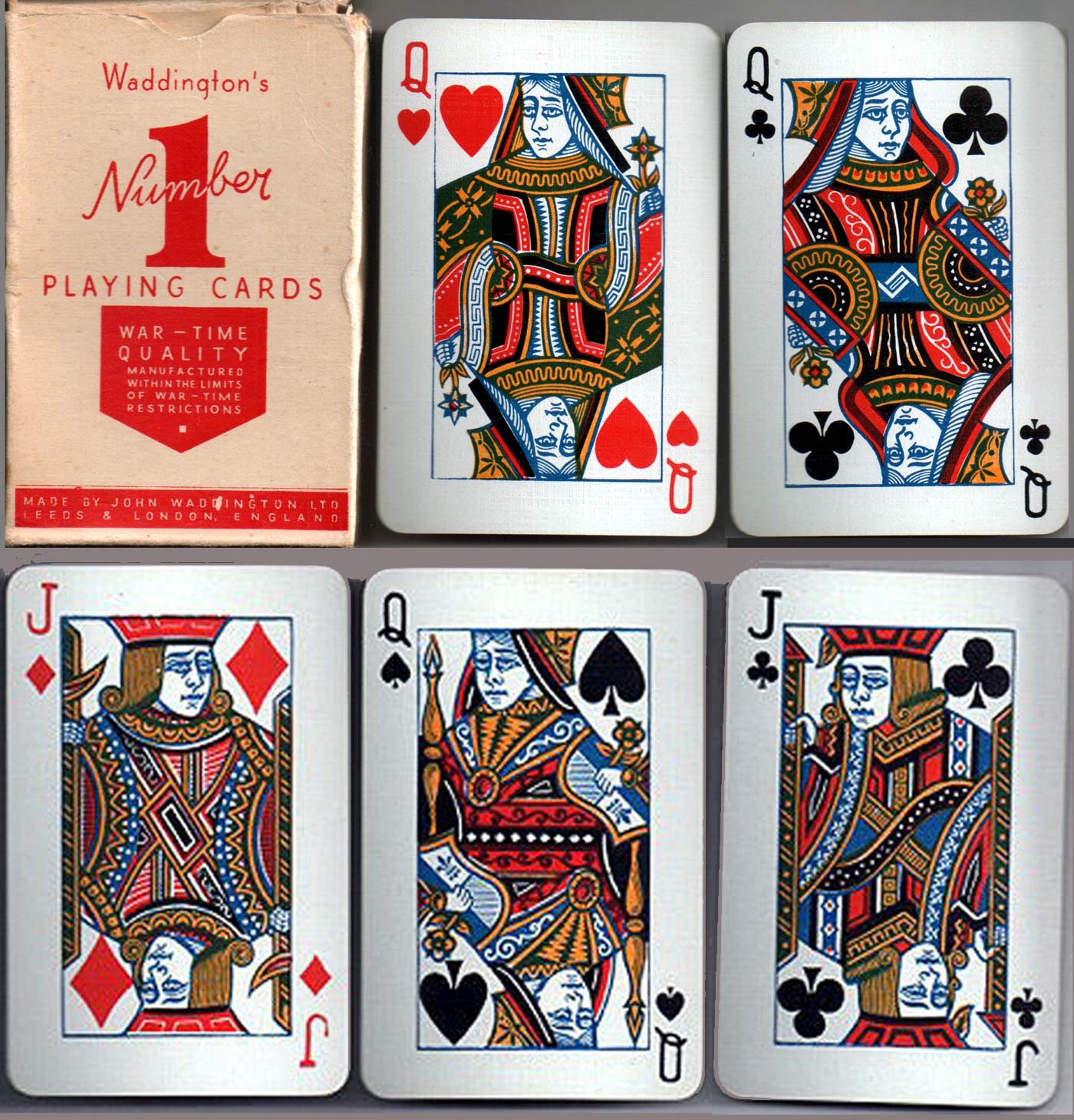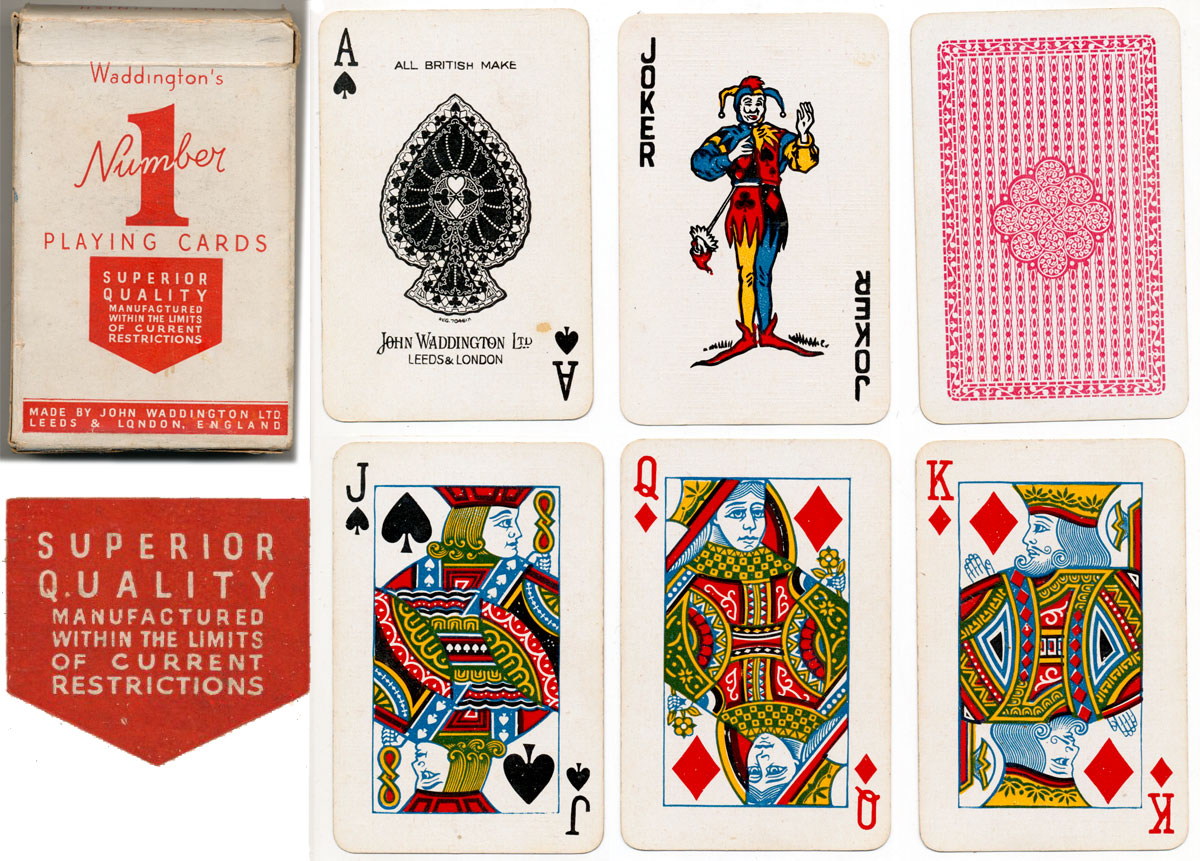 A lot of the tobacco advertising packs from this time were patriotic and supported the armed forces.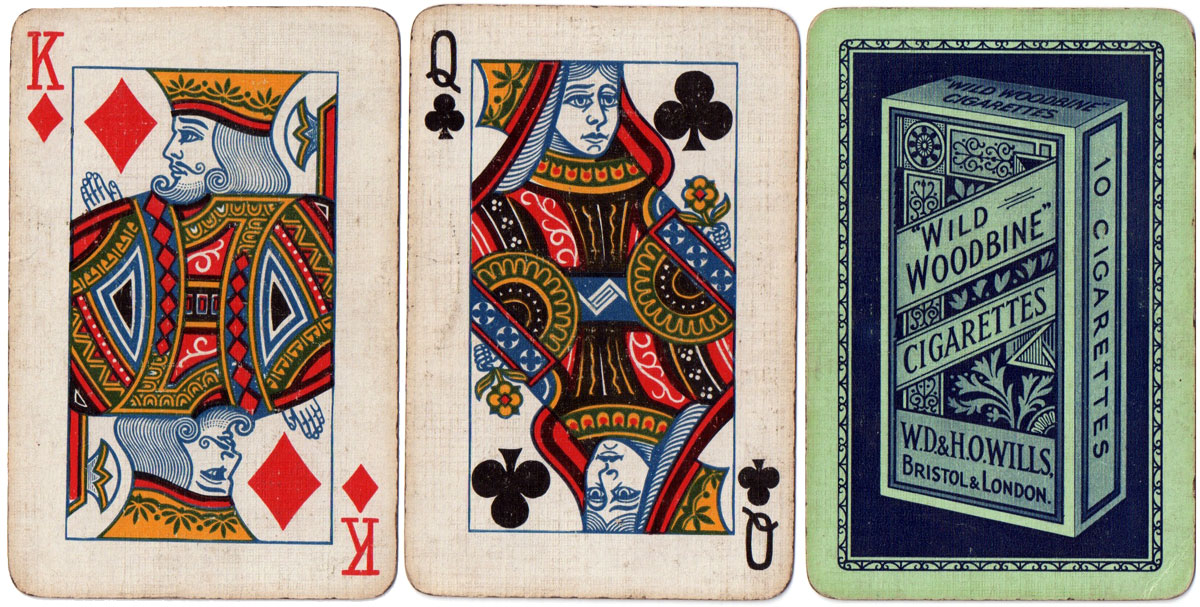 ---
"Unique Style" Playing Cards
Two sets of French/Belgian and German-style courts, which had originally been produced for export, were released onto the home market to make up for the shortages during or after the war. One of these was titled "Unique Style" playing cards and carried an explanation on the box.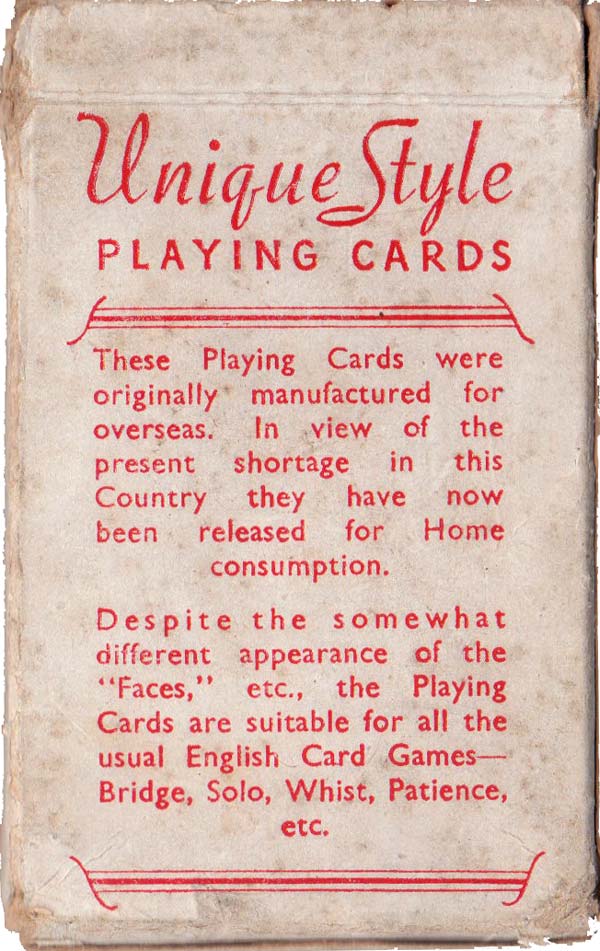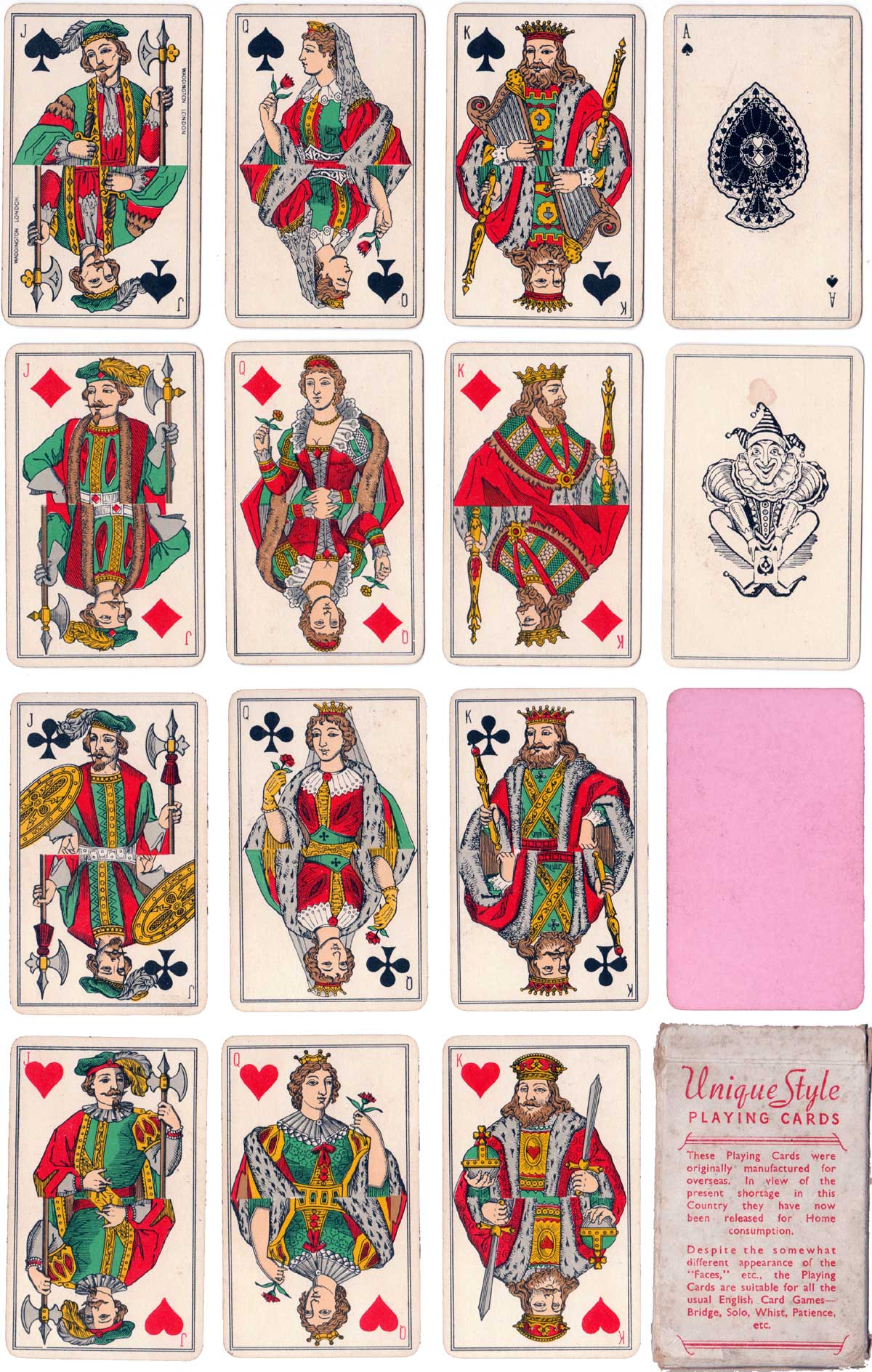 Any pack by Waddington's that has DLR/Goodall courts has to be post-1941, when Waddington's took over all printing of DLR cards because of the destruction of the latter's factory in the Blitz. Except for Worshipful Company packs from 1943 onwards, Goodall courts in Waddington's packs generally date from the early to mid-1950s. Waddington's retained their own Joker and Ace of Spades. A number of pre-war backs and motifs, as well as old boxes, were used (up) at this time. Multi-coloured backs didn't appear in any quantity until the post-war printing restrictions were lifted. All rationing had finished by 1954. In addition, Waddington's were still producing their most successful brands, like "Sporting Series", some "Barribal" designs and corporate gift sets in assorted boxes after the war.

Two jokers were introduced into packs of playing cards when 'Canasta' became fashionable, in around 1950. During the 1960s Waddington's bought La Ducale and then B.P. Grimaud, and in 1971 took over Alf Cooke. This acquisition enabled Waddington's to upgrade their machinery and thereby to achieve higher quality production. In 1974 the leek was added to the ace of spades see more→
Hasbro, a large toy company, bought Waddington's Games in 1994. Waddington's No.1 Playing Cards are still a best seller in Britain, but today they are marketed by Winning Moves, who bought the brand from Hasbro, together with Lexicon.
Member since February 01, 1996
Founder and editor of the World of Playing Cards since 1996. He is a former committee member of the IPCS and was graphics editor of The Playing-Card journal for many years. He has lived at various times in Chile, England and Wales and is currently living in Extremadura, Spain. Simon's first limited edition pack of playing cards was a replica of a seventeenth century traditional English pack, which he produced from woodblocks and stencils.