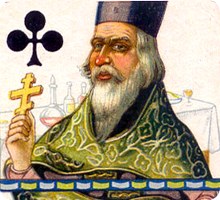 Russian "Anti-Religions" Playing Cards
Religion will always be controversial...
An interesting propaganda pack depicting the various religions of the Soviet Empire. Clubs represent the Russian Orthodox church, Hearts Roman Catholicism, Spades Confucianism and Diamonds represent Judaism. The Joker is depicted as a top-hatted Capitalist holding the strings of the four religions. The Russians were no strangers to propaganda cards. The Bolsheviks tried to distribute these anti-Religion playing cards at the 1933 Chicago "Century of Progress" World's Fair. Printed in chromolithography by the Soviet Union State Playing Card Monopoly, early 1930s.