Published November 12, 2012
•
Updated April 24, 2022
Alison McDonald
Artwork for The Watersprite Tarot© designed and painted by Alison McDonald.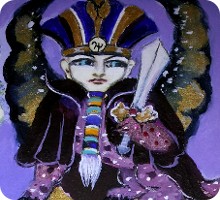 Alison McDonald's tarot card artwork
"I started my working life as a Community Psychologist employed by the government in rural NSW. I ended up spending quite a few years creating The Watersprite Tarot - how this quantum leap in perspective occured is a mystery to me. Having no formal art training behind me, it has initially been a long and arduous process to design and illustrate the cards, especially trying to master the craft of watercolour. However it has also been a journey of great joy and discovery. To me the most impotant aspects of the cards are symbology, colour, mood and energy. I think the archetypal symbols of the tarot are universal and fixed in history." Alison Muir McDonald.
Each card is intended to fit inside a frame. There are 78 cards + 1 blank. See the FINAL PRINTED DECK →
Member since February 01, 1996
Founder and editor of the World of Playing Cards since 1996. He is a former committee member of the IPCS and was graphics editor of The Playing-Card journal for many years. He has lived at various times in Chile, England and Wales and is currently living in Extremadura, Spain. Simon's first limited edition pack of playing cards was a replica of a seventeenth century traditional English pack, which he produced from woodblocks and stencils.