Published October 26, 2022
•
Updated October 26, 2022
The Lord of the Rings Tarot Deck & Card Game
The Lord of the Rings Tarot Pack by Terry Donaldson and artist Peter Pracownik. Published 1997 by U.S. Games Systems.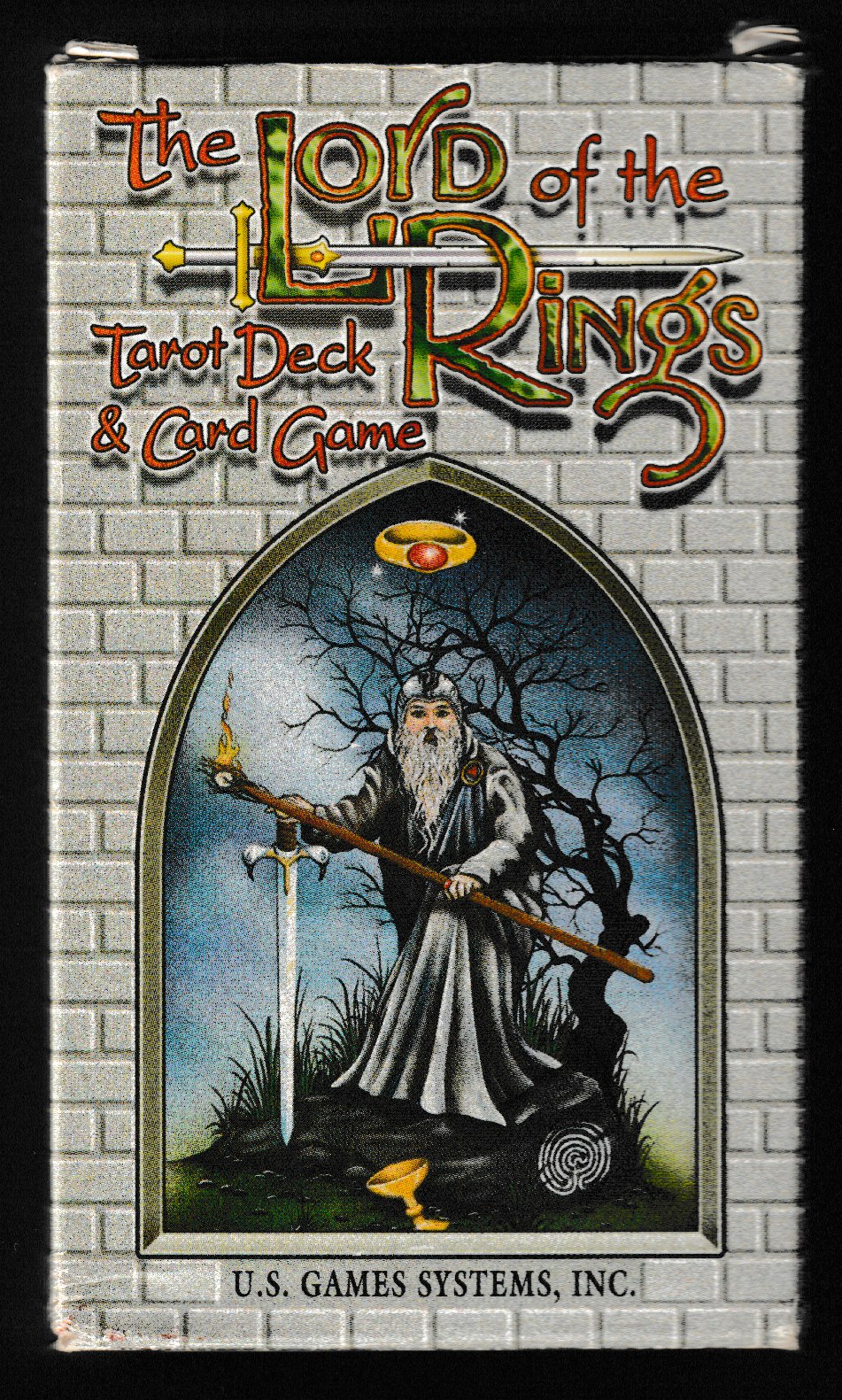 Fanciful characters and scenes from J.R.R. Tolkien's The Lord of the Rings trilogy and The Hobbit.
The first thing to say about this pack is that it was clearly a collaborative effort involving many different contributors, notably Terry Donaldson who developed the idea and Peter Pracownik who created the artwork. The designs combine traditional aspects of the tarot (e.g., standard titles, down the left-hand side of each card) with the world of folklore and fairy tales as found in the works of J.R.R. Tolkien. Each image has a description at the foot and all the cards have black borders. Added to this, Mike Fitzgerald has come up with rules for a special card game for 2 to 6 players using the same cards. The game rules are included in the booklet.
The interpretations in the booklet are pretty standard, with no direct mention of the Lord of the Rings anywhere. Upright and reversed meanings are given for the major arcana, upright only for the minor arcana. There is also a small section in the booklet about using the cards for meditation. Here, there is emphasis on the symbolism found in Tolkien's world. In the card game rules, the four symbols in the upper right-hand corner of each card (Free Peoples, Dark Forces, Neutral, and One Ring) have considerable significance.
78 cards + 2 extra cards + 44-page booklet in tuck box. Size: 70 x 120 mm.
Printed by Carta Mundi, Turnhout, Belgium, for U.S. Games Systems, Inc., Stamford, CT, USA, 1997. See the back of box►
---
Member since May 31, 2022
Roddy started collecting stamps on his 8th birthday. In 1977 he joined the newly formed playing-card department at Stanley Gibbons in London before setting up his own business in Edinburgh four years later. His collecting interests include playing cards, postcards, stamps (especially playing cards on stamps) and sugar wrappers. He is a Past President of the Scottish Philatelic Society, a former Chairman of the IPCS, a Past Master of the Worshipful Company of Makers of Playing Cards and Curator of the WCMPC's collection of playing cards. He lives near Toulouse in France.