Published February 16, 2016
Updated June 21, 2022
Popeye Knockout
Popeye Knockout No.6586 by Tower Press, c.1961.
Popeye Knockout No.6586 by Tower Press, c.1961. The famous cartoon character Popeye was invented by an American comic strip artist called Elzie Segar in 1919. He was named Ham Gravy at first in the comic strip "Thimble Theatre". His name was changed to Popeye in 1929. In 1932 Max Fleischer bought the film rights to Popeye and the real story began. His first film appearance was in a Betty Boop cartoon called "Popeye the Sailor" in 1933, and the world began to become familiar with the gruff talking, muscular character who got his energy from a can of spinach. Many expressions are familiar to us now, such as "Blow me down" or "I eats me spinach".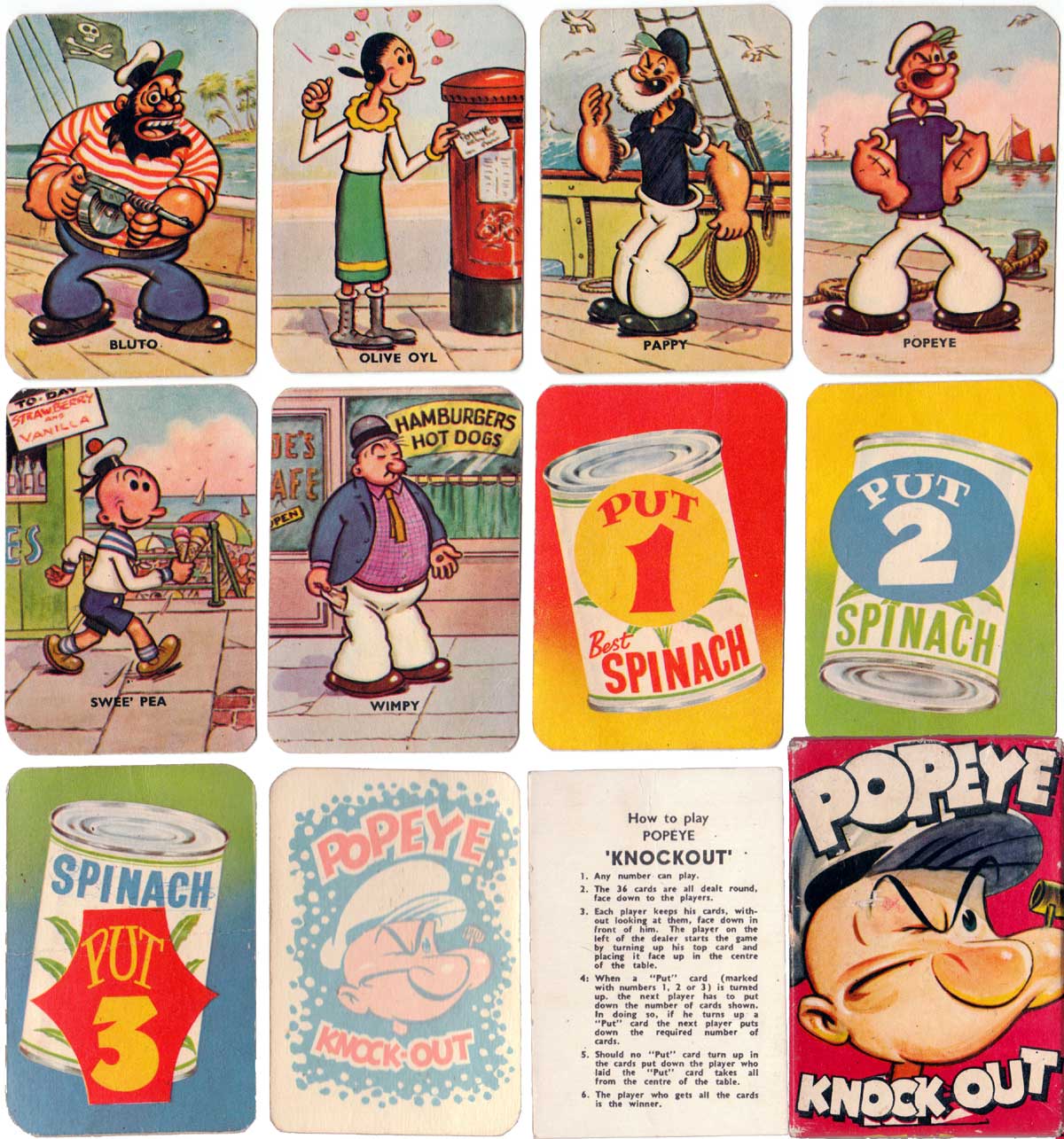 Before the TV series (which was the inspiration for this game) was made in 1961, the bad guy Bluto had his name in this card game changed to Brutus. This prompted Tower to issue a second edition and they presented all the cards in a different way. This was the result of friendly negotiations between Max Fleischer and Disney Studios who though that Bluto's name was a bit too much like Pluto their famous dog character. The other regulars in the TV "Popeye Cartoon Show" were J Wellington Wimpey, Swee'pea, Sea Hag, Eugene the Jeep and Rough House. By this time Disney's Brutus was voiced by Jackson Beck.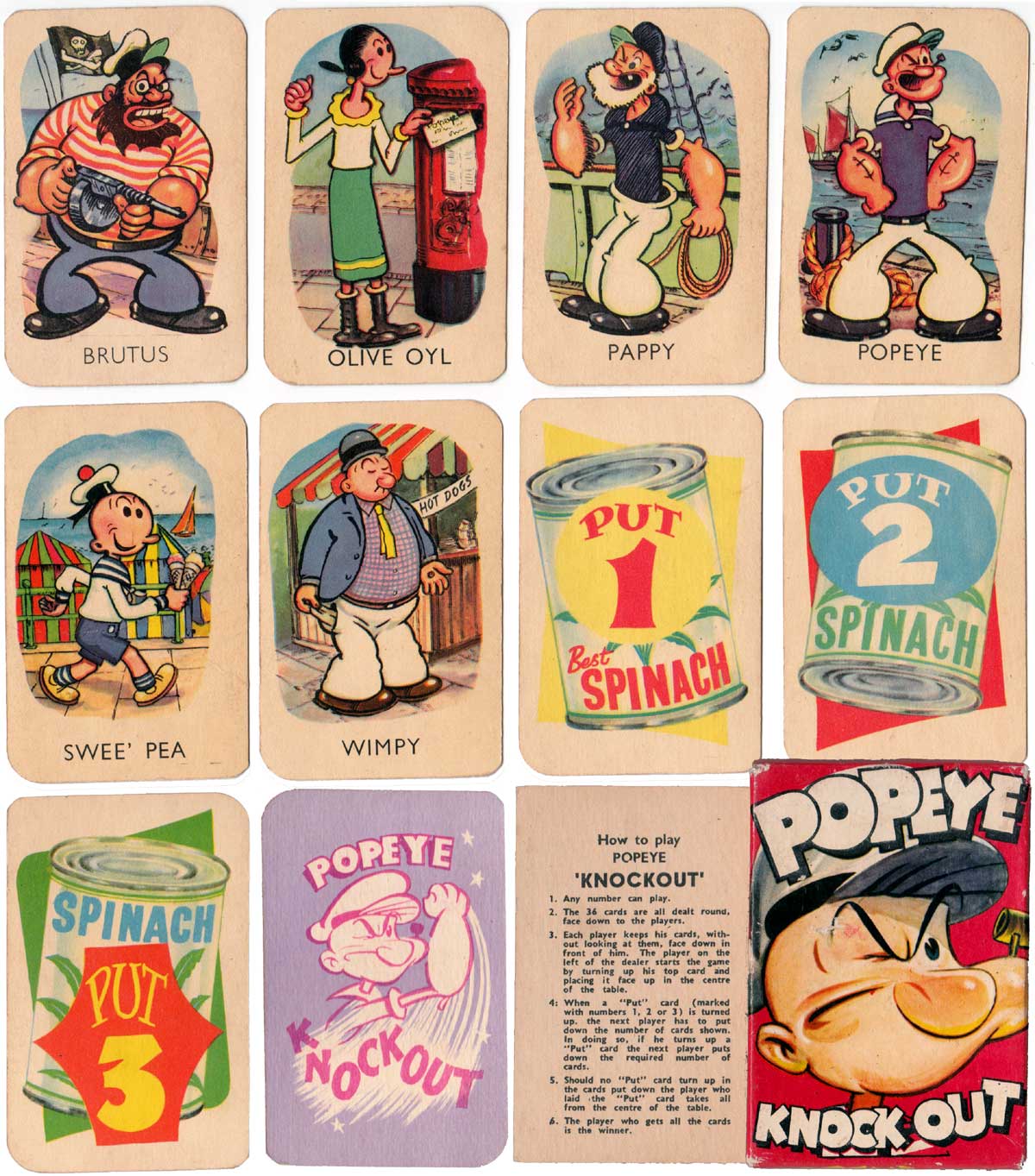 The first voice of Popeye was William Costello, but from 1933 Jack Mercer made the character his own, introducing Popeye's mutterings under his breath. Jack Mercer was Popeye's voice for 45 years. Bluto, Popeye's bullying adversary, was voiced by Gus Wickie and Olive Oyl was Mae Questel (who was also Betty Boop). Mae Questel must have been very versatile as she even voiced Popeye himself on a few occasions when Jack Mercer had been sent abroad during World War Two.
Member since January 30, 2009
View Articles
Rex's main interest was in card games, because, he said, they were cheap and easy to get hold of in his early days of collecting. He is well known for his extensive knowledge of Pepys games and his book is on the bookshelves of many.
His other interest was non-standard playing cards. He also had collections of sheet music, music CDs, models of London buses, London Transport timetables and maps and other objects that intrigued him.
Rex had a chequered career at school. He was expelled twice, on one occasion for smoking! Despite this he trained as a radio engineer and worked for the BBC in the World Service.
Later he moved into sales and worked for a firm that made all kinds of packaging, a job he enjoyed until his retirement. He became an expert on boxes and would always investigate those that held his cards. He could always recognize a box made for Pepys, which were the same as those of Alf Cooke's Universal Playing Card Company, who printed the card games. This interest changed into an ability to make and mend boxes, which he did with great dexterity. He loved this kind of handicraft work.
His dexterity of hand and eye soon led to his making card games of his own design. He spent hours and hours carefully cutting them out and colouring them by hand.