Published June 04, 1998
Updated February 08, 2022
United Kingdom
Playing cards first arrived in England during the 15th century, but none have survived from such an early date.
Playing Cards in The United Kingdom
English soldiers probably brought French cards back with them from battles and expeditions into French territory during the fifteenth century, and these cards served as models for the first English makers. None have survived from such an early date and little is known about early English card manufacturers.
Cards were probably imported (or smuggled) from France - most likely from nearby Rouen - and also possibly from Flanders or Spain. However, their importation was officially banned in 1463 upon the petition of the English artificers. About 1484 they seem to have become an important part of the Christmas festivities, at least among the upper classes, and in 1495 an edict of Henry VII forbade their use to servants and apprentices except during the Christmas holidays. Henry apparently enjoyed this new game, 'cards for playing', for among his private expenses are several entries for losses at cards. Read more →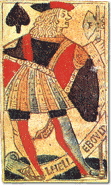 Some odd single cards have survived in museums and country houses, and the name Stiven Bricket appears on a card dated c.1600. These cards all have the same stylistic resemblance to cards made in Rouen during the fifteenth century and which became the English pattern see more →
The next most well-known English manufacturers are Hewson, Blanchard, Gibson, Hunt, Reynolds, Goodall, etc. English pattern cards remained single-figured on the courts until shortly after 1850; even then it was at least another ten years before the more conservative players would accept double-headed cards. The English pattern was widely copied and imitated by American manufacturers during the nineteenth century, then exported to Australia, and has since been adopted by manufacturers world-wide as the standard 'International' pattern for Bridge, Poker, Canasta and so on.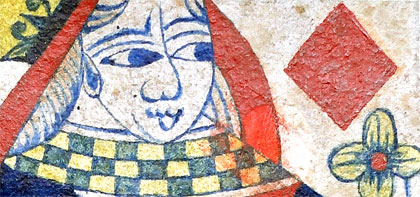 Above: set of "Pope Joan" Game Trays with gilt and painted panels, c.1800-20.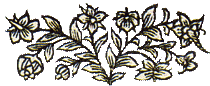 ---

Member since February 01, 1996
View Articles
Curator and editor of the World of Playing Cards since 1996. He is a former committee member of the IPCS and was graphics editor of The Playing-Card journal for many years. He has lived at various times in Chile, England and Wales and is currently living in Extremadura, Spain. Simon's first limited edition pack of playing cards was a replica of a seventeenth century traditional English pack, which he produced from woodblocks and stencils.