Published January 08, 2021
•
Updated July 14, 2022
Warren Paper Products
Warren Paper Products Co., Lafayette, Indiana, publishers of Built-Rite toys, games and puzzles.
Warren Paper Products Co., Lafayette, Indiana, USA
"Variety or Solid Pak Card Games, flash cards and Fun Kits are the items most asked for.
From sports games to card tricks Warren has them and now is the time to buy.
Each game is wrapped in cellophane and mounted to prepriced rack cards".
Warren Paper Products Company produced an extensive range including packaging boxes, toy figures, flash cards, indoor sports games, fun packs, puzzles and card games since the 1940s through 1970s. An early patent for a paper toy was filed by Donald M Warren of La Fayette, Ind. in June 23, 1938 (here). Another patent was filed by Karl R. Grimm, assignor to Warren Paper Products Company, La Fayette, Ind. on September 29, 1938 (here).
A leading brand name was Built-Rite toys & parlour games, others were Paste without Paste cut-out construction toys, Fun-Kit and Diamond Lock picture puzzles. Here we are concerned with the children's card games published over the years, which include: Hot Dog, Early Bird, Sounds Fishie, Rich Man Poor Man, Old Maid, Highway Travel, Animal Rummy, Bowling, Dandy Candy, Zoo Fun, I Doubt It, Basket Ball, Travel Spin, Baseball, Felix the Cat Rummy, Western Heroes, Golf. Search ebay►

Entirely new children's card games with names kids will know and Mum will buy!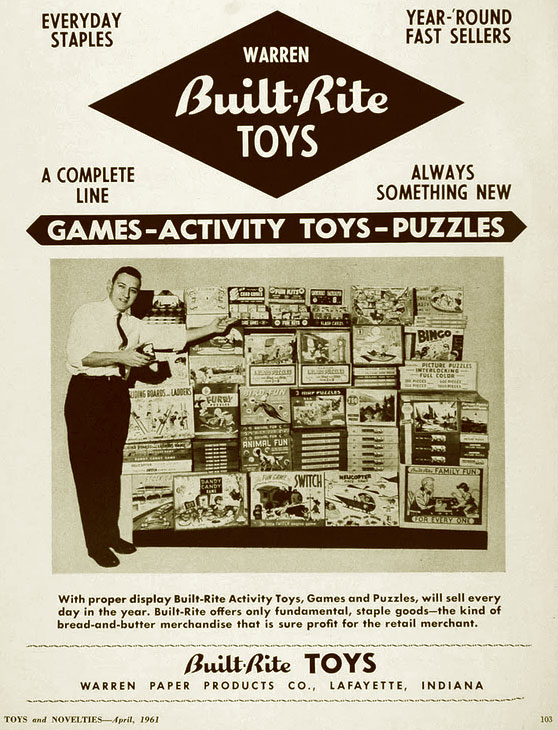 "We've got selection and now you've got OPPORTUNITY!
The opportunity to cash in on great cards for fun and learning in small easy to place displays. Put them in your toy department, in your book department, or on the counter. No matter where you put them, they'll be gone in no time.
Get your order in today!".
---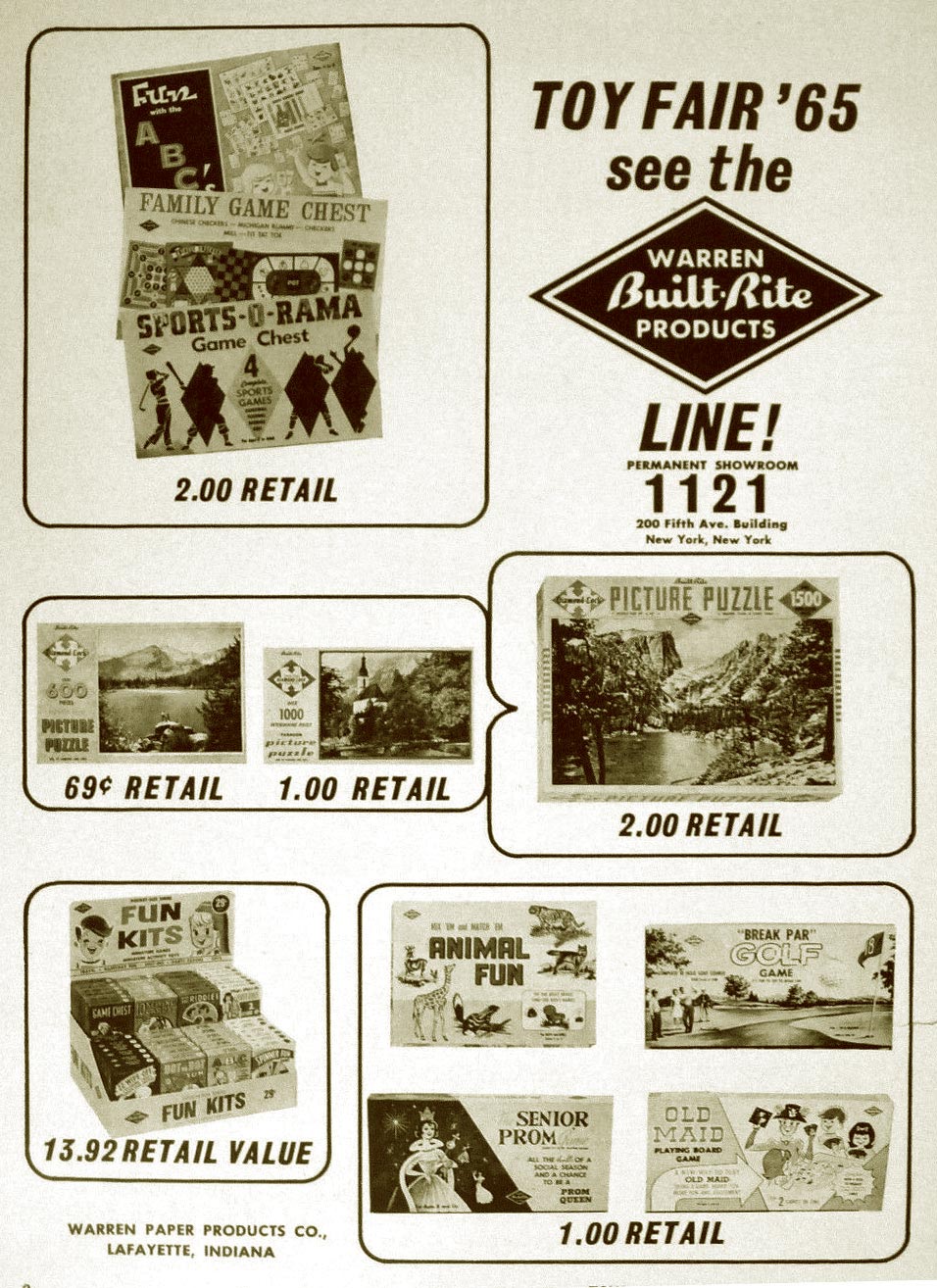 Member since January 30, 2009
Rex's main interest was in card games, because, he said, they were cheap and easy to get hold of in his early days of collecting. He is well known for his extensive knowledge of Pepys games and his book is on the bookshelves of many.
His other interest was non-standard playing cards. He also had collections of sheet music, music CDs, models of London buses, London Transport timetables and maps and other objects that intrigued him.
Rex had a chequered career at school. He was expelled twice, on one occasion for smoking! Despite this he trained as a radio engineer and worked for the BBC in the World Service.
Later he moved into sales and worked for a firm that made all kinds of packaging, a job he enjoyed until his retirement. He became an expert on boxes and would always investigate those that held his cards. He could always recognize a box made for Pepys, which were the same as those of Alf Cooke's Universal Playing Card Company, who printed the card games. This interest changed into an ability to make and mend boxes, which he did with great dexterity. He loved this kind of handicraft work.
His dexterity of hand and eye soon led to his making card games of his own design. He spent hours and hours carefully cutting them out and colouring them by hand.