Warren Paper Products Co., Lafayette, Indiana, USA
"Variety or Solid Pak Card Games, flash cards and Fun Kits are the items most asked for.
From sports games to card tricks Warren has them and now is the time to buy.
Each game is wrapped in cellophane and mounted to prepriced rack cards".
Warren Paper Products Company produced an extensive range including packaging boxes, toy figures, flash cards, indoor sports games, fun packs, puzzles and card games since the 1940s through 1970s. An early patent for a paper toy was filed by Donald M Warren of La Fayette, Ind. in June 23, 1938 (here). Another patent was filed by Karl R. Grimm, assignor to Warren Paper Products Company, La Fayette, Ind. on September 29, 1938 (here).
A leading brand name was Built-Rite toys & parlour games, others were Paste without Paste cut-out construction toys, Fun-Kit and Diamond Lock picture puzzles. Here we are concerned with the children's card games published over the years, which include: Hot Dog, Early Bird, Sounds Fishie, Rich Man Poor Man, Old Maid, Highway Travel, Animal Rummy, Bowling, Dandy Candy, Zoo Fun, I Doubt It, Basket Ball, Travel Spin, Baseball, Felix the Cat Rummy, Western Heroes, Golf.

Entirely new children's card games with names kids will know and Mum will buy!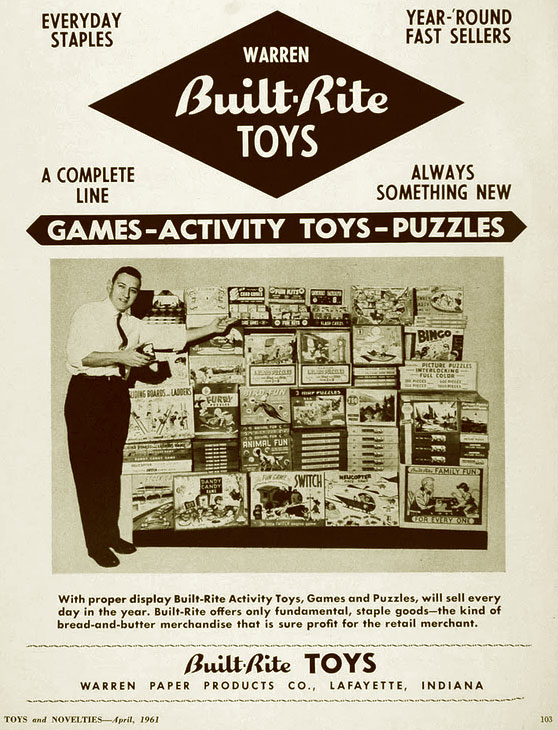 "We've got selection and now you've got OPPORTUNITY!
The opportunity to cash in on great cards for fun and learning in small easy to place displays. Put them in your toy department, in your book department, or on the counter. No matter where you put them, they'll be gone in no time.
Get your order in today!".
---