Published April 03, 2013
Updated June 15, 2022
La Traviata
"La Traviata" playing cards designed by Erté, c.1985.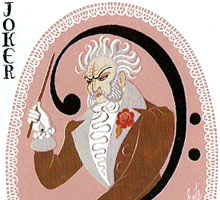 "La Traviata" by Erté, c.1985
This outstanding and elaborate deck designed by Erté (Roman Tyrtov), the Russian-born Art Deco designer, was commissioned by Dunhill of London based on the theme of "La Traviata". The court cards with French indices are reversible. That is to say that when turned end for end, a different picture is seen. Sometimes the difference is very obvious, other times it is more subtle. Erté's real name was Romain De Tirtoff and he lived from 1892 to 1990. A major turning point in his career came in 1965, when he met Eric and Salome Estorick, the founders of Seven Arts Ltd of New York and London. Seven Arts produced this pack, and remained the exclusive agent for Erte's work until his death.