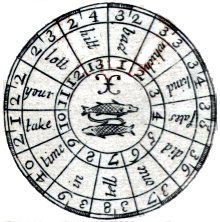 Engraved pack designed for divination, in which every alternate numeral card has an astrological sphere, and the others are filled with fortune-telling answers. The court cards are whole length figures, the Kings and Queens being the same in all four suits, although with different inscriptions. Every card has a ruled off space at the top containing the name of an astrologer, sybil, etc., with a numeral and suitmark to indicate the value. On the Ace of Hearts is Hermes Trismagistus, on the King of Hearts Herod, on the Knave of Spades Wat Tyler and on the Knave of Clubs Hewson, the regicide.
These Fortune-Telling cards, first published as early as 1690, were possibly the first pack of cards ever made specifically for the purpose of fortune-telling. Otherwise, ordinary playing cards would have been used. The system of fortune-telling advocated is complicated, and takes some perseverance to reach an answer to simple questions such as whether the enquirer will be happy, rich or poor in love. See the Instructions►




John Lenthall was a Fleet Street stationer who, in the course of the first quarter of the 18th century re-issued, re-engraved or imported at least forty different packs of pictorial cards. Although these fortune-telling cards are generally known as "Lenthall's", the first edition, possibly made by someone else, is advertised as early as 1690.
---