J & W Mitchell, Birmingham
J. & W. Mitchell 1855-1921; J. & W. Mitchell Co Ltd 1922-1963.
Bordesley Paper Works, 84-100 Coventry Road, Birmingham (1858-1963),
also 6 Bride Court (1859) and 5 Bridewell Place, London EC (1906). Board and paper makers.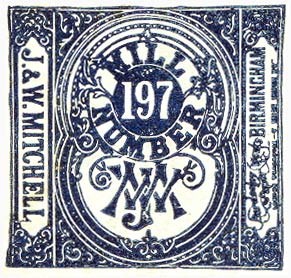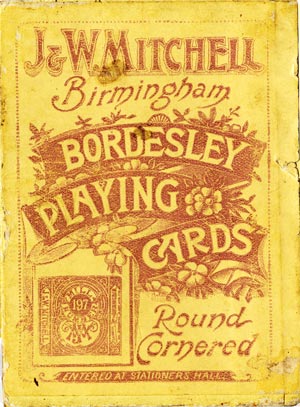 James Mitchell (1819-76) came to Birmingham to work with an uncle by marriage, Thomas Penn, a brass founder who diversified into decorated papers in the 1830s. By 1850 he was listed as a chemist and colour manufacturer in the premises next door to Thomas Penn, producing marbled papers, pasteboard and cards, at 343 Coventry Road, Birmingham. By 1855 he was in business with his brother, William Mitchell, as J. & W. Mitchell. The business was listed as manufacturers of coloured, marbled and foil papers, card, cardboard etc in 1858.
It was carried on in the next generation by James's sons, John Mitchell (1850-1932) and William H. Mitchell (1853-1933). It advertised "Bordesley Artists' Boards, specially made for Black and White Wash Drawings" (The Year's Art 1906). An advertisement of 1915 shows the very wide range of papers and boards made by the business including Bordesley Artists' Boards and Excel Drawing Boards. The business went into liquidation in 1963. [Note: there was also a John & William Mitchell of Birmingham who were in the steel pen and nib manufacturing industry during the nineteenth century, but they appear to be a separate business.]
This rare Victorian manufacturer made standard English playing cards for a short period during the late 1880s and early 1890s. Two versions are known, both double-ended packs with 52 cards + joker, one with four-colour courts and the other with red and black only, which were presumably more economical. In the red & black set, two of the Jacks have moustaches* The Ace of Spades has elaborate scroll-work and the registered design no.292518. The cards have round corners and narrow indices as these were becoming the norm around this time.