Published June 01, 2015
Updated April 24, 2022
Olympics 2012
Each card features a representation of a different sport at the London 2012 Olympic or Paralympic games.
Olympic Games 2012
London 2012 Olympic Legends was a deck of cards produced as part of a series of 'Official Products of London 2012' by Winning Moves under license from LOCOG. The deck features 52 different photos of 'Olympic Legends' in various disciplines through the ages, including such names as Mark Spitz, Muhammad Ali, Steve Redgrave, Jesse Owens, Olga Korbut, Nadia Comaneci, Michael Johnson, Daley Thompson etc. The irregular quadrilateral shapes of the images adds a sense of athletic energy and dynamism.
Three complimentary sets were being produced by Winning Moves in the UK. Besides "Olympic Legends" were "London 2012 Sports" with abstract bi-colour drawings of sports featured at the event and "London Landmarks" with abstract bi-colour drawings depicting landmarks of London. The three packs were sold separately and as a three-pack boxed "London 2012 Playing Cards Gift Set".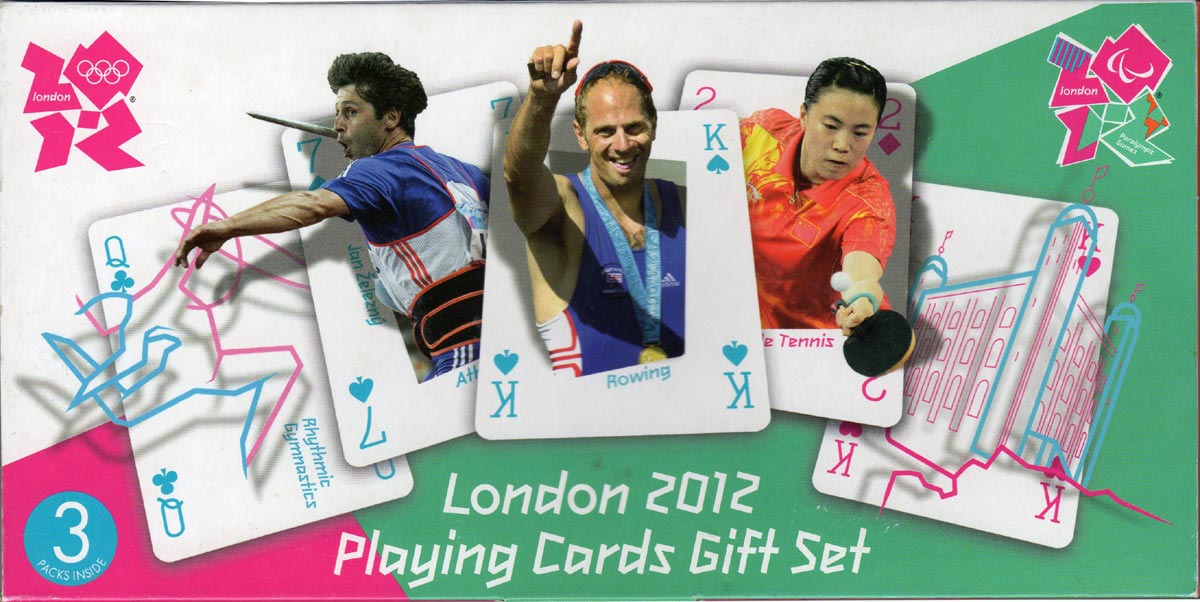 Member since March 02, 2012
View Articles
I have adored playing cards since before I was seven years old, and was brought up on packs of Waddington's No 1. As a child I was fascinated by the pictures of the court cards.
Over the next fifty years I was seduced by the artwork in Piatnik's packs and became a collector of playing cards.
Seeking more information about various unidentified packs I discovered the World of Playing Cards website and became an enthusiastic contributor researching and documenting different packs of cards.
I describe my self as a playing card archaeologist, using detective work to identify and date obscure packs of cards discovered in old houses, flea markets and car boot sales.