Published March 03, 2015
•
Updated February 13, 2023
Ordnance Recognition
Ordnance Recognition Playing Cards cards designed to help people at risk from unexploded bombs
Ordnance Recognition Playing Cards
A set of four packs of educational playing cards designed to help people at risk – whether they are soldiers, civilians, aid workers or deminers - to identify and learn about the threats they face from unexploded ordnance. Careful thought has been given to helping the recognition and learning process. Each card has a good clear image of the item, together with its country of origin, type and basic details. The cards are published by CKA and Fenix, operational bomb disposal companies, working mainly in post-conflict zones on the clearance of mines and other types of unexploded ordnance. The mines, UXO and IED cards were designed by Colin King. The cover design and backgrounds for the small arms packs were produced mostly by Darren Fletcher.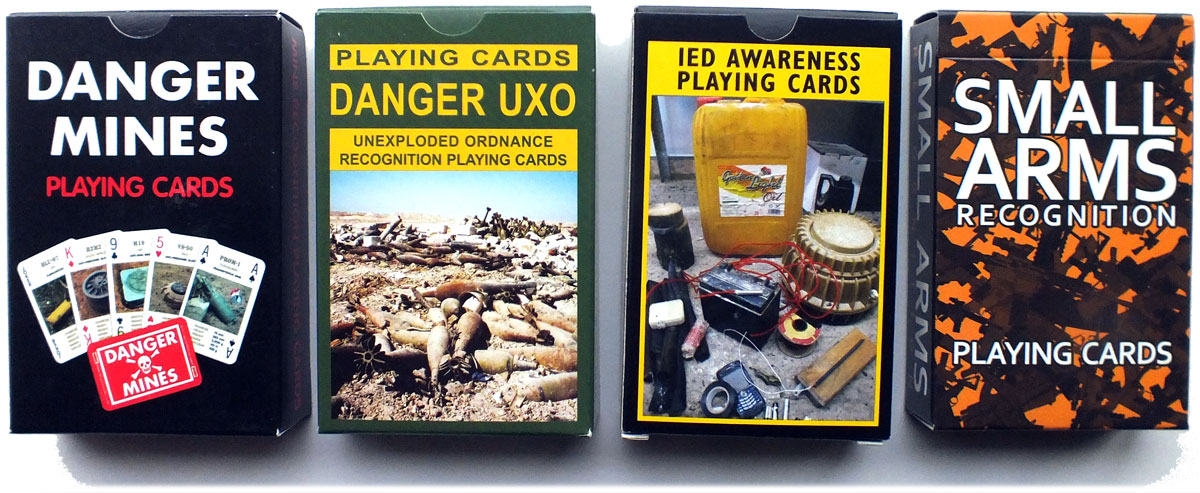 These cards are bought by UN and government agencies, often for distribution to their own staff and to local people. The funds raised then allow us to donate cards to smaller organisations and the people we meet or work with in affected countries. Feedback has been very positive and we sincerely believe that these cards help to save lives and limbs.
Member since February 01, 1996
Founder and editor of the World of Playing Cards since 1996. He is a former committee member of the IPCS and was graphics editor of The Playing-Card journal for many years. He has lived at various times in Chile, England and Wales and is currently living in Extremadura, Spain. Simon's first limited edition pack of playing cards was a replica of a seventeenth century traditional English pack, which he produced from woodblocks and stencils.