Published August 28, 2013
•
Updated June 20, 2022
William Warter
William Warter's Proverbial Cards, which carry illustrations of old English proverbs, were first published in 1698.
William Warter's Proverbial Cards, 1698
William Warter's Proverbial Cards, which carry illustrations of old English proverbs, were first published in 1698. William Warter was a London stationer whose shop was at the "Signe of the Talbott, over against Fetter Lane End of Fleet Street, London" at least as early as 1682. The pack of playing cards was one of a series which appeared from about 1675 onwards which consisted of a set of pictures with captions relating to a theme of the day, with suitmarks and numerals in the corner, or in some cases, miniature playing cards as well. Some of these packs were educational, others political, geographical or arithmetical, but the "Proverbial Cards" were simply for amusement.
The images on the cards are of historical interest as illustrations of late 17th century life. The proverbs are part of our traditional popular culture, well suited to a pack of playing cards!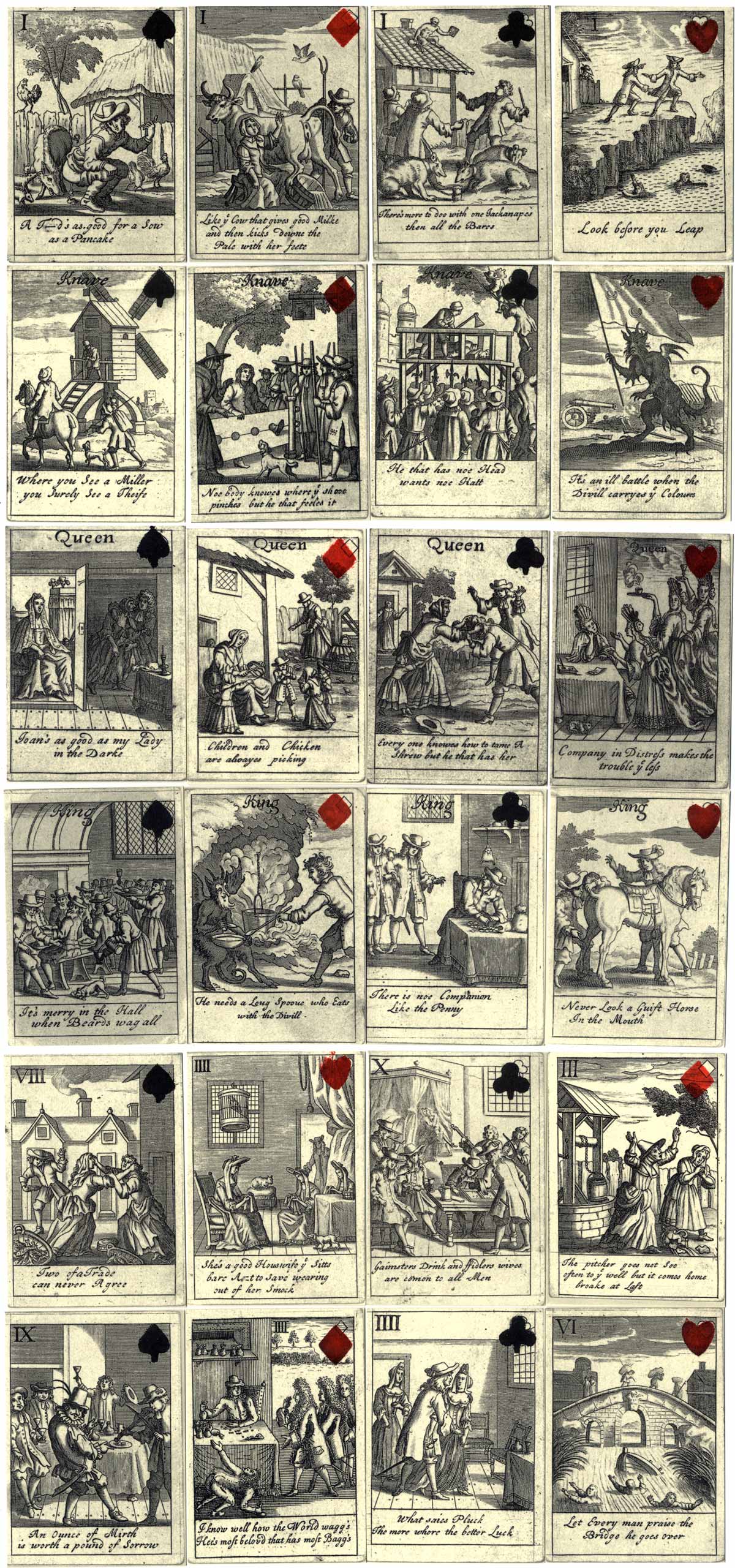 Read the Leaflet►
Coloured Cards
William Warter's Proverbial Cards were sold uncoloured, but often they were hand-coloured by their owners. Rex Pitts has filling a bit of time by colouring these repros of political style cards.
"Being in lock down has made very little difference to my daily round since retirement. I spent a lot of time driving around before that as I was a packaging salesman covering Norfolk and Suffolk doing around 20,000 miles a year. That was a big change so I had a lot more time to devote to collecting but I missed all the customers and the antique shops and charity shops I visited when travelling around (last year I did 850 miles!). I am lucky enough to have a wonderful next door but one neighbour Clare who takes me shopping with her so that she can hump all the groceries around. I have a blood condition where I have to have blood transfusions every 3 or 4 weeks and I get out of breath very quickly. Clare used also to clean my house every week but COVID-19 stopped that and she became, unofficially, my carer. I hope that soon she will be able to resume doing that when we have all been vaccinated."
"This pandemic has brought out the best in most people and that is a gift and a reminder to us that we are part of a (mostly) friendly and helpful society."
Rex has also made a few card games in the time he had to fill. The Gilbert and Sullivan game, 2 Old Fashioned Snap games, a copy of an Edwardian handmade pack Squires Household.
Member since February 01, 1996
View Articles
Curator and editor of the World of Playing Cards since 1996. He is a former committee member of the IPCS and was graphics editor of The Playing-Card journal for many years. He has lived at various times in Chile, England and Wales and is currently living in Extremadura, Spain. Simon's first limited edition pack of playing cards was a replica of a seventeenth century traditional English pack, which he produced from woodblocks and stencils.