Published March 03, 2013
•
Updated April 20, 2023
Hustling Joe
Hustling Joe himself appears on the Ace of Spaces dressed in red.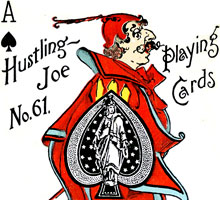 Hustling Joe No.61, 1895
Hustling is the deceptive act of disguising one's skill with the intent of luring someone to gamble with the hustler, as a form of confidence trick. Hustling Joe himself appears on the Ace of Spades dressed in red. The Joker may be an accomplice in the scam. The non-standard and slightly comical court cards have different coloured backgrounds in each suit, and each pip card features a unique and amusing scene which tells a story. But this is not quite a "Transformation" deck in the true sense as the pips are not properly integrated into the designs. Nevertheless the cards have a certain charm which would have appealed to children if not to serious card players.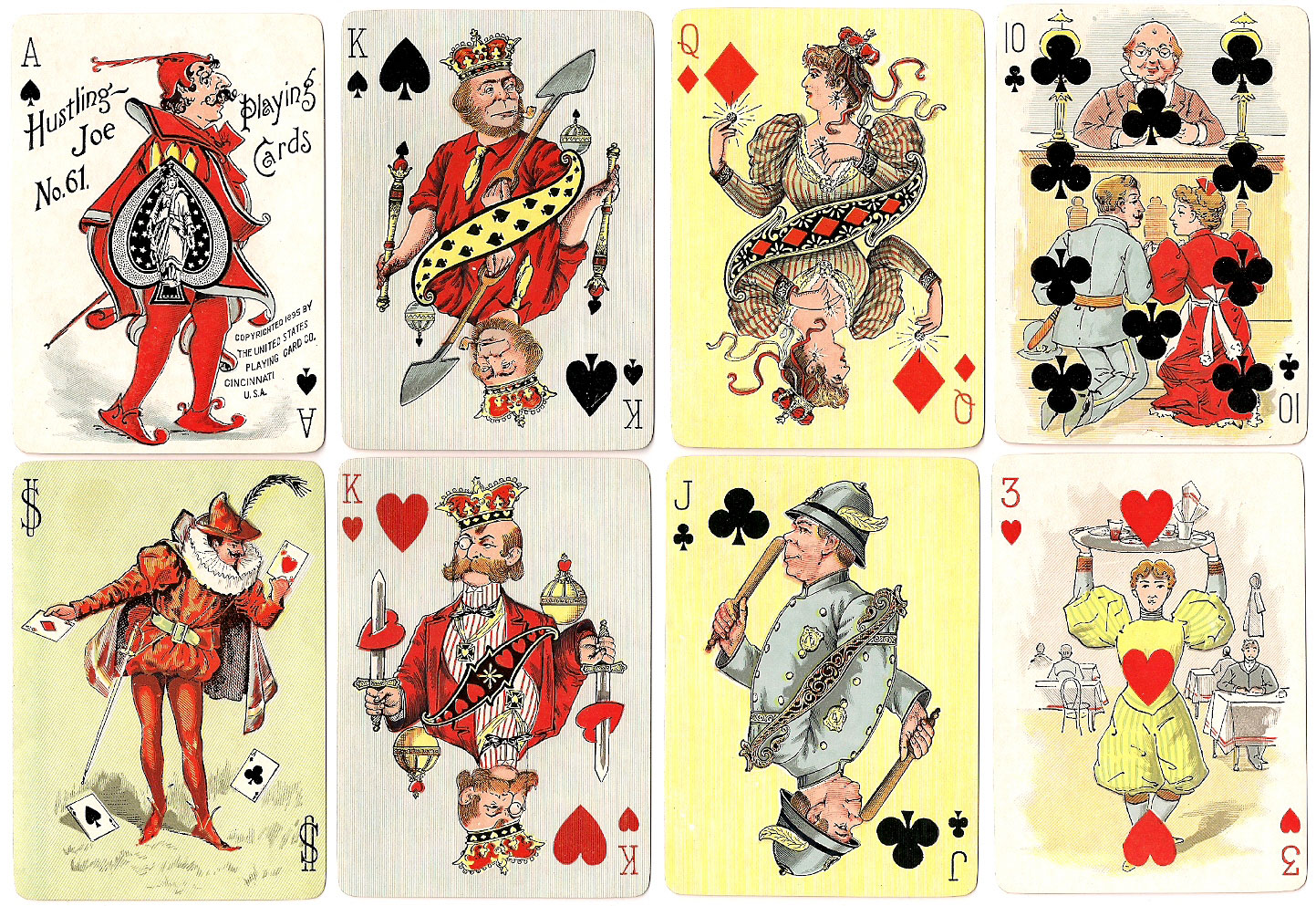 ---
---
Hustling Joe No 61 Playing Cards (2019 edition) :: Reviewed by Matt Probert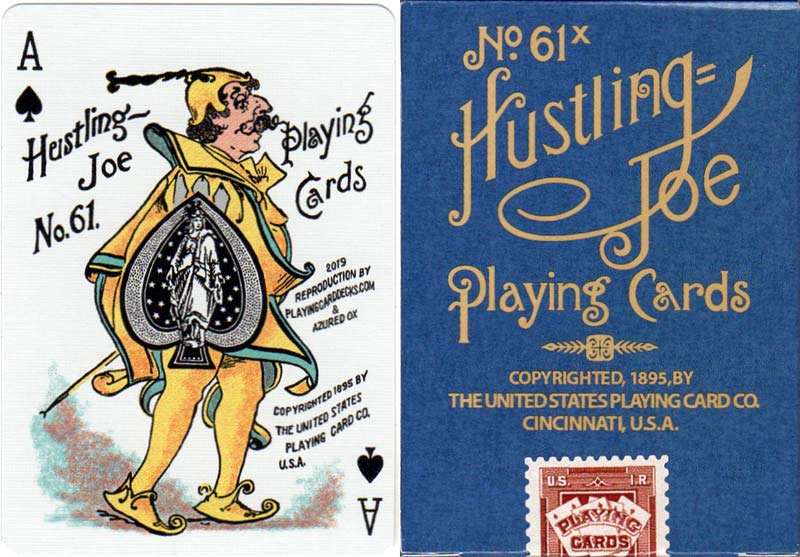 Hustling Joe No 61 is a reproduction custom pack aimed at card collectors and card magicians, based on the second edition of the "Hustling Joe No 41" semi-transformation deck originally published by US Playing Card Co in 1895. Produced by card magician Will Roya, illustrated by Azured Ox, manufactured by USPCC in 2019 in two colours: blue and green (each with a different back design) in a limited edition of 2000 packs of each colour. The blue pack has the original ice skating gnomes back design, the green pack has the frogs design back.
Like the 19th century originals, the reproduction pack is cut to poker width. In addition, the reproduction packs include an additional identical joker, each joker differing only in the colour of the man's outfit and also a double-back card to further expand the scope for use by card magicians. The designs themselves have been reproduced from originals keeping the same comic images with pips over-printed, though the cards are not gold-edged like the originals.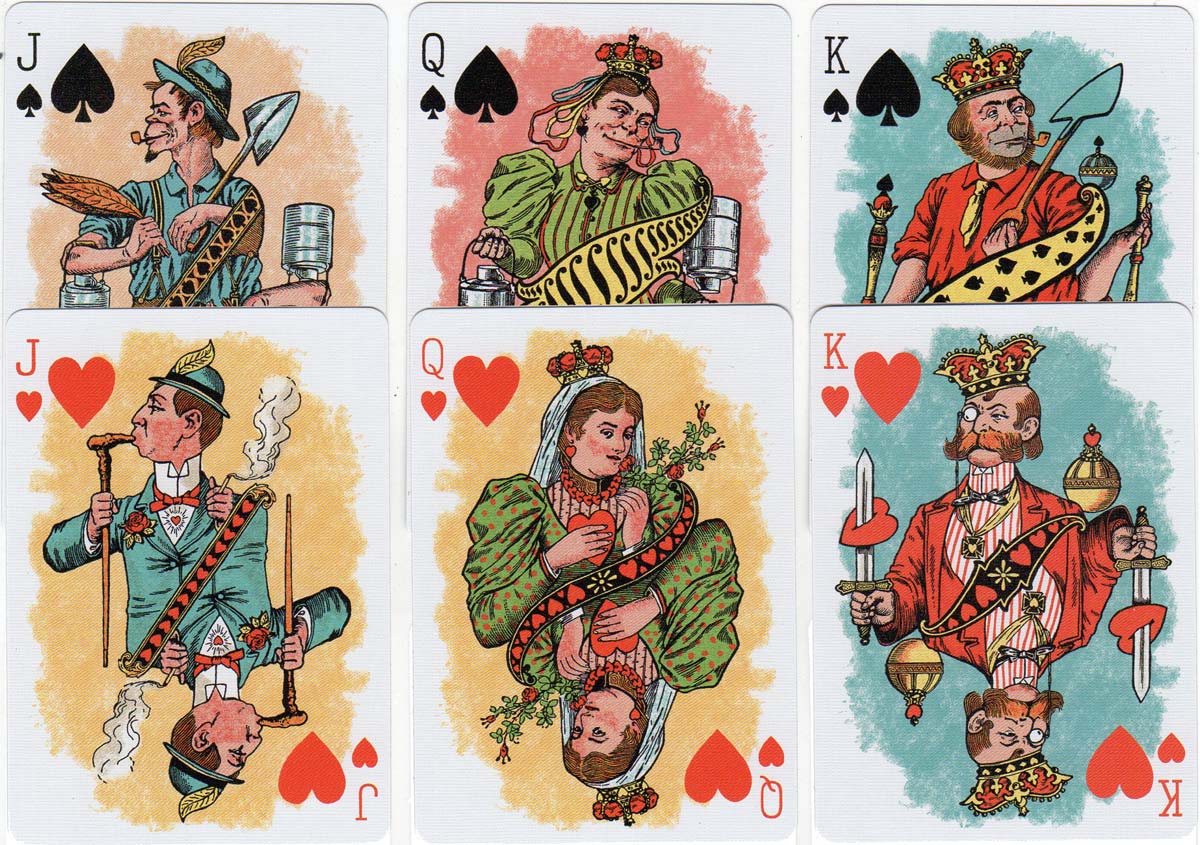 Each pack is supplied in a colour coordinated box - either blue or green, corresponding to the colour of the backs of the cards inside, and printed with gold ink and sealed with an imitation tax stamp (of a design used between 1894 and 1896) and wrapped in cellophane. Packs are sold either as a pair comprising one pack of each colour; individually or as an uncut sheet.
Member since February 01, 1996
Founder and editor of the World of Playing Cards since 1996. He is a former committee member of the IPCS and was graphics editor of The Playing-Card journal for many years. He has lived at various times in Chile, England and Wales and is currently living in Extremadura, Spain. Simon's first limited edition pack of playing cards was a replica of a seventeenth century traditional English pack, which he produced from woodblocks and stencils.