Published July 03, 1996
Updated May 15, 2022
Fernando Pessoa & Co playing cards
Fernando Pessoa & Co playing cards - Lisbon
Fernando Pessoa & Co playing cards - Lisbon
Fernando Pessoa (1888-1935) ranks with the most important Modernist poets of the 20th century. His celebrity is partly due to the way in which he wrote his work, using different names, or 'heteronyms', corresponding to various personalities which he invented. "A poet is a pretender", he wrote in a famous poem.
Some of the verse extracts which appear in this pack of cards belong to those other personalities of Pessoa's world: Alberto Caiero, Álvaro de Campos, Bernardo Soares and Ricardo Reis.
The designer of the pack, Pedro Baptista, succeeds well in capturing the essence of a poet's mind in a visual form. The verses are set in a typewriter font, aesthetically quaint and unpretentious, against soft, unfocused 'photograms' occupying the entire card face. This conveys a sense of thoughts floating in imaginary dimensions of space - cyberspace perhaps. Corner indices, also in typewriter, and discrete pips finish off the arrangement. On the back, an ink splotch on a pale cream background, fallen no doubt from the poet's poised pen, conspiring, with the typewriter, against modern technology.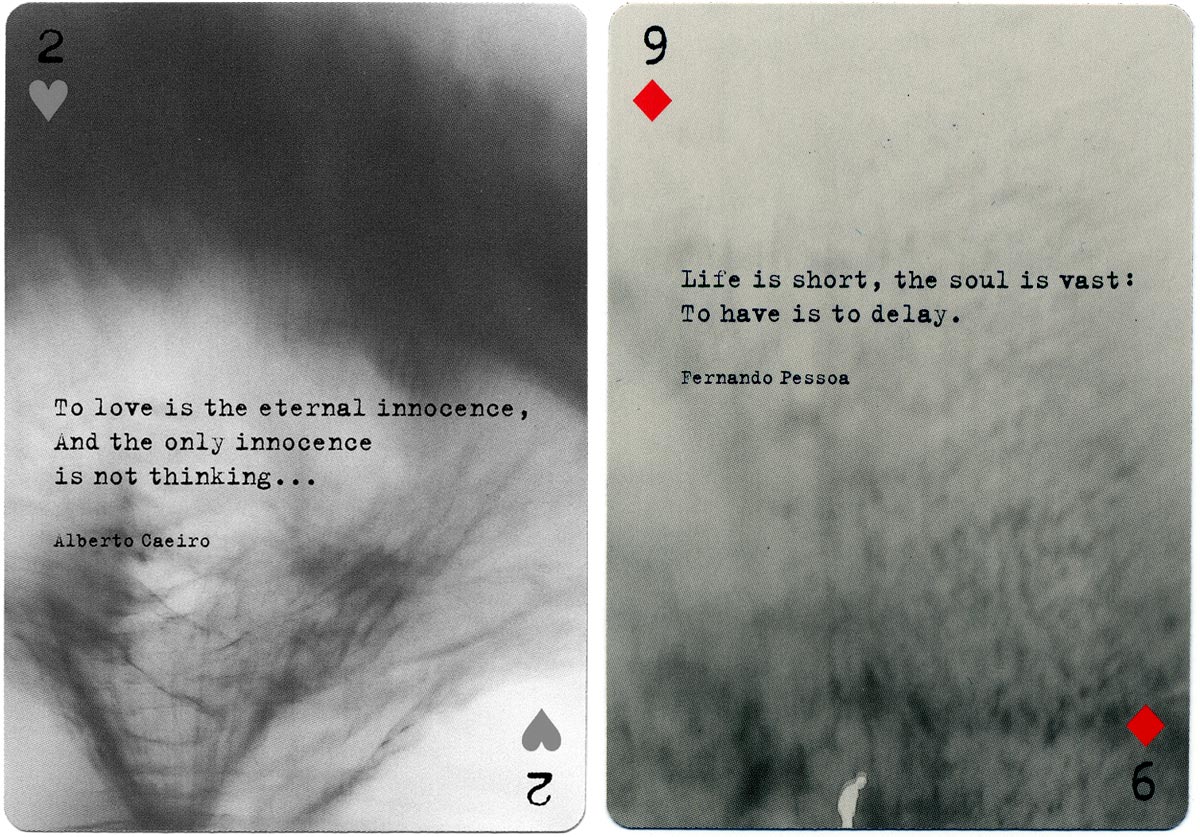 The text in the leaflet is by Manuela Parreira da Silva, an expert on the work of Fernando Pessoa and a teacher of modern literature in the Universidade Nova de Lisboa. The cards are manufactured to a very high standard of quality by Naipes H Fournier in a limited edition of 5,500 packs of which 3,500 are in Portuguese and 1,000 each in English and Spanish. They come in a sturdy tuck box, cellowrapped, 52 cards + 3 jokers + leaflet.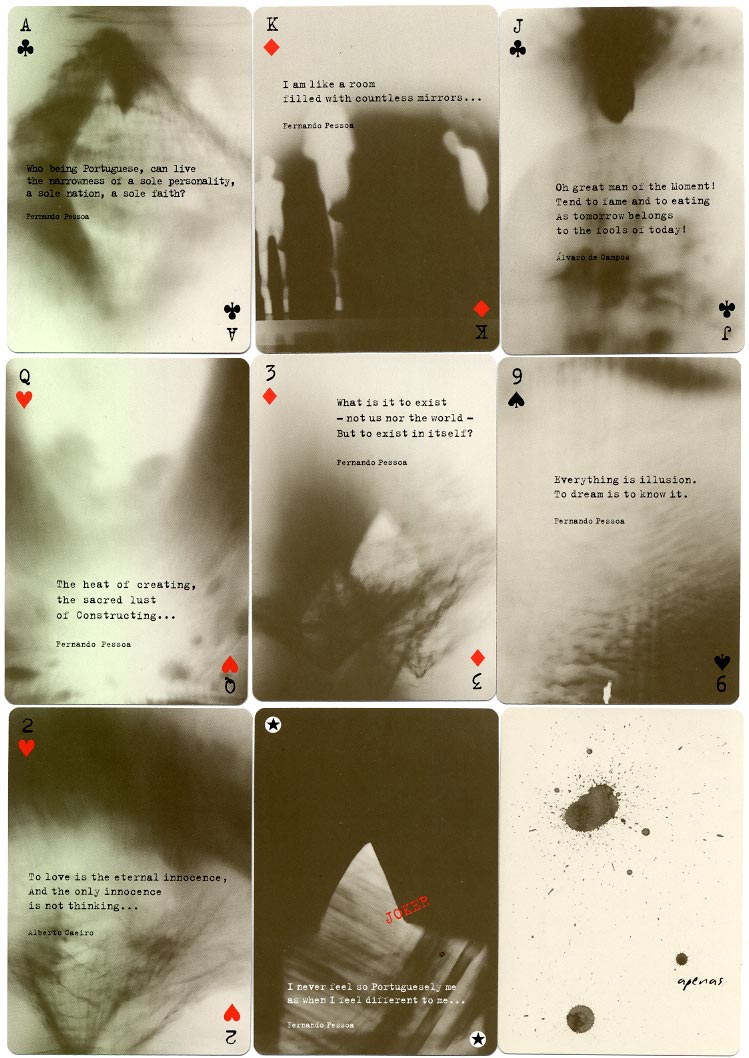 Member since February 01, 1996
View Articles
Curator and editor of the World of Playing Cards since 1996. He is a former committee member of the IPCS and was graphics editor of The Playing-Card journal for many years. He has lived at various times in Chile, England and Wales and is currently living in Extremadura, Spain. Simon's first limited edition pack of playing cards was a replica of a seventeenth century traditional English pack, which he produced from woodblocks and stencils.